Posted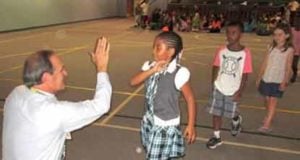 From everywhere, I am receiving really positive reports about the opening of school. Thanks for your part in a successful start!
I personally experienced the LMS difference when, shortly after the day started, an LMH student stopped by the office and prayed for me and the school year.
The theme we will explore this year is who is my neighbor? During the Lancaster Campus and Kraybill Campus Middle School chapels we sang, "You've got a place at the welcome table," looked at the story of the Good Samaritan in Luke Chapter 10 and read the story, The Little Engine That Could. Care and welcome grows from our theme for the year, and we found that the Little Engine was a good neighbor as she did all she could for those in need. Amazing how that story and the story of the Good Samaritan fit together!
Also, I enjoyed receiving a "high five" from 141 New Danville Campus students (pictured) after a community-building rally at the end of the first school day.
We are deeply appreciative of your partnership with us in this mission in education for the sake of your child, and I thank you for choosing LMS when you have numbers of options in our community. We take seriously the trust you place in us, and we encourage you to contact the school whenever you have a question or some information that we should have.
Please join with us daily in prayer for our students, families, staff and congregations that together we may be a community centered in Christ that transforms students to be World Changers.
Shalom!
J. Richard Thomas
Superintendent