Posted
Alumnus Gordon Dimmig's Photo of Alumnus Wendell Baer Hangs in Smithsonian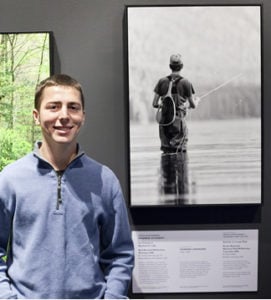 Gordon Dimmig, class of 2013, was chosen as the student winner of the "People in Wilderness" category of "Wilderness Forever: 50 Years of Protecting America's Wild Places," a juried photography competition in conjunction with Nature's Best Photography and the Smithsonian Institution.
Dimmig's photo is part of an exhibition of 50 images that opened Sept. 3 at the Museum of Natural History in Washington, D.C., which is one of the Smithsonian Institution's museums. His photo on display on the second floor of the museum and was also published in Nature's Best Photography magazine.
Along with his winning entry, Dimmig had two other photos that that made it into the Top 100 as honorable mentions.
Professional, amateur and student photographers from all over the world submitted more than 5,000 entries. Six judges, all experts in photography, science and conservation, chose the winners. Gordon's image was a favorite of the judges because of the sophistication of the photographic composition, the technical quality of the image and the serene calm evoked by the image.
His winning entry, "Fly Fishing on Big Salmon Lake," features fellow LMH alumnus Wendell Baer. The photo is a simple black-and-white composition where Wendell is facing away from the camera, casting a fly rod, his line shooting out over Big Salmon Lake, Montana.
While at Lancaster Mennonite High School, Dimmig took Photography I and Photography II with Mr. Paul Brubaker, a member of the school's fine arts faculty.
Dimmig is currently studying environmental science at Juniata College and is considering doing field research with birds or wildlife. He is the son of Peter and Marian Dimmig, Elizabethtown.
For more of Dimmig's photography, visit gwd-photography.com