Posted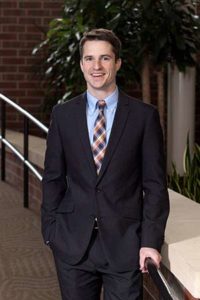 Michael Charles, Lancaster, has been named principal of Lancaster Mennonite's Kraybill Campus in Mount Joy for the 2017-18 school year.
Charles is excited about returning to the school he attended from kindergarten through eighth grade before he went on to graduate from Lancaster Mennonite High School in 2005.
"I'm thrilled to return to Kraybill and join a great tradition and school," Charles said. "Attending Kraybill as a student was an enormously positive experience for me, and I hope to be able to contribute to similar experiences for students today."
After graduating from LMH, Charles obtained a B.A. in history and social science education from Eastern Mennonite University and an M.S.Ed. in educational leadership with a principal's certification from the School Leadership Program at the University of Pennsylvania.
For the past seven years, Charles has taught in LMH's history and social studies department, served as Student Council advisor, and coached JV boys volleyball.
The new principal has fond memories of the school community. While Charles was a Kraybill Campus student, he and his family were involved in all aspects of school life, and his mother, Rhoda, served on the board from 1994-2000. Now he has an opportunity to build on that legacy of leadership.
"I'm energized to learn from Kraybill faculty and students and to shape the next generation in the life of the school together," Charles said.
Charles and his wife, Rachael, and two children, Caleb (age 3) and Meredith (age 1), live in Lancaster City and attend Rossmere Mennonite Church, where he is Sunday School superintendent and youth advisor.
After three years as principal of both the Kraybill Campus and the Locust Grove Campus in East Lampeter Township, current Kraybill principal Judi Mollenkof will focus exclusively on the Locust Grove Campus for the 2017-18 school year.
The Kraybill Campus is located at 598 Kraybill Church Road and serves 160 students in prekindergarten through eighth grade. Until it merged with Lancaster Mennonite School in 2006, it was self-governing as Kraybill Mennonite School.
The Kraybill Campus is holding an open house January 26 at 6:30 p.m., which will provide an opportunity to meet Mr. Charles, receive information about the school and tour the facilities. For more information, call (717) 653-5236.