Posted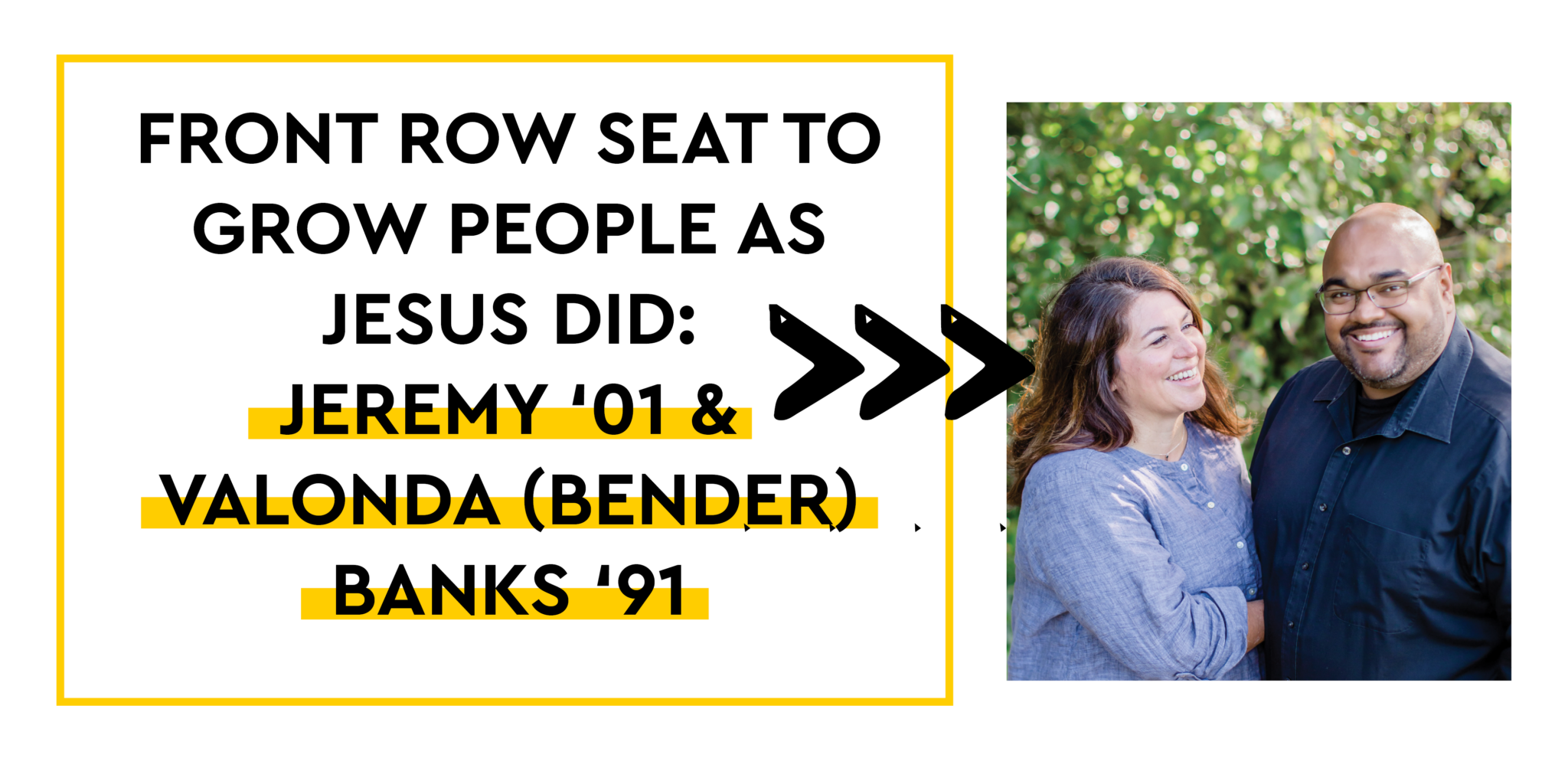 BY: LUIS TORRES, ADVANCEMENT ASSOCIATE
LM Alumni JEREMY '01 AND VALONDA (BENDER) BANKS '91 had much in common before they even thought of partnering as husband, wife, and business partners. They both had established themselves in professional careers prior to embarking on their joint business venture of Liberty Employment Solutions, LLC. Still, most importantly, they both seek to put God first in everything they do – They Seek Jesus Wholeheartedly! Their parents were educators that taught in the LM system. Valonda's mother, Vi Bender, was a teacher at Locust Grove; her dad Robert Bender taught Phys Ed and health, and Janet Banks, Jeremy's mother, taught English at LMH.
Valonda and Jeremy are the founders of Liberty Employment Solutions, LLC, which helps businesses find the right employee cultural fit for their organization. When employees are engaged in their work that meets their God-given design, they are more productive and fulfilled. Valonda stated, "We want to grow people as Jesus did. We're with them daily, demonstrating care for them and seeing what's important to them, we're challenging them and being challenged ourselves."
The couple started their business four years ago. Valonda had been out of LMH for 27 years when they opened Liberty's doors and had been in HR for over 25 years. When they started Liberty, they identified problems businesses were having and devised ways to solve them. LM alumni: BRIAN KURTZ, '91, President of Elite Coach in Ephrata, PA is among the LMH clients Liberty serves. JEFF WORLEY '91, employment lawyer at Gibble, Kraybill & Hess advises Liberty on occasion.
When asked what their career/passion project highlights were so far, Jeremy mentioned, "We get to use our gifts to influence businesses to make better hiring decisions. On a deeper level, we get a front-row seat to see how God blesses obedience. Our journey has been obedience since the day we got together and since opening Liberty. We graduated from LM 10 years apart; we don't like the same types of music; we like different sports teams; she is a dog person, and I am a cat man through and through…. BUT God had a plan for putting us together when he did!" Their obedience led them to be selected as part of the Goldman Sachs 10,000 Small Businesses program in 2021. God has used their gifts and talents to complement one another and impact and influence their staff and clients with a kingdom mentality.
FONDEST MEMORIES
When reminiscing about LM, they had this to say about their fondest memories. Jeremy shared his, which was Kingdom Living class taught by Mr. Dan Dietzel. Jeremy stated, "I really appreciated the way he challenged us as students to see all sides of issues. In that class we talked about real life situations and issues and how to handle them from a Christian perspective. Mr. Dietzel was so down to earth and unassuming." Valonda shared, "I worked on the Silhouette, the creative magazine. Several of my poems were selected, but one in particular was brought to life by a piece of artwork by another member of the team, an underclassman with incredible woodworking talent. It stood out to me how each of our gifts were unique and special, but when brought together, were absolutely dynamic!"
CORE VALUES
Jeremy shares, "If it weren't for the core value of Seeking Jesus Wholeheartedly heard while attending LM, I would probably be in a different place now…as I have gotten older and into the 'real world,' I have appreciated having that personal relationship with Jesus. It has helped me through so many ups and downs of life."
Valonda went through a hard time when she lost her mother to cancer at 32, and her son was diagnosed with cancer just 6 years later. She mentions how she stayed strong throughout; she states, "because I had developed a relationship with the Lord, my family and I carried hope and a belief that sustained us through the craziness of life. The disciplines of diving into the Word, imprinting the Word into my head and heart started way back in school." The couple encourages others and current students to "seek Jesus by being open and practicing discernment. Also, by listening hard to the Lord, loving hard, and trusting the Lord with the outcome." They shared their relationship verse which is, "Don't let love and truth ever leave you. Tie them around your neck. Write them on the tablet of your heart. Then you will find favor and a good name in the eyes of God and people" (Proverbs 3:3-6).