Posted
The girls basketball team of Lancaster Mennonite High School will once again be holding their annual Black Friday parking in the lots of the Mennonite Information Center and the Mennonite Historical Society on Millstream Road across from the Tanger Outlets. This year the parking will begin at 6 p.m. on Thanksgiving Day, Nov. 27, due to the Tanger Outlets opening at that same time. A donation of $5 will be gladly accepted and all proceeds will benefit the LMH girls basketball team.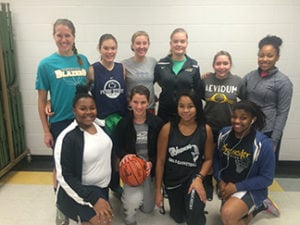 For well over a decade now the tradition to allow shoppers to park across the street from the
Tanger Outlets has been something the team has embraced. "It's an event that we look forward to every year," said senior co-captain Shayna Landis. "It kind of makes us realize that the season is upon us." Her fellow senior and co-captain Cierra King agreed. "It provide a great opportunity for team bonding while at the same time gives us some great income for the boosters," she said.
With the outlets opening much earlier than usual this year, the team isn't sure what to anticipate with the parking Thanksgiving night. However, on the court, there is a lot of enthusiasm under first-year head coach Danielle Zeamer. The girls begin their regular season at the Twin Valley tournament the first week of December. The Blazers look forward to the community's support on Nov. 27 as well as throughout the season.