Posted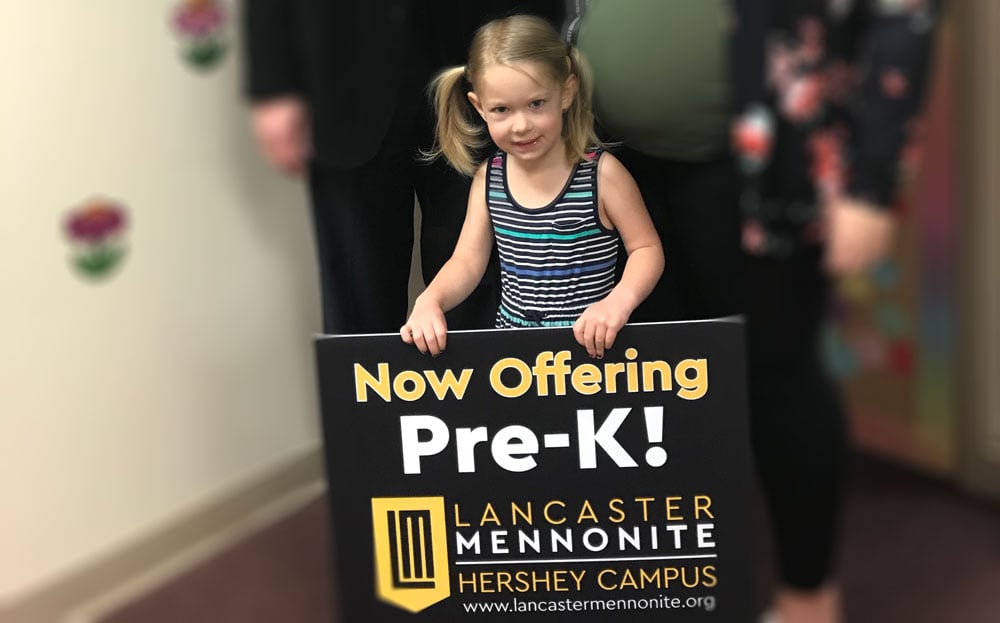 Hershey Campus Offers PreK for 2018-19
The Hershey Campus of Lancaster Mennonite School is offering prekindergarten classes for the 2018-19 school year, and registration is currently taking place. Principal Miles Yoder said, "I am excited to offer families the opportunity to choose a half-day option for their child with the flexibility to progress to a full-day student. We can customize our program to meet the needs of families."
Like the Hershey Campus's kindergarten program, the prekindergarten program uniquely offers full-day, half-day or "flex" prekindergarten options. The full-day program matches the regular school day of 8:15 a.m.-3:05 p.m. The half-day option also starts at 8:15 a.m., but dismisses at 11:50 a.m. The flex option allows students to start as half-day students and then transition to full days based on the individual student's development.
Experiencing a regular school-day schedule and a regular school environment better prepares students for a real school environment for kindergarten and first grade. Hershey offers up to five days of PreK per week, with the option of a 2, 3 or 4-day program.
The full-day program offers opportunities for expanded themes for understanding concepts, additional language arts and mathematics activities to reinforce basic concepts in the curriculum, more Bible stories and Scripture memorization, and more opportunity for social interaction and stimulation.
Hershey prekindergarten classes help students develop a love of learning in a nurturing environment where children learn to respect each other. Academics are taught with developmentally-appropriate practices and prepare children to flourish in kindergarten.
The Austin and Kate Baer family is among the first families to enroll a child in the new program. Their son Waylon is currently in first grade at the Hershey Campus, and daughter Eva will start prekindergarten next year. "My husband and I weren't sure about sending our kids to LM Hershey with the solid public school options in our area," Baer said, "but once we experienced the small class sizes, relaxed homework policies, and incredible teacher/parent communication, we knew it was the best decision for our family. Best of all, the children here are loved and, to us, that is an invaluable addition to quality education."