Posted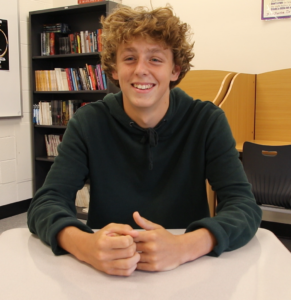 "To me, a world changer means somebody who will put others first. And I feel like Lancaster Mennonite and our core values, founded in our faith, exemplify people who do that." – Jesse Longenecker, 12th Grader
Throughout his time at LM, Jesse has been growing in faith, building relationships, and learning skills that will prepare him for his future. Through the care of nurturing teachers, he is being empowered to become a World Changer! You can change the world by investing in students like Jesse.
View Jesse's video of what he loves about school and ways he's growing in his faith.
Stretch Your Gift
You are in the world, working for positive change everyday. As a friend of LM, we invite you to Give Together For Our Future and support the next generation of world changers. Give on Friday, November 17 at ExtraGive.org to have your gift stretched by the Lancaster County Community Foundation. You can also send your gift directly to LM  today!
As a world changing supporter of LM, you are providing students with an excellent education where they learn to know and follow Jesus. Will you consider a gift to equip even more students like Jesse to change the world through Christ-like love, curiosity, and peacemaking?
Join us on Friday, November 17, 2023 for exciting events on campus as well as Downtown Lancaster! 
GIVING ON CAMPUS
Convenient drive-thru giving will be available during morning drop-off.
MEET US DOWNTOWN AT OUR BOOTH!
What: One World Festival & ExtraGive Fest
When: Friday, November 17 from 12 PM to MIDNIGHT
           One World Festival: 12–8
           ExtraGive Fest: 8 PM – MIDNIGHT
Where: Lancaster County Convention Center
25 S Queen St, Lancaster, PA 17603
Stop by our booth to make an ExtraGive donation, interact with LM staff, and spin the LM wheel for great prizes! Throughout the day there will be exciting music performances, delicious global cuisine, and an
opportunity to shop unique items from international One World Festival vendors.
**Registration is required to attend One World Festival- click the button below
to reserve your tickets
THANKS AGAIN FOR YOUR SUPPORT!