Posted

Hess's Famous Pork & Chicken Barbeque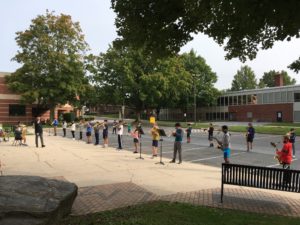 Stop by the Lancaster Campus for an annual favorite, a barbecue dinner provided by Hess's Barbecue. This year it will be drive-thru/take-out only from 11:30 AM-6:30 PM at the Lancaster Campus. A full barbecue dinner includes pork and chicken BBQ, picnic side dishes, fruit, a roll, water, and dessert. $15 for adults and $6 for kids (age 12 and under). We encourage you to pre-order at the link below.
During the Hess's BBQ drive-thru, the LM Band will be playing several sets from 1:00-3:00pm. Pick up your BBQ during that time frame for the chance to hear them play!
Iron Bridge 5K Run & Walk
Register to run on your own turf or our 95-acre campus! The Iron Bridge 5K Run/Walk offers runners of all levels one of the most picturesque trail courses in Lancaster County. Join us Saturday, October 3rd at 10:00 AM or at a time that suits your schedule! Map out your own 5K route or sign up on our website for timeslot to run our scenic Iron Bridge route while safely socially distancing. The race is self-timed this year.
$30 for pre-registered adults; $15 for pre-registered children and youth 4-17 yrs old; FREE for 3 yrs old and under.
Sponsorship Opportunities
If your business or one you know would like to sponsor Fall Festival & Homecoming this year, please encourage them to explore the available options. It's a great way to increase exposure and align with a great community non-profit. Thanks for considering how you can change the world of students!