Posted
Lancaster Mennonite's New Danville Campus Joins Over 100,000 Sites Globally In Planting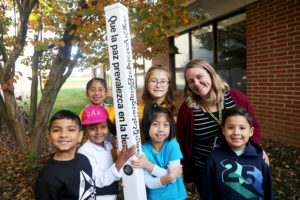 "Peace Pole."
By Lindsay Carson, New Danville Campus Principal
The New Danville Campus of Lancaster Mennonite School dedicated a new peace pole on
November 7, joining over 100,000 registered poles globally through "The Peace Pole Project."
Fifth grade students led a chapel service for the PreK-5th grade student body to learn about the
global initiative, which began in 1976. There are more than 100,000 registered peace poles
planted all across the world. Most peace poles say something like "May peace prevail on earth,"
written in a few different languages. New Danville's peace pole has this quote in English,
Spanish, Burmese and Amharic, which are four of the thirteen languages spoken at the campus.
Other languages that are spoken by students and families at New Danville include Karen
(spoken by about 10% of the student body), Oromo, Urdu, Punjabi, Swahili, Matu, and Tigrinya.
The Lancaster Mennonite campuses plant peace poles because of the school's mission to
"empower students to change the world through Christ-like love, peacemaking, and service," as
well as their values to have a global perspective and celebrate their diversity. The poles are
used as places to gather for prayer and as symbols for peace in the school and around the
world.
Peace Time Capsule
For each peace pole planted through The Peace Pole Project, ten trees are planted on the
African continent. Because of this connection, at New Danville's peace pole dedication chapel,
fifth graders also spoke to their fellow students about the Kenyan Nobel Peace Prize winner,
Wangari Maathai. Maathai was the founder of the Green Belt Movement who planted millions of
trees across the African continent. At the end of chapel, every student placed a commitment to
peace, on which they had written their name, into a "peace time capsule," which is designed to
fit perfectly inside the peace pole. When the peace pole is planted in the front of the school,
each students' name will be planted into the ground with it. Later in the day, fifteen pastors from
the students' churches visited classrooms for the day, adding their names inside the time
capsule