Posted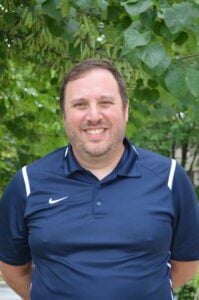 We're thrilled to announce our new Athletic Director, Andrew Fried! He has been in education for 14 years serving at Commonwealth Charter Academy, Christian School of York, Northside Christian Academy serving in various roles as Athletic Director Bible teacher, and PE/Health teacher. He has coached 17 different teams in 13 years, which included track and field, basketball, baseball, varsity golf, and even his son's little league baseball team. He has a B.S. from Lancaster Bible College and Masters in Sports Management from Southern New Hampshire University.
He shares, "Since I was a young child, athletics has always been a big part of my life. I grew up in a household of four boys which led to many "sporting" opportunities. As soon as I was old enough I was on a baseball and basketball team.  This continued all the way through high school where I was able to be a part of three playoff teams in both sports. I was able to continue my baseball career at Malone University (Canton, OH), unfortunately, I had to hang up my cleats due to a shoulder injury during my freshman year of college."
And although he loves building a winning program and being a part of a successful team, he has always stressed that character and integrity are more valuable than the final score. He shares that he is excited to work at LM because, "I believe that athletics serves as an integral part of student life and is a platform to develop student leaders with strong character and integrity. My life-long objective is to promote the Christian Athlete to pursue excellence by bringing glory to God, and it is an honor and joy to do that at LM."
He attends a non-denominational church with his wife and two sons. In his free time he enjoys playing golf, reading, walking and hiking, and watching sports.
Join us in giving him a warm welcome to the LM community!