Posted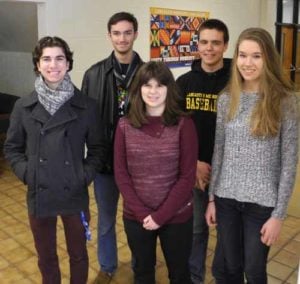 Josiah Nisly, Andrew Milligan, Charlotte Schreyer, Matthew Eshleman and Micaiah Barley recently received recognition in the National Merit Scholar competition based on their PSAT scores.
Milligan and Barley were named Finalists in the program, while Eshleman, Nisly and Schreyer were recognized as Commended Students.
Commended Students
In late September, about 34,000 of the approximately 50,000 high scorers on the PSAT/NMSQT® receive Letters of Commendation in recognition of their outstanding academic promise. Commended Students are named on the basis of a nationally applied Selection Index score. Although Commended Students do not continue in the competition for National Merit® Scholarships, some of these students can become candidates for Special Scholarships sponsored by corporations and businesses.
Semifinalists
In early September, about 16,000 students, or approximately one-third of the 50,000 high scorers, are notified that they have qualified as Semifinalists. They are the highest scoring entrants in each state.
Finalists
In February, about 15,000 Semifinalists are notified by mail at their home addresses that they have advanced to Finalist standing. High school principals are notified and provided with a certificate to present to each Finalist.
PHOTO CAPTION:
Left to right: Josiah Nisly, Andrew Milligan, Charlotte Schreyer, Matthew Eshleman, M. Barley