Posted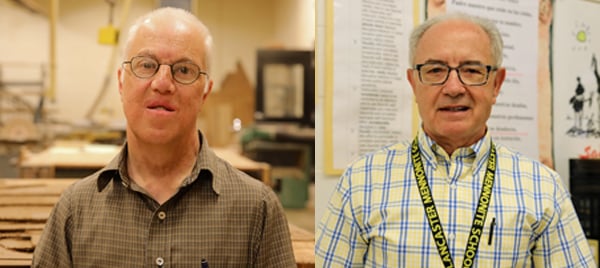 Lancaster Mennonite high school has its share of iconic teachers, two of which retired after the 2018-19 school year, including Mr. Kauffman a Spanish teacher and Mr. Stoltzfus an Ag-Tech teacher. To close their time here at LMH, they were asked a series of questions which are listed below a la "Senior in the Spotlight". We want to thank them for all their hard work, dedication and passion they brought to Lancaster Mennonite – you will be greatly missed!!
How long have you been teaching?
Mr. Kauffman: I have been involved in secondary education for 47 years — 43 in teaching and 4 in an administrative capacity.
Mr. Stoltzfus:

30 years.

How many of those teaching years were in the LM system?
Mr. Kauffman: I spent 41 years in the LM system.
Mr. Stoltzfus:

29 years.

What made you want to become a teacher/pick the subject you teach?Mr. Kauffman: I was inspired by other teachers in my high school years — especially my Spanish teacher, Mrs. Rodriguez, whom I had for 3 years.
Mr. Stoltzfus:

I find teaching fulfilling but I also enjoy hands-on types of activities so teaching Tech Ed puts the 2 together.

What is your fondest memory at LM?
Mr. Kauffman: My fondest memory — I don't know if I have one particular one — I guess the many expressions of thanks and support for me as a teacher from students and colleagues alike.
Mr. Stoltzfus:

I don't think I have any single one memory but I have found it stimulating interacting with my colleagues and rewarding working with students.

What was your favorite class to teach at LM?
Mr. Kauffman: My favorite class to teach? I have enjoyed all levels (Spanish I-AP 5). It's really gratifying to see the progress students make over time. Learning another language is challenging but the rewards are well worth it.
Mr. Stoltzfus:

Advanced Woodworking; it was great seeing some of the cool ideas students came up with and helping them to make it.  Some of the cool projects were a canoe, skis, an RC boat, artistic bowls, grandfather clocks, and numerous other pieces of furniture.

What are you planning to do after this year?
Mr. Kauffman: After this year I want to take some time to travel abroad, spend more time enjoying my hobbies (biking, fishing, reading), see more of my 5 grandchildren, and find more ways to become involved with volunteer work (for example, Mennonite Disaster Service).
Mr. Stoltzfus:

Work in my woodshop and help run The Board Used Furniture Shoppe.
Full story originally published May 2019 in the Mill Stream by Lexi Stengel, Staff Writer