Posted

Our Pandemic Response Team through the summer and for the academic year includes: 
CFO: Lorri Hengst
Director of Marketing & Communications: Aubrey Kreider
Director of Enrollment: Christy Horst
Principals: Lindsay Carson, Miles Yoder and Michael Charles
Asst Principal: Kirk Benner
Curriculum Team Member: Jennifer Esbenshade
Athletic Director: Marvin Sanders
Maintenance Director: Troy Hurst
Director of Food Service: Jennifer Strickler
Superintendent: Pam Tieszen
Dear Parents/Guardians & Students,
We are looking forward to seeing you in-person and back on campus next month – we have missed you! Our Pandemic Response Team (see list above) is working diligently behind the scenes to make decisions and plans for a healthy and safe return to school for students, families, faculty and staff this fall. We've been using CDC guidelines, local public and private schools, other Mennonite schools and PA Department of Education, PA Department of Health, and IU13 information as resources for our planning and decision making. It has been a challenge to plan ahead given all the unknowns about the fall, but these resources coupled with a lot of praying is helping us create a plan and modify as needed with changing information.
Our theme verses for this year in Jeremiah 29, we are called to pray for the safety, health and well being of our community. These verses have been a guiding part of our prayers and thoughts as we enter the new school year.
Below is our latest update including information about cleaning, the start of the school day, absence and academic instruction, and transportation. And our curriculum team and teachers are finalizing plans for the types of instruction we'll be able to provide and that information along with updated sports information will be out soon. 
We continue to add detail to the Reopening Fall 2020 Plan, but we ask for your patience as we add more detail, and recognizing that guidelines and our changing environment means that the best plans continue to be adjusted. Your ongoing flexibility, patience and prayers are greatly appreciated.
Guidelines & Plan for Reopening Fall 2020
Areas of Focus:
Cleaning, Sanitizing, Disinfecting, and Ventilation

Daily Cleaning, Sanitizing and Disinfection in Buildings –

Buildings and classrooms will be sprayed with COVID disinfecting chemicals at the end of or the beginning of each day to disinfect. Teachers will have cleaning supplies and hand sanitizer available for cleaning high-touch surfaces and materials between classes. All cleaning supplies are EPA approved.

Handwashing

– Wash hands when entering school, before eating, before getting on the bus, after using the restroom, etc.

Ventilation

– We will open windows and doors as much as possible (when AC/Heat is not on). And we'll be increasing the amount of time students are outside for recess, class, lunch and free time to allow them to get as much fresh air as possible.

Social Distancing

We are adjusting classroom layouts, schedules, and traffic flow patterns to allow 6ft distancing as much as possible. Most of our class sizes are already small enough that it should be easy to accommodate this spacing guidance. 

Monitoring Staff and Students

Staff Protocols

(IU13 posters as guidelines)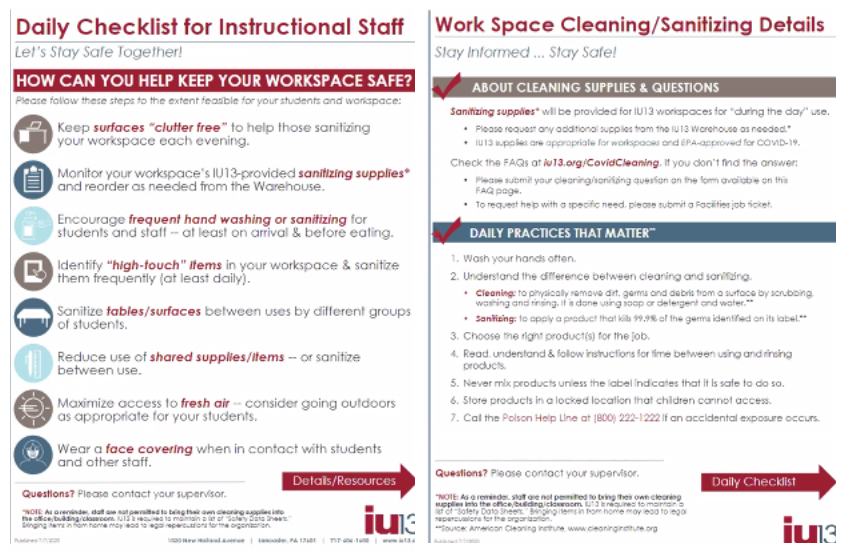 Staff Facial Coverings –

Employees are required to wear facial coverings (masks or face shields)

Staff At-Home Checklist –

Daily

temperature check to confirm it is below 100.4, answer this checklist of health screening questions to self-check before coming to school:

Have you been exposed to someone with COVID in the last 14 days?

Do you have one or more symptoms (symptoms listed)?

If yes to any of these, don't come to work.

Student Protocols

Student Facial Coverings –

Students

are required to use facial coverings when not socially distanced, while in small groups, passing in hallways or in restrooms. Parents are required to provide the facial coverings for their student, and we encourage you to include your child in its creation.
Student At-Home Checklist –

Daily

temperature check to confirm it is below 100.4, answer this checklist of health screening questions to self-check before coming to school:

Have you been exposed to someone with COVID in the last 14 days?

Do you have one or more symptoms (symptoms listed)?

If yes to any of these, shouldn't come to school today.
Arrival to School:
STEP 1: Daily temperature check and answer health screening questions – We encourage you to monitor your child's temperature and self-check with the health screen questions listed above at the beginning of each day, and we will be monitoring students daily as they get on Lancaster Mennonite buses, arrive in carpool, and/or enter at the school buildings. 
If a student displays a temperature of 100.4, they will not be allowed to attend school that day. They will be moved to a designated quarantine area and the parents will be notified to pick them up, or if the parent is still on-site they can take them home right away. 
STEP 2: Cleaning Hands – Students will sanitize their hands at the door, and then wash with soap and water when arriving in their classroom. We encourage thorough hand washing and at least 30 seconds with soapy water – singing Happy Birthday twice when washing hands is a good rule.
STEP 3: Students will proceed directly to their classroom upon entering the building. We request that Middle and High school students carry their personal belongings in their bags and not use their lockers. 
We are working on a video to show you what drop off will look like, and help make this new routine easier for you.
Absence Instructions:
If a student registers a temperature of 100.4, they will be asked to seek medical attention and return to school will require a clearance. More guidance will be coming soon.
A student that tests positive for COVID or has known exposure/close contact will need to quarantine for 14 days. 
Definition of contact: Anyone less than 6 feet for more than 15 minutes of a confirmed COVID case.
Academic Instruction:
LM will be opening with face-to-face instruction using the precautions mentioned in this update. We will also be offering remote education for temporary absences. If your family is unable to return to school because of vulnerabilities or safety concerns, please contact your principal for a discussion.  
There will be more details in the coming weeks about instruction. Our Curriculum Team, Administrators and teachers are reviewing our new Instructional Plan and finalizing plans for the types of instruction we'll be able to provide – face-to-face, hybrid and remote. We plan to continue to provide a balance between technology literacy and hands-on learning experiences, a focus on community building and faith formation, and meeting the social emotional needs of students and teachers returning to school. That information will be out soon. 
Transportation:
Designated seating, masks and hand sanitizer will be required because of close proximity on LM buses. A liability waiver signature may be required to ride the bus because of close proximity. Buses will be cleaned between uses. For those using public school buses, their protocol may be different and you'll need to confirm with the local school district. 
Stay Tuned!
It is important to know that while it is our firm intent to proceed with the above information, Lancaster Mennonite's plans may be subject to change based on fluid public health directives related to COVID-19. If changes are necessary, students and their families will receive notifications as quickly as possible via email, text alert, and via our website's latest news page. We continue to appreciate your flexibility and patience in this changing environment. 
Please let us know if there is anything we can do to help your student or family with a smooth transition back to school in the fall. Don't forget to save the date for our Back to School and Orientation Night dates so your student and family can be prepared for all these new guidelines and much more.
We are immensely grateful for your support and patience as we put these new procedures in place. We are so thankful that you are each part of our LM community, and can't wait to begin learning and growing with you again very soon!  Please continue to join us in praying for the safety, health and well being of our students, families, faculty and staff, and community. 
Sincerely, 
Dr. Pam Tieszen & the Pandemic Response Team