Posted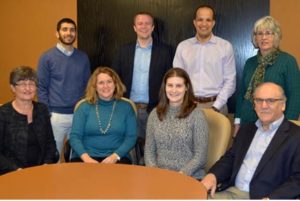 In response to Lancaster Mennonite School Superintendent J. Richard Thomas' plans to retire in December, 2016, the school's Superintendent Search Committee has launched an international search for the school's eighth superintendent.
After garnering input from stakeholders and constituents, the committee finalized a position profile that defines what the school will be seeking in a new superintendent. When the profile was developed, Andrew Dula, chairperson of the superintendent search committee, expressed thanks to the school community for its involvement in the process, saying, "It was gratifying to hear from so many people who care deeply about the school and to feel a general consensus about the kind of person needed to lead LMS into its preferred future."
Along with the position profile, the committee finalized a special application for the position and a narrative that describes the superintendent's responsibilities and duties.
The committee has identified an initial media list through which to advertise the position, and will continue to build on this list. For the advertisements, the Search Committee has developed the following announcement:
"Lancaster Mennonite School is seeking an energetic and dynamic leader for the Superintendent position. Founded in 1942, Lancaster Mennonite School is a comprehensive preschool-12 school system rooted in the Anabaptist Mennonite tradition. The school system currently enrolls about 1,500 students on five campuses in Central Pennsylvania. The ideal candidate will: demonstrate clear commitment to Anabaptist faith and practice; show excellence in leadership; be oriented to effective listening, communication and collaboration; foster healthy diversity in community; show evidence of personal and emotional maturity; and act as a bridge builder. The Superintendent is expected to assume office sometime in 2016. Persons of underrepresented racial/ethnic groups are encouraged to apply. To view application process, position profile and job description, visit www.lancastermennonite.org/superintendent."
The committee plans to start reviewing applications in June and is developing an interview process. Suggestions for candidates may be emailed to lmssearch@mennoniteeducation.org.
The board and search committee request the continued prayers of the school community during this time of discernment and transition.
The search committee is composed of members of the Executive and Quarterly boards, representatives of area church conferences and representatives of various constituent groups that support the mission of Lancaster Mennonite School. The members are: Christine Baer '10, alumna; Kathy Rutt Beiler '85, Lancaster Campus Site Council and LMS Quarterly Board; Jon Carlson, Locust Grove Campus Site Council, parent of LM students, spouse of LM teacher; Dan Hess '66, former LMS board member and parent of alumni; Chad Hurst '91, LMS Executive Board member and parent of LM students; Cindy Mast, LMS Executive Board, spouse of an alumnus and parent of alumni; Elaine Moyer, Senior Director of Mennonite Education Agency and consultant; Nelson Okanya, LMS Quarterly Board and parent of LM students; and Alejandro Ulloa, LMS faculty. Diane Umble, Ph.D., chair of the LMS Executive Board, is an ex officio member.