Posted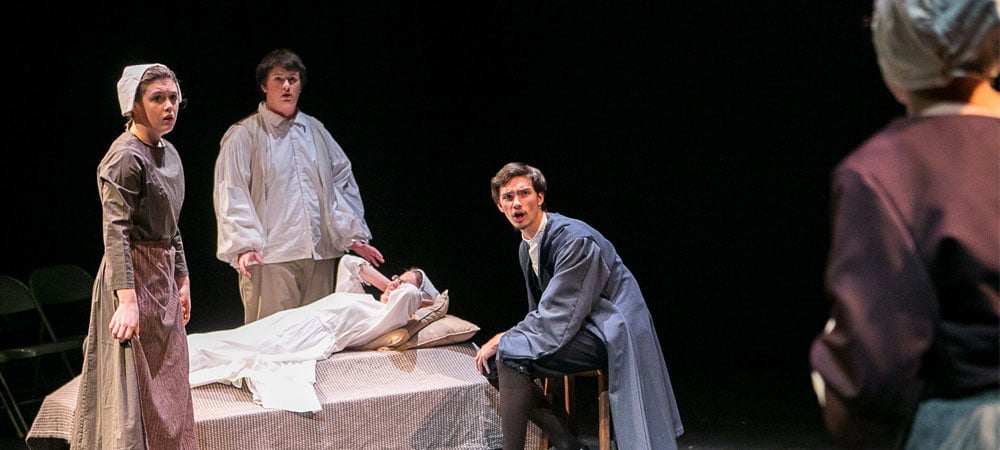 Fall 2015 Production
To create an atmosphere filled with intimacy and suspense, the audience will sit on the stage as they watch Lancaster Mennonite actors perform the fall production of Arthur Miller's The Crucible in the Weaver Auditorium of the Calvin and Janet High Fine Arts Center on the Lancaster Campus. This 'three-quarters round' formatting gives the audience a very up close and personal theatrical experience; they will be taken back to the end of the 17th century when frenzied witchcraft hysteria was at its peak.
The Crucible is a dark, haunting and sometimes factual account of the Salem witch trials that took place in the late 1690's. During this heightened panic, "innocent people were executed, those who would not name names were incarcerated and tortured, and those who admitted their guilt were immediately freed" (John Sacksteder).
Due to the seating format, tickets are very limited for each show. Show dates and times are November 6, 7, and 8 at 7:30 p.m. each night, with a Saturday matinee at 1 p.m. Tickets are $5 for students and $8 for adults, and may be reserved by calling the box office at 299-0436, ext. 340. You won't want to miss this show!
Photos courtesy of Paul Jacobs Photography.