Posted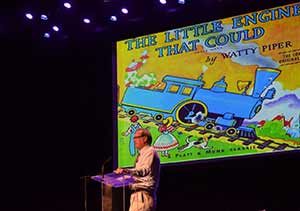 After 33 years as head of the school, Superintendent J. Richard Thomas read "The Little Engine That Could" on the first day of school for the last time – at least for the last time as superintendent. Thomas will be retiring December 31, 2016, concluding his tenure as the school's seventh superintendent.
The significant transition of school leadership from one superintendent to another will occur as the school celebrates its 75th anniversary this year. Lancaster Mennonite School will be celebrating its seventy-fifth anniversary with the publication of a special commemorative book and with special events throughout the school year, starting with "75 Years of God's Grace—A Service of Thanksgiving," held Friday evening, October 7, 2016 (Homecoming Weekend) at 7 p.m. During this year, the school will also be launching a new website and refreshing its visual image with a new logo and graphic design package across all media.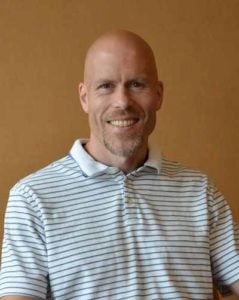 While a search committee is processing applications for the superintendent position, another key position for the LMS system has already been filled with the hiring of Jonathan Bowman as director of technology. Bowman has been a teacher, a computer programmer, and a pastor, and believes each of these experiences has prepared him well to serve people at Lancaster Mennonite School. "I know firsthand how computers are a wonderful tool for learning and problem-solving, and I hope to provide technology support in a way that practices and promotes empathy with humans." One of his particular passions is to see more computer coding in the LM curriculum. "I'm excited to see conversation happening about teaching coding more broadly," Bowman said.
In regard to curriculum, LM has been involved in developing a new PreK-12 Bible curriculum in conjunction with Mennonite Schools Council. Seventeen curriculum writers gathered July 11–15 at the Lancaster Campus to work on the new curriculum. Some of the proposed new curriculum will be piloted throughout the LM system in 2016-17, and teachers will meet again next summer to make final adjustments based on their classroom experiences. The curriculum will be ready for distribution among MSC schools next year and available more broadly for purchase in 2018.
LMS Superintendent J. Richard Thomas co-chaired the curriculum steering committee and worked with other MSC school administrators to form five working groups of teachers by grade level: PreK, K–2, 3–5, 6–8 and 9–12. "I believe this curriculum will serve our schools well because it is organically developed by faculty who are committed Christians," said Thomas.
Thomas said that while the curriculum will be based on Anabaptist Christian faith, it will maintain a broader appeal that is both inclusive of and invitational toward evangelicals, Catholics, mainline Protestants and students with no faith affiliation.
At a more local level, the Locust Grove Campus in Smoketown is expanding its highly-successful Spanish Immersion program into sixth grade. This program — focused for English-speaking students beginning in kindergarten — equips them to read, write, and speak in the Spanish language by teaching most subjects in Spanish. Students develop proficiency in the second language by hearing it and using it to learn all of their school subjects rather than by studying the language by itself. Specials in music, art, physical education, etc. are taught in English.
The teaching of Mandarin Chinese is being expanded this year through a virtual classroom experience to LM's Hershey Campus and Lancaster Catholic High School, allowing teacher Xiaodong Fan to teach his Chinese classes from his Lancaster Campus classroom.
In addition to Chinese being taught virtually with the Lancaster Campus beginning in August, the Hershey Campus, Hummelstown, will also be expanding its AP course selection through the addition of 22 new AP online courses. The Hershey Campus will also increase the number of high school chapel services to four days a week like the Lancaster Campus and will introducing a new advisory group system to high school. The Hershey Campus now offers a full-day kindergarten option and has completed construction of a new dining hall/cafeteria along with new flooring on the building's second floor.