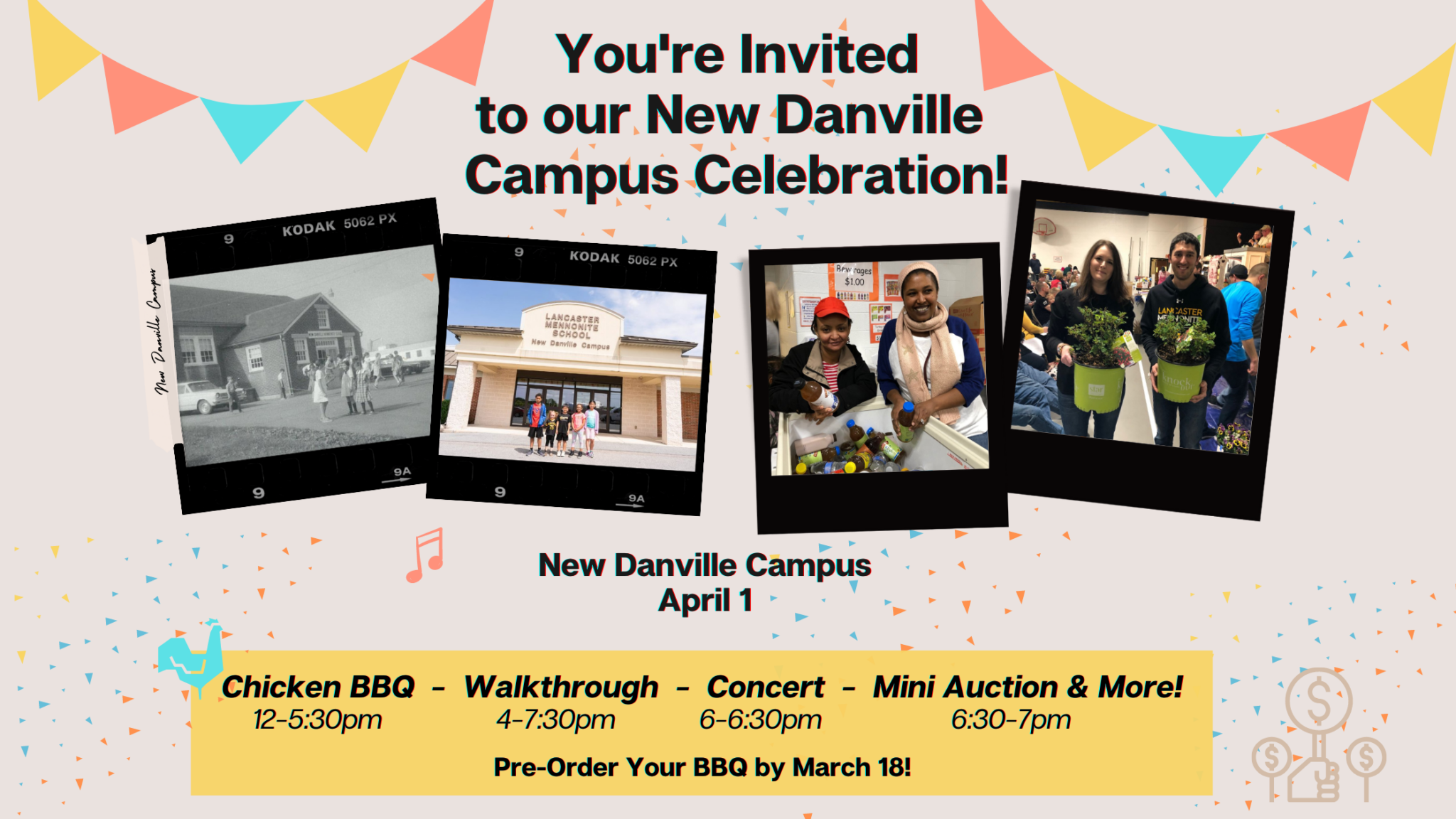 New Danville Spring Celebration, April 1
Friday, April 1, 2022
12-7:30pm
393 Long Lane
Lancaster, PA 17603
Join us for our annual Spring event complete with a chicken BBQ, auction, and "Concert Through the Decades" student performance on Friday, April 1 afternoon and evening at the New Danville Campus. There will be walkthroughs of the campus with a timeline of significant events throughout their history. The students will be performing "Concert Through the Decades", songs from previous school performances will be highlighted.  The celebration will end with an auction of campus memorabilia and baskets created by each grade.
This year we'll be celebrating and honoring the history of the New Danville Campus, and having special ways to invite current families and the community to reminisce and dream together. We hope you will save the date to join us for this fun event. You are very welcome to invite others! Funds from the event will support Christ-centered education for young world changers.
Schedule of Events:
Chicken BBQ – 12-5:30pm
Campus Walkthrough – 4-7:30pm
"Concert Through the Decades"
Student Music Program – 6-6:30pm
Auction – 6:30-7pm
Concert Through the Decades:
Timeless Classics (PreK and K): This little light of mine, Jesus loves me, Rejoice in the Lord Always
1950"s and 1990's (grades 1 and 2): Rockin robin, Lord I lift your name on high
1960's and 1970's (grades 3, 4, 5): If you miss me from the back of the bus, Seek ye first the kingdom of God
Auction Items Available:
There will be a live auction with some items, as well as an online auction for class projects.
Plants
Shank's Vanilla
Class Projects
Sentimental Items… and much more!
The BBQ online pre-registration deadline has been extended, and now closes on Monday, March 28th. You can order online in advance to reserve your food, or it's first come first serve on April 1st.
Auction Items
Aster "Purple Dome" potted plant
Growing Conditions: Full sun. Compact heavy blooms of purple/yellow centers and gets 18" tall.
Hollyhocks potted plant
Growing Conditions: Prefers full sun. A mix of luscious colors, on strong, tall stems.
Black cherry containerized seedling
Seedling in 3x3x9 container. FULL GROWN: Fast growing & valuable timber tree with multiple wildlife benefits.
Shank's Pure Vanilla Extract
Shank's Vanilla Extract
Blanket
New Danville School Blanket
Custom Cookie Order
Custom Cookie Order made by Miss Dietzel
Calming Oil Lamp
This Dance of Life vase is an original piece made by 2020 LM Alumni of the Year, Karen Sensenig.
Purple Quilt
Purple Quilt
Lancaster Mennonite Custom Mug
Custom photo mug with photo of New Danville's sign at sunrise and hot cocoa.
LM Bag
Lancaster Mennonite School Bag
Class Project Items
Kindergarten
Pete the Cat book and artwork
1st Grade
Bench with student handprints.
2nd Grade
Collection of artwork by the ND 2nd Grade Class.
3rd Grade
Collection of local sweets
4th Grade
Paint Night with Ms. Pirrung
5th Grade
Lancaster Sweet Shoppe Gift Basket