Interested parents and guardians of PreKindergarten and Kindergarten age students are welcome to join us for a "live" Virtual PreK & Kindergarten Open House Event hosted via video conference on June 3, 6:30pm, where you can hear first-hand from our Director of Enrollment, Principals, and PreKindergarten and Kindergarten teachers about LM, see photos and 2 campus overviews, and ask questions.
This brief 30-minute online session will also allow times for breakout groups to ask questions directly in LM staff about the programs and campus you are interested in.
See this event teaser video and listen to our current PreK and Kindergarten students share  what they like about Lancaster Mennonite and their experience being part of our dynamic community, like: fun activities, caring teachers, and good friends.
Note: Video filmed pre-COVID-19
Virtual Open House about our TWO Elementary Campus Options:
At Lancaster Mennonite, we believe in creating an inspiring, faith-based atmosphere, where students are provided the opportunity to reach their full potential and be equipped to flourish in the real world.
Learn more about LM by attending our upcoming Virtual PreK & Kindergarten Open House about our two Lancaster area campuses (it's all online, so don't come in-person!):
Locust Grove Campus: Grades PreK-8th (Spanish Immersion and English Tracks available) – Directions to 2257 Old Philadelphia Pike, Lancaster, PA 17602
New Danville Campus: Grades PreK-5th – Directions to 393 Long Ln, Lancaster, PA 17603
Register Here
Our PreK-12 students are World Changers TOGETHER.
We hope you will join us at an open house to experience the caring, diverse community and unique programs that represent the LM difference! Exciting things include Spanish Immersion (Locust Grove only), Makerspaces, music and art, award-winning teaching garden, champion athletics, emphasis on peace building and community, full day preK and K options, and much more!
Register Now!
Register by clicking the button below. We will email you log-in instructions for accessing the online event.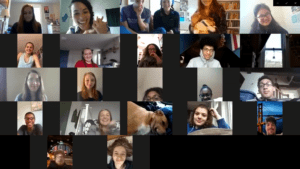 How LM is Providing for Students During COVID-19
Get a window into what LM is providing for students during COVID-19 with our news release about how LM quickly transitioned to learning remotely and student stories, as well as our Learning At Home Resources and activities from our amazing teachers all ages. Click the buttons below.