FINANCIAL REPORT 2022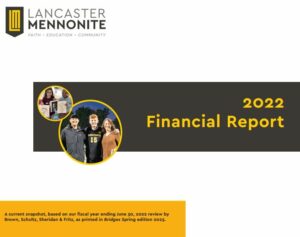 We are glad to share LM's financial data with you for the fiscal year ending on June 30, 2022. LM strives for transparency and accuracy so that the Finance Committee and Board of Directors are able to make the best financial decisions based on data.
We are grateful for your generous support of students and staff because LM values transforming students into World Changers, and there could not be more valuable work at this time. Join LM in transforming student work in our world!
We welcome dialogue and questions about the financial report and the steps LM has been taking. Please reach out to me for more information, via email: badriakimi@lancastermennonite.org or phone: (717) 740-2434.
This is a high-level view of our financials. If you are interested in more detail, please contact us for the full report. This report was originally printed in Bridges Spring edition 2023.
Our most recent fiscal year ended June 30, 2023 and as soon as the new report is available we will post it.