High School
Educational Excellence
LM's community of academic excellence and Christ-like love develops creative and innovative learners who are prepared for college, career, and life and ready to change the world through compassion, peacemaking and service.
LMH - A community for academics, athletics, fine arts and change makers!
While nurturing all gifts and talents, the high school program provides academic rigor that can propel students to top-notch colleges and universities or develop skills that launch careers in high-demand fields. Our comprehensive High School Curriculum offers a great variety of courses and programs, including AP courses, dual enrollment, STEAM, and electives in the fields of technology, agriculture science, spiritual formation, art, music, and many others.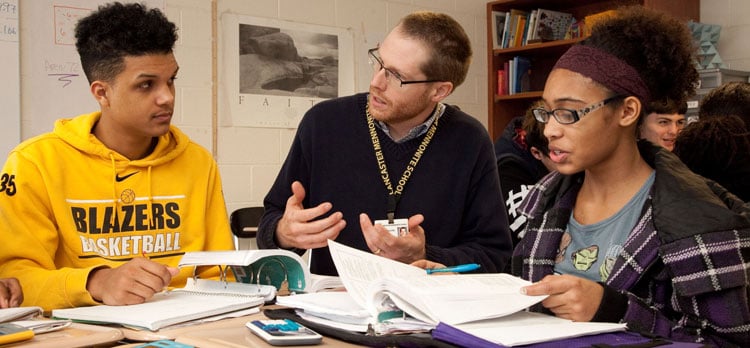 LM's academic excellence is evidenced by significantly higher Advanced Placement test success versus PA and national averages, according to College Board data. The average of the last five years (2018-2022) shows 82.4% of LM's AP scores were 3 or higher, compared to the national average of 60%. This reflects the strength of LM's academic program driving increasing AP success. 
How did our students do in 2022? LM students took 13 different AP tests in 2022 and scored an average of 3.64 on all tests taken, compared to the national average of 3.17 on these same tests.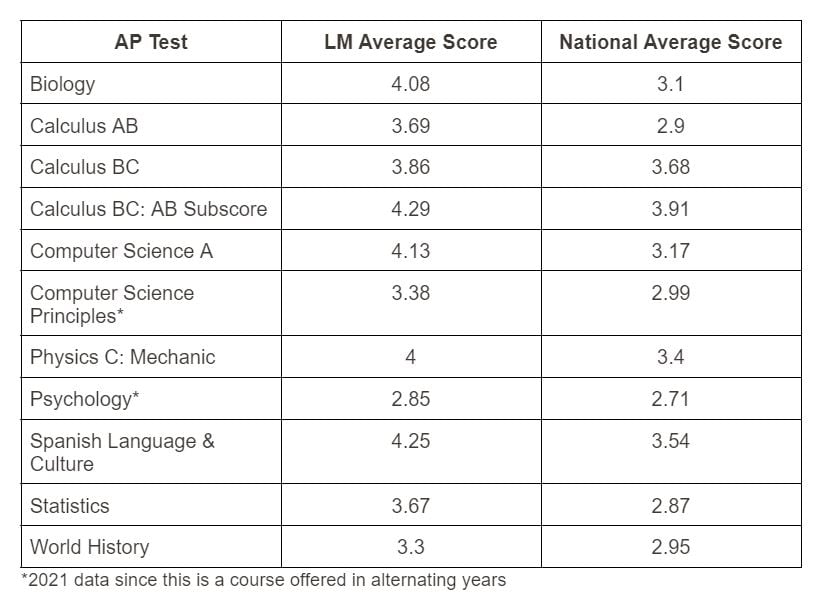 Preparation for College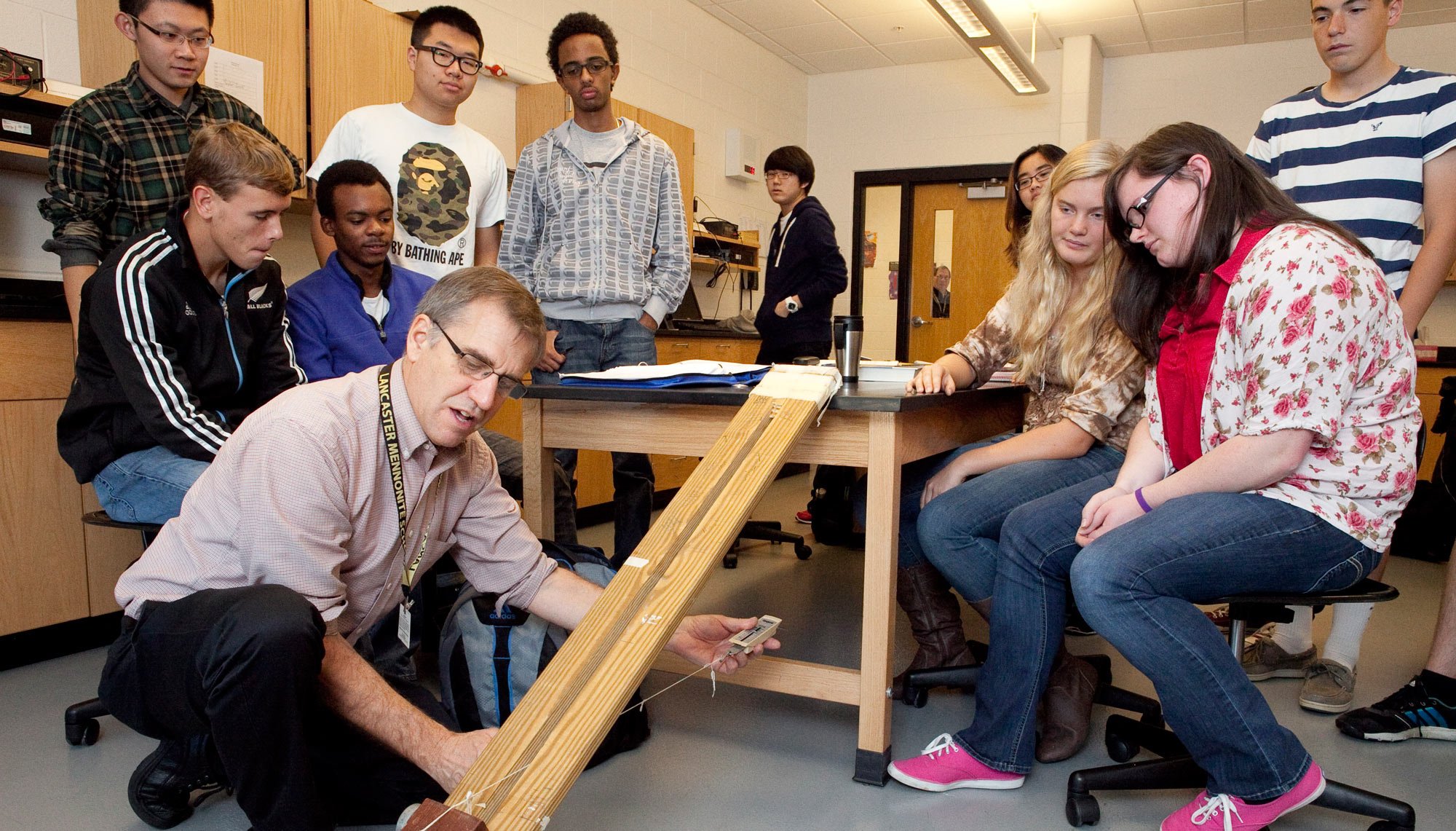 At LM, we take pride in our commitment to academic excellence and high expectations. We offer a broad range of challenging university-level courses, including dual enrollment courses from Eastern Mennonite University.
STEAM Curriculum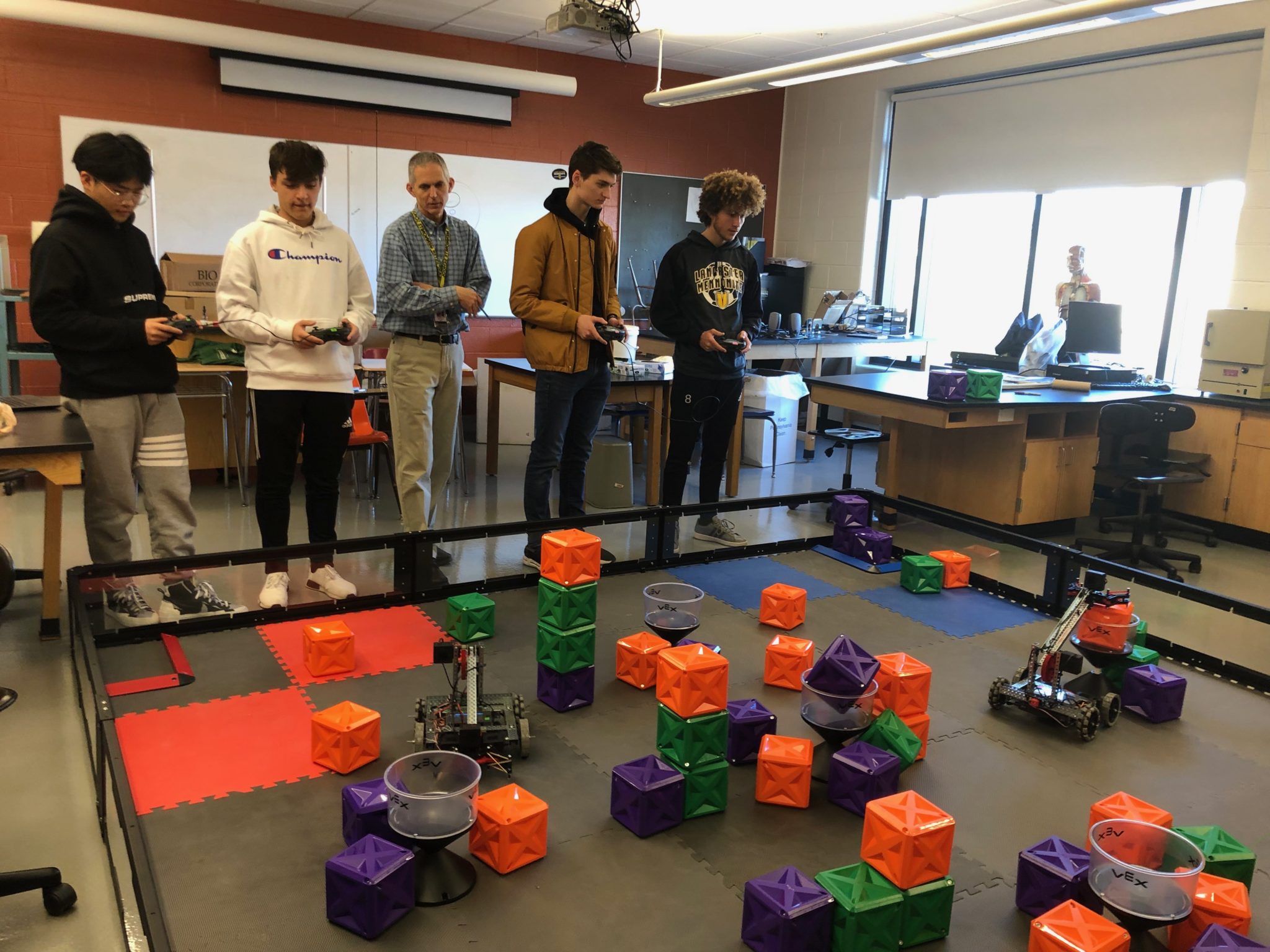 LM has a variety of the core STEAM classes for high school students looking to gain the knowledge from the coursework, strengthen 21st century skills, and attain tools needed to succeed in the workplace of the future. In addition LM provides extracurricular clubs, sports and competitions to participate in.
Classes Include:
AP Biology
AP Calculus AB
AP Calculus BC
AP Chemistry
AP Computer Science Principles
AP Computer Science A (coming 2021-22)
AP Physics C: Mechanics
AP Statistics
Honors Physics
Technology and Design
Music – Instrumental, choir, band and orchestra
Art – 2D Design, Painting, Drawing, Photography, and Sculpture
Culinary Arts
And many more…
Clubs and Organizations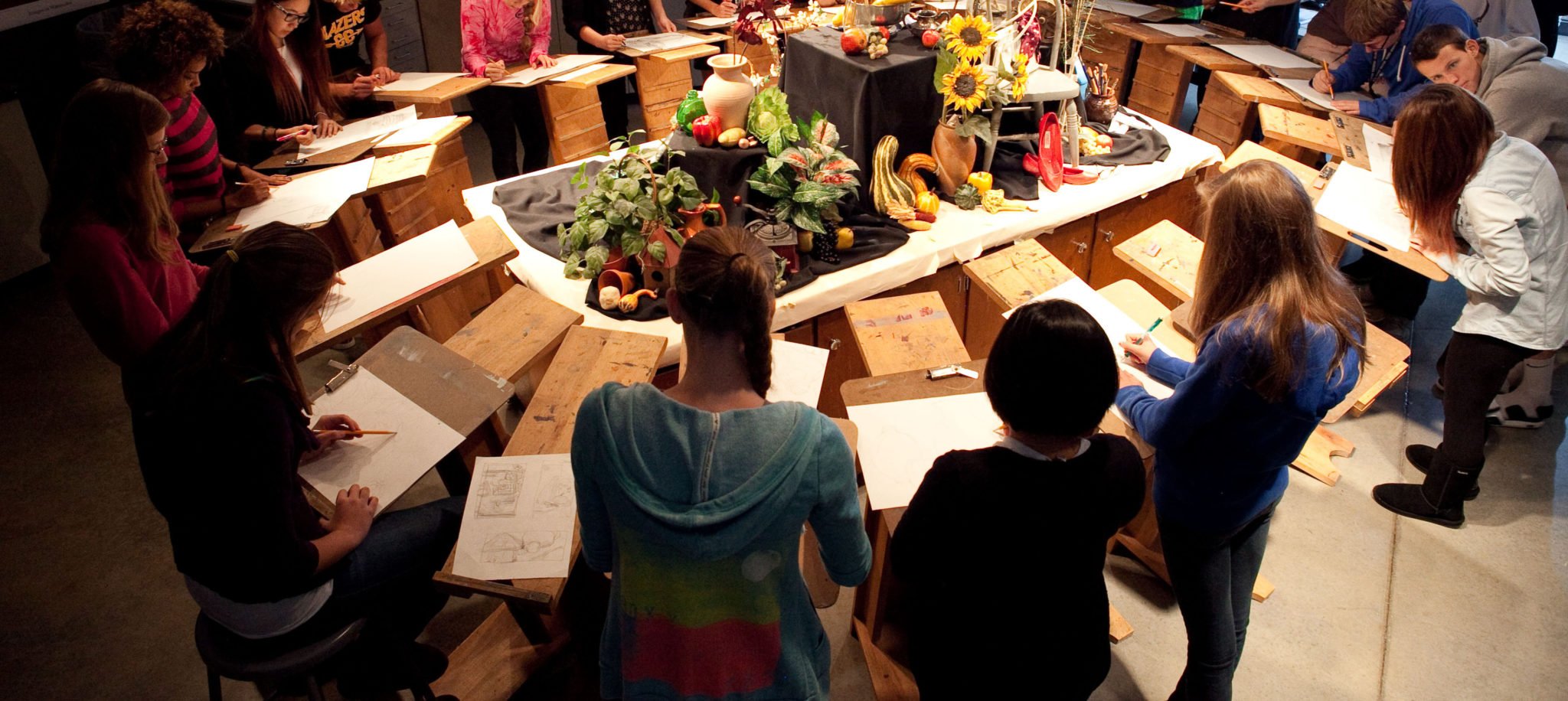 Lancaster Mennonite School provides opportunities for students to explore and develop their understanding of Christian faith and their gifts through academics, athletics, fine arts, and social activities. In addition to year-long student organizations, numerous short-term clubs for various interest groups are offered every trimester.
Course Selection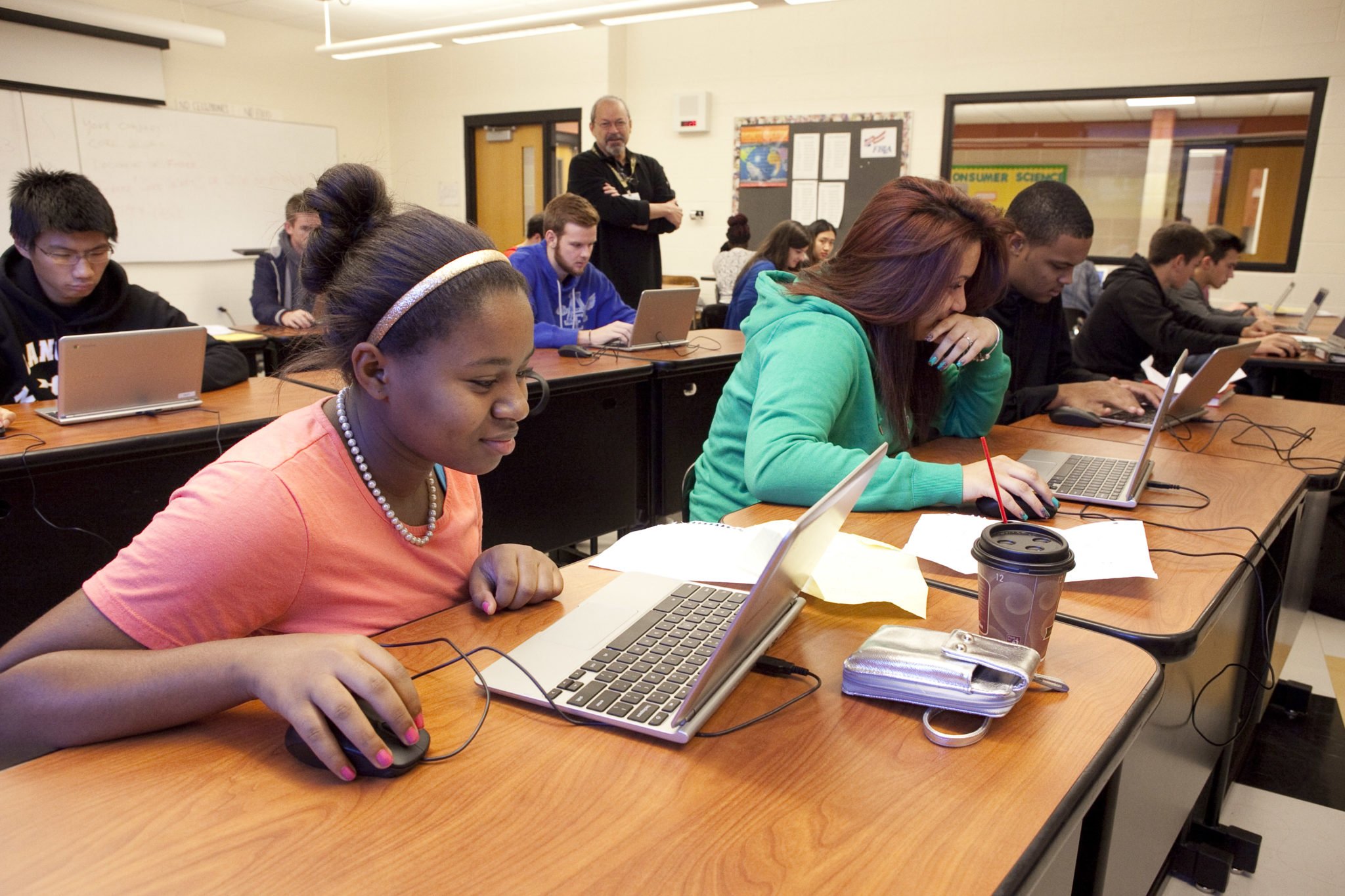 Each spring, students select their courses, both requirements and electives, for the following school year. This is a process that involves the support of their parents, advisory group leader and school counselor. Typically students will take time in advisory groups to select courses for the following school year. Once the advisor and student select courses, the course selection form requires a parent signature. With parental approval, the course selection form is then submitted to the guidance office for the counselor's final approval before being submitted.
Grading Scale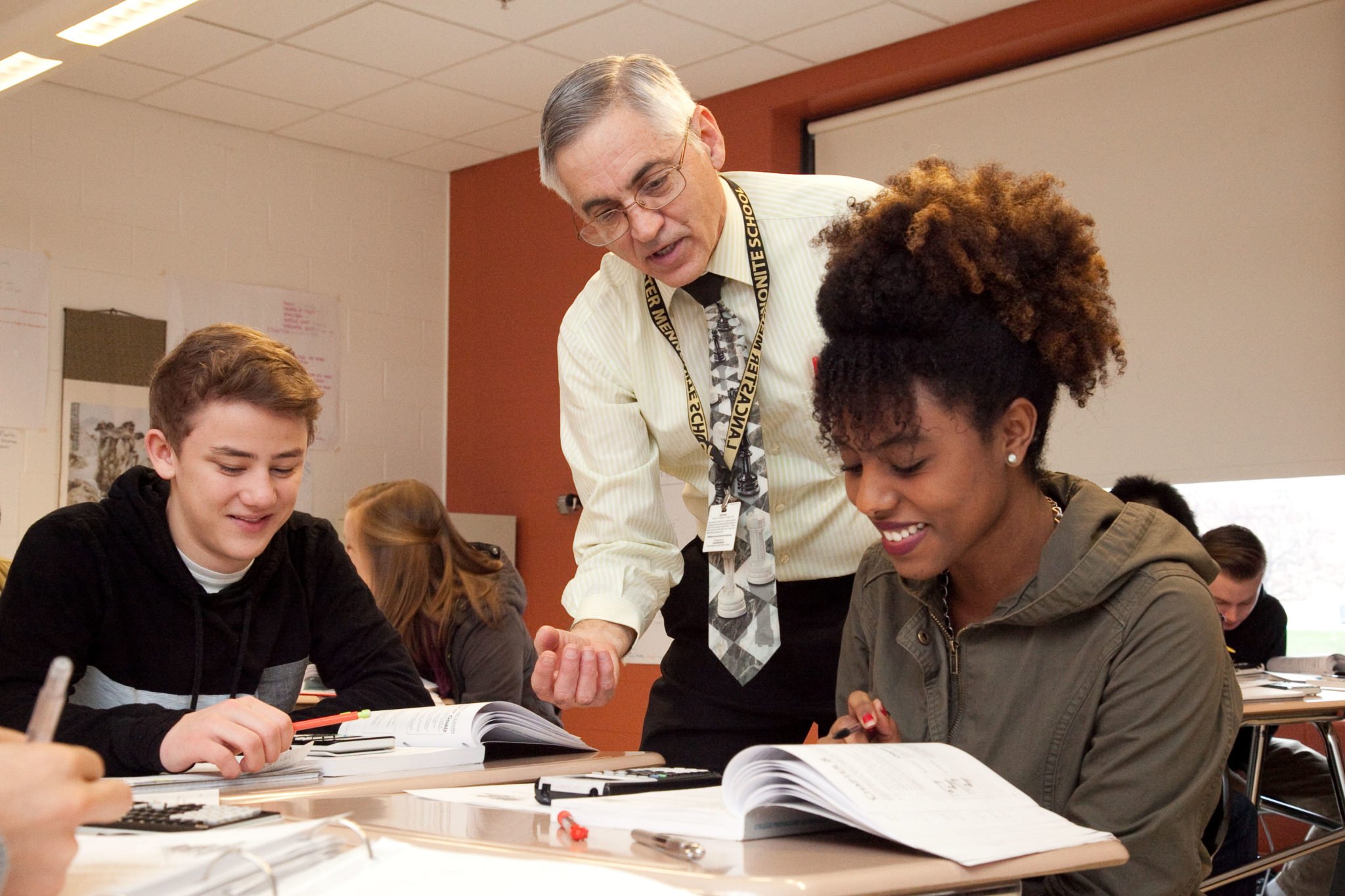 Our grading scale is modeled off of the standard high school grading system.
A (Superior):                       90-100
B (Good):                            80-89
C (Average):                        70-79
D (Below Average):             60-69
F (Unsatisfactory):               Below 60
Mini-Courses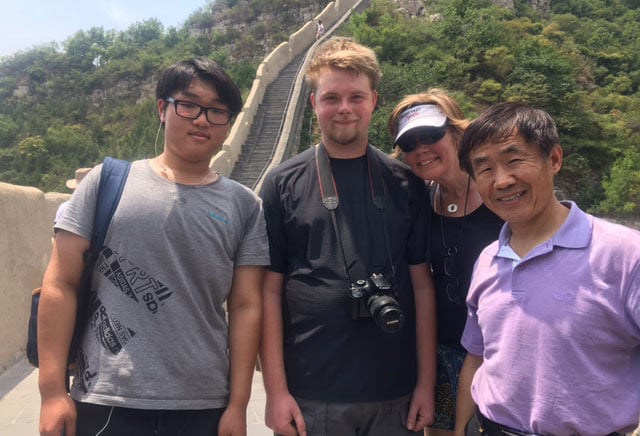 Lancaster Mennonite School realizes that many significant lifelong skills and interests are developed outside the classroom setting. Mini-courses for grades 11 and 12 and class experiences for grades 9 and 10 provide opportunities for students to learn with their peers and teachers and benefit from teachers' expertise and creativity.
Mini-courses are a minimum of three days and may include overnight trips or day trips for those three days. Students may count school-led summer trips as their mini-course prior to their junior or senior years. Mini-courses focus on an academic area and/or service and occur every two years (spring of even years). Students receive a pass/fail grade for 0.25 credit.
LM Students Have Recently Been Accepted by the Following Colleges and Universities
National Universities
Princeton University #1
University of Chicago #3
Columbia University #5 (tie)
Massachusetts Institute of Technology #5 (tie)
Stanford University #5 (tie)
University of Pennsylvania #8
California Institute of Technology #10
Johns Hopkins University #11
Brown University  #14 (tie)
Cornell University #14 (tie)
Rice University  #14 (tie)
Vanderbilt University #14 (tie)
Georgetown University #20
Emory University #21
University of California Berkeley #21
UCLA #21 (tie)
University of Southern California #21
Carnegie Mellon University #25
University of Virginia #25
Wake Forest University #27
Tufts University #29
Boston College #32 (tie)
College of William & Mary #32 (tie)
Brandeis University #34 (tie)
Georgia Institute of Technology #34 (tie)
Boston University  #37 (tie)
Case Western Reserve University #37 (tie)
University of Miami #46
Purdue University #49
The Pennsylvania State University #52
University of Texas at Austin #56
American University #69
National Liberal Arts Colleges
Amherst College #2
Swarthmore College #3
Washington and Lee University #10
Colgate University #12
Bucknell University #33
Lafayette College #36
Franklin & Marshall College #39
Bard College #46
Wheaton College #63
Hillsdale College #71
Regional Colleges and Universities
Chapman University #5 in Regional Universities West
University of Scranton #6 in Regional Universities North
Goshen College #6 in Regional Colleges Midwest
James Madison University #7 in Regional Universities South
Cedarville University #13 in Regional Colleges Midwest
Lebanon Valley College #24 in Regional Universities North
Bluffton University #27 in Regional Colleges Midwest
Eastern Mennonite University #41 in Regional Universities South
Messiah College #5 in Regional Colleges North