Boarding Options (Grades 9-12)
Home away from home
Our high school Residence Hall boarding provides an opportunity for students to grow socially and spiritually in a community where they care for themselves and each other. In addition to benefiting students who participate in the residence hall program, the program enriches the entire school with an international perspective.
Dorm Living - Residence Hall
Millstream Hall is our on-campus dormitory. Our boarding program offers a great opportunity for students to prepare for the increased independence and responsibility of college life, and to share their own unique background and experiences.
Our Residence Hall boarding program a "home away from home" for many students who otherwise would not have been able to attend. Many students comment that our Residence Hall boarding program was among the most significant parts of their time at Lancaster Mennonite, building close friendships with other dormmates.
Millstream Hall can accommodate 67 students. They are a diverse group of students from other areas in the United States, and from other countries such as China, Ethiopia, and Vietnam.
Residential students have access to facilities on campus, such as the sports center and library. The dormitory is also within walking distance of several restaurants, shopping, banks, convenience stores, and hair salons.
Four-night and Seven-day Programs
The four-night residence hall program is for those who can spend weekends off-campus with their family or a host family. Room and board are provided during the school week, from Monday after school to Friday at 5 pm.  International students may choose this option if they have a guardian in the area or if an agency is arranging for a weekend homestay.
The seven-day residence hall boarding program includes room and board for weekends for those that are from more distant locations. Students are provided with meals and accommodations full time during the school year.  The seven-day program does close for Christmas and Summer breaks.
A Director of Residence Life, along with Resident Advisors, provide oversight and program activities for boarding students.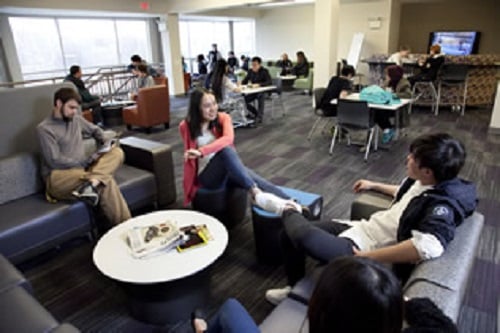 Boarding & Tuition Fees
Boarding Fees
Students can choose from two different Residential Programs at the Lancaster Campus for domestic boarding at the Millstream Residence Hall:
Four nights + all meals – leave friday night, return Monday morning. International students may choose this option if they have a guardian in the area or if an agency is arranging for a weekend homestay.
Seven nights + all meals
The cost for boarding is in addition to the cost for tuition and other fees.
View pricing for various boarding options by clicking the "Boarding Fees" button below.
Tuition
LM has a Continuous Enrollment Tuition Plan and Agreement, and an annual re-enrollment fee. Students are continually enrolled from their initial enrollment until graduation from LM, or the termination of the agreement as provided herein. This makes it easier for families to continue to be a part of the school and for LM to plan.
View tuition pricing information by clicking the "Tuition Information" button below.
Millstream Residence Hall Dorm Living
Apply for the Residence Hall
LM has been my home since I first came here to the US in 2012.
The school has given me many opportunities to challenge myself as a leader and helped me to become a better person. I have been highly motivated by many people that I have great fortunes to meet from the faculty to the students. The variety of classes and organizations has also taught me many life lessons that I will treasure forever.
Vy Ho, Vietnam
LM Alumna
The Christian environment, the high quality of the faculty, staff and students stand out.
LMH offers so many different options for academic courses and athletics. I recommend LMH to those who are looking for a high quality education and a friendly place at the same time.
Juan David Gomez
Student
Are you an international student?