EVERYONE HAS SOMETHING TO GIVE AND EVERY ACT OF GENEROSITY COUNTS
GivingTuesday is a global generosity movement unleashing the power of radical generosity. Join the movement and give – each Tuesday and every day – whether it's some of your time, a donation, or the power of your voice in your local community.
We encourage you to give to Lancaster Mennonite on Tuesday, November 29, 2022. To make a donation click the button below.
LM STUDENTS EMPOWERED TO BECOME WORLD CHANGERS!
This is the first year that every Lancaster Mennonite student in grades PreK-12 is at one unified campus. It's been wonderful to have increased opportunities for interactions and mentorship across the grade levels.  This is true for students and siblings, 12th grader, Matt Goppold and kindergartener, Maggie Goppold, who are the 'bookends' of our unified school.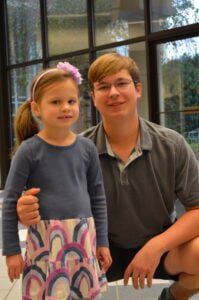 "I like seeing my older brother, Matt, at lunch during the school day. I like learning about God and Jesus during chapel and in Bible class at LM."- Maggie Goppold, Kindergartener
"My favorite classes are anything related to science, and these challenging courses have prepared me well for the future. The tight-knit, diverse community at LM is unique, and it has definitely helped me grow in my faith."– Matt Goppold, 12th Grader
By growing in faith, building a supportive community, and learning skills that will equip them for the real world, Matt and Maggie are being empowered to become world changers!
Your gifts provide financial support for quality education and equip the next generation to change our world together! Thank you for believing in LM and equipping students, like Matt and Maggie, to change the world!
THANKS AGAIN FOR YOUR SUPPORT!
VIDEO: Students and siblings, Maggie '35 and Matt '23 Goppold, share why they love school and their dreams for the future!