MS Academics
Middle School (Grades 5-8th)
Project-Based Learning
All middle school students, grades 6th to 8th, learn core concepts through a Project-Based Learning lens.
Grade 6 Overview
As a transitional year, 6th Grade is a lighter introductory version of Project-Based Learning (PBL) curriculum that students will experience in 7th and 8th grade. Core subjects integrate shorter 2-3 week inquiry-based Project-Based Learning units and class presentations every quarter, along with additional experiences that prepare students for the immersive 7th and 8th grade program. 6th grades are given more guidance around their inquiry-based projects and the design-thinking process, and have opportunities each quarter to shadow 7th graders. They also interact with smaller groups of 7th and 8th graders in their chosen special classes the first two periods: choir, band, orchestra, enrichment (coding, podcasting), foods, etc.
Grade 7-8 Overview
The Project-Based Learning Program for grades 7 and 8 is an immersive interdisciplinary approach that engages students in project-based learning (PBL) for core subjects. Students focus on a different theme each quarter with all subjects being interwoven into solving real-world problems through each class, and engaging in student-led inquiry. Students are pulled out for appropriate-level math classes. At the end of the quarter they present their understandings to an authentic audience. Students are offered choices for special classes to take the first two periods every morning all year: choir, band, orchestra, foreign language, woodworking, foods, etc.
Areas of Study
8 Quarterly Exploratory Classes
College Preparatory Mathematics
Science
Language Arts & World Languages
Social Studies
Art
Bible
Music
Technology & Computer Applications
Family and Consumer Science
Physical Education/Health
Examples of Quarterly Unit Themes:
100 People Project: A World Portrait
History Now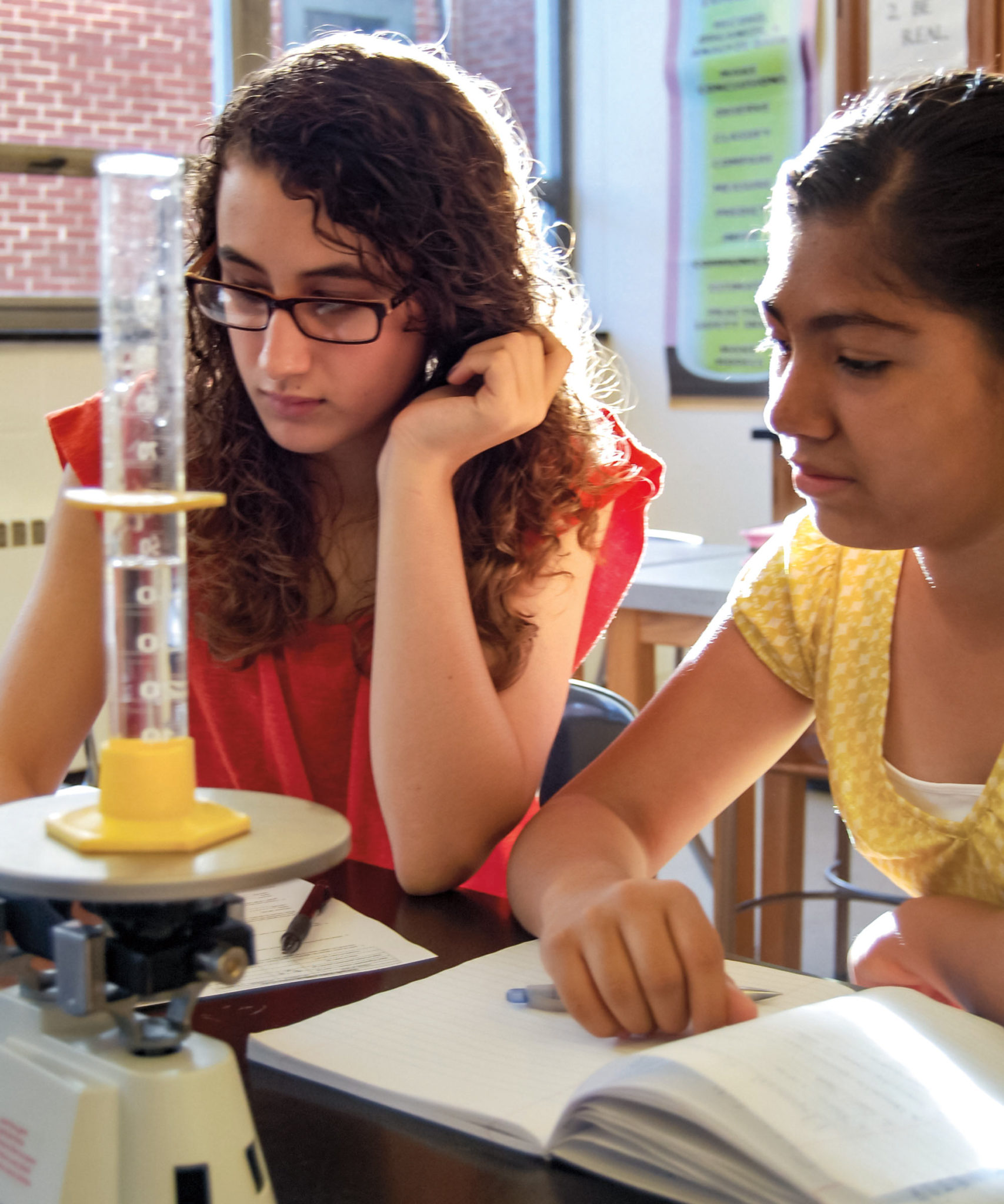 Project Based Learning (PBL) prepares middle school students for everyday life. Authentic "learning by doing" allows students to experience how their academic endeavors, when partnered with collaboration, can have a positive impact on the community and their world. We invite you to hear the experiences of students, teachers and staff share first-hand why they are passionate about Project Based Learning at Lancaster Mennonite, and about the this unique school community.
Project-Based Learning
WHAT IS PROJECT-BASED LEARNING?
Invites students to acquire knowledge and skills through investigation, integration and synthesis of a complex question, problem, or challenge experience in the "real world". Engages all core subjects with teachers and collaborative group work among students.
HOW DOES THE PROJECT-BASED LEARNING CURRICULUM FUNCTION?
Quarters are divided into themes connected to larger essential questions and real world events, for example "To Infinity and Beyond" explores food, energy, and transportation on Mars.
Thematic units and projects are designed using traditional curriculum and educational standards.
Reflection, critique and revision are part of the daily routine and an integral part of every project.
Students spend time in the Design Lab constructing pieces for their projects at specific points each quarter.
Exhibition Nights provide students a chance at the end of each quarter to present their learnings to an audience.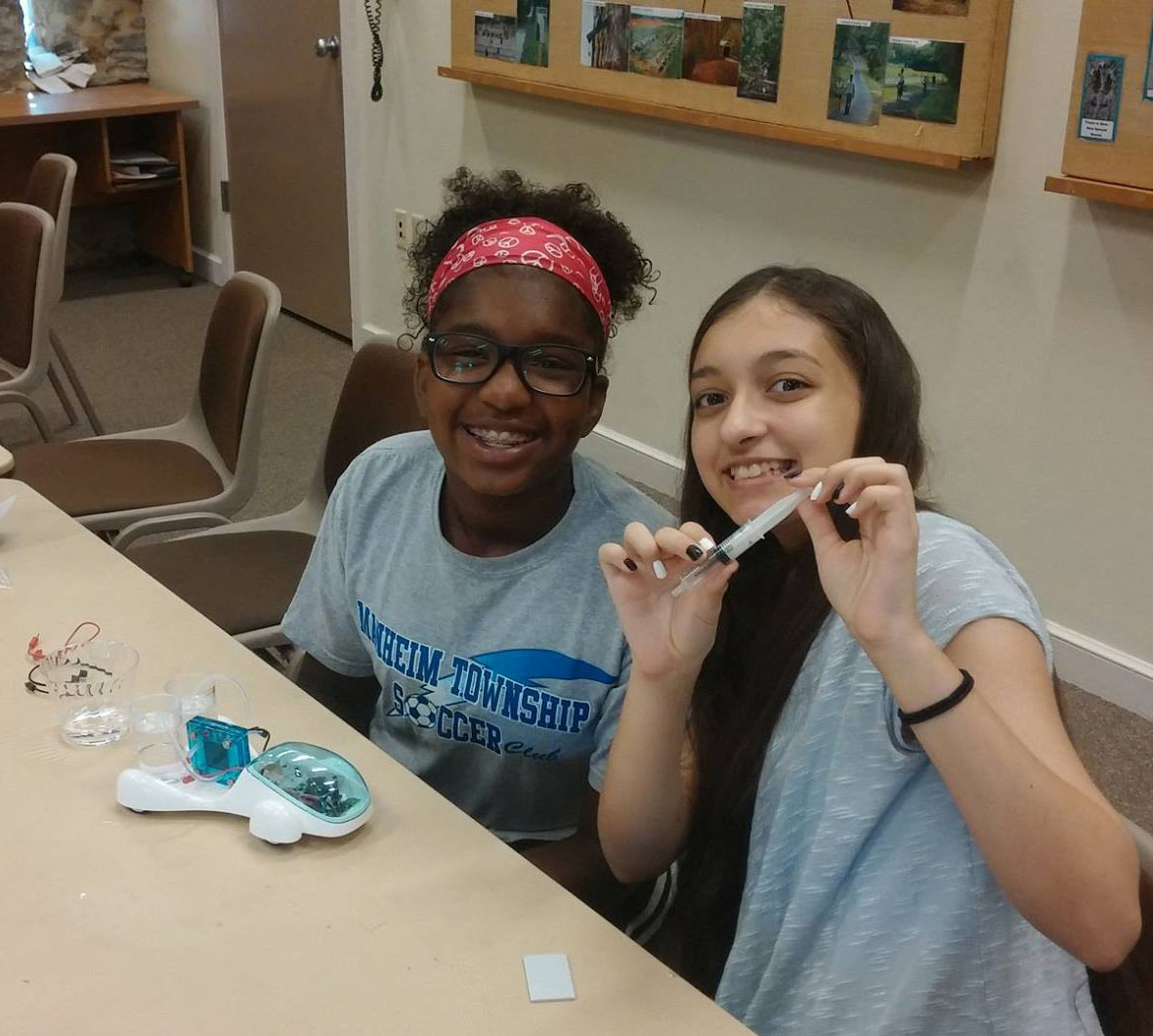 WHAT ARE THE BENEFITS OF PROJECT-BASED LEARNING?
STEAM (Science, Technology, Engineering, Art & Math) is integrated seamlessly with project based learning. Our Design Lab marries learning with hands-on use of laser cutters, CNC routers, 3D printers, power tools and materials.
Follow personal interests – Students are given voice in the process and make decisions about the projects, tailoring their creations and presentations to their interests.
Real world skills – Students become leaders of their own learning, practicing critical 21st-century skills necessary for success: communication, collaboration, creativity and critical thinking.
Authentic "learning by doing" allows students to experience how their academic endeavors, when partnered with collaboration, can have a positive impact on the community and their world.
Faith formation is infused into the exploration of all questions, problems, and challenges, and, in this way, mirrors adult life.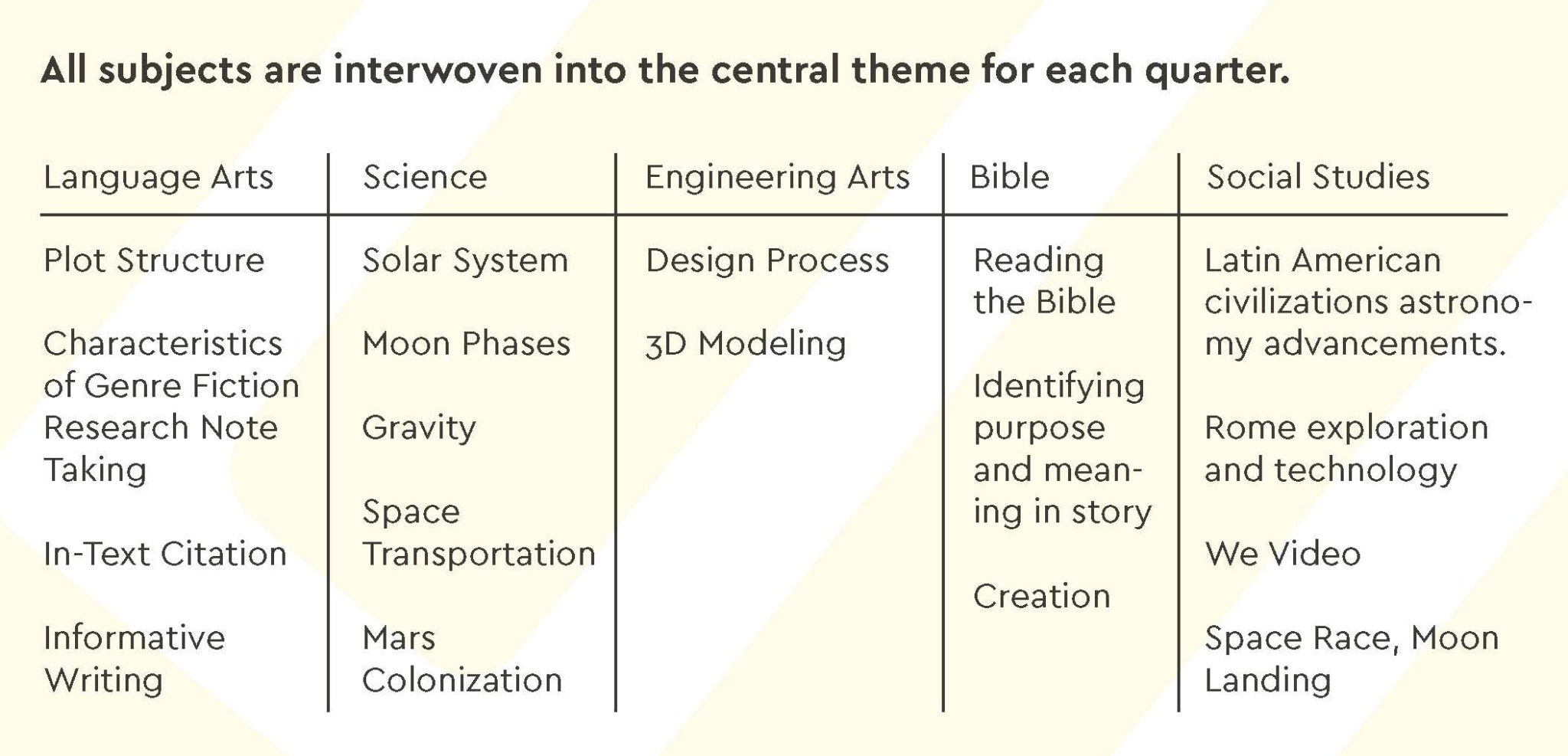 Photo Gallery of Project-Based Learning Projects
Students and faculty members talk about their experiences with project-based learning (PBL).
Project-Based Learning taught me time management and problem solving skills
"My favorite part of Project-Based Learning (PBL) middle school was how interactive it was. As a hands on learner, Project-Based Learning helped me learn more quickly and in ways that were exciting to me. Project-Based learning prepared me for high school and the real world by teaching me time management and problem solving skills."
Rebecca Sauder, 11th Grader
PBL students are collaborative, self-starters with strong communication skills.
"As a high school teacher I have noticed that students who are in or have come through the Project-Based Learning (PBL) Middle School are collaborative, self-starters. When broken into groups they quickly realize roles, and start to organize them with group members. They are strong communicators that can express their ideas well, and create very polished presentations for class projects."
LMH Teacher
PBL provides skills that will equip our child for the real world
"The LM Project Based Learning Middle School has really helped our child develop into a confident person, willing to try new things and solve problems collaboratively. The environment at LMMS is a safe place to take risks and foster creativity, innovation, and perseverance in students. These are skills that will equip them for real challenges and help them grow into adults who will be able to follow their passions."
Jen Frederick
Parent of Child in Project-Based Learning
ADDITIONAL OPPORTUNITIES
Bible curriculum taught in addition to core subjects, and faith integrated genuinely as part of all classes
Art & Music classes 2x/week
Physical Education class 2x/week
Drama production happens annually
Electives include: Language, Choir, Concert Band, Orchestra, FFA and weekly club offerings
Service Learning: One morning every week students help at a local organization or around campus
ATHLETICS
MSO – Students in grade 6 can participate in The Mennonite Sports Organization (MSO) for soccer, basketball, field hockey and lacrosse – click here.
LL League – Students in grades 7-8 are eligible to participate in LL league Jr. High level sports for:
Cross Country for boys and girls
Field Hockey
Soccer for boys and girls
Basketball for boys and girls
Track
Chess Team (with high school)
Quiz Bowl
Math Counts
Geography Bee
Teaching & Support
We are proud to have students from many racial/ethnic groups, socioeconomic backgrounds, denominations and countries.
COMMITTED, QUALIFIED FACULTY
Faculty create a caring environment and safe space for all students to learn.
Teachers have bachelor's or master's degrees.
VIBRANT SPIRITUAL LIFE & TEACHING
Teachers committed to integrating Christian faith into all subjects
Emphasis on a commitment to following the life and teachings of Jesus, including creating a culture of peacemaking, justice and service
LMMS students participate in daily devotions and attend chapel once each week
SUPPORT SERVICES
A comprehensive, holistic guidance department helps students academically, socially, emotionally and spiritually.
The Learning Support program meets the needs of many students who require a program beyond the regular classroom, enabling students with learning exceptionalities to participate in regular education classes, electives and activities.
LOCATION & TRANSPORTATION

LM is located on the wooded, 95-acre Lancaster Campus along Route 30, just east of Lancaster city.
Free public school bus transportation is available from school districts whose borders are within 10 miles of the Lancaster Campus.
LM buses provide transportation from the Mount Joy Elizabethtown area, western Chester County and eastern York County for a small fee.
FINANCIAL AID
Financial aid is available to make an LM education affordable. Please see the financial aid website page for detailed information.