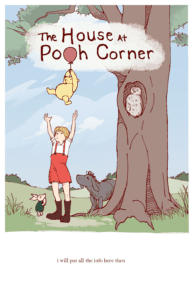 "The House at Pooh Corner"
Based on the Winnie the Pooh stories by A.A.Milne
October 27, 7:00 pm
October 28, 7:00 pm
October 29, 7:00 pm-  *There will be ASL (American Sign Language) Interpretation
October 30, 3:00 pm
"The House at Pooh Corner" is presented by special arrangement with The Dramatic Publishing Company, Woodstock, Illinois.
Summary
Lancaster Mennonite High School, is presenting "The House at Pooh Corner," as our fall play this year. We have made this choice as a way to acknowledge the unification of our three campuses. This is a production that can be enjoyed by children and "children at heart."
The entire story is told through the imagination of six year old Christopher Robin.  It is a beautiful morning in the 100 acre woods. Winnie the Pooh, Piglet, Eeyore and all their friends  are anticipating a "mergency meeting" called by Christopher Robin and his friend Backson.  When he arrives, he tells them that he is being sent away to something called education.  Terrified of the unknown, they all decide together to run away to the South Pole.  But before they can leave, they encounter a noisy, new, bouncy creature that invades their serene forest and destroys Owl's house.  But by the end of the play, everything seems to have righted itself, as it always does in a child's imagination.
There will be ASL (American Sign Language) Interpretation at the Saturday evening performance, October 29
Cast
Christopher Robin- Julia Fisher
Winnie-the-Pooh- Tessa Kennedy
Piglet- Kay Beidler
Eeyore- Eli Heinsey
Kanga- Laura Rosario
Roo- Brennan Kauffman
Tigger- Sim Spurrier
Owl- Noah Niehans
Rabbit- Jaz Shanahan
Early- Ilse Ness
Late- Anya Friesen
Punctual- Aaliyah Clark
Crew
Stage Manager- Amirihana Toney
Assistant Stage Manager/Gopher- Keifer Hertzog/Rachel Landes
Master of Words- Phuong Thy Le
Props Co-Chair- Lizzie Ripperger, Owen Esch
Make Up- Kai Esbenshade
Sound- Ashton Jobes, August Stetler, Haydn Gruno
Lights- Skyler Martin
Set Construction- Davin Esbenshade, Skyler Martin
Tickets for this production are "pay what you can".  Please click the link below to order.