Chapel
A time for commitment, challenge, community, and celebration
Chapel is a time of worship and cultural events, inviting students to personal faith, Christ-like love, peacemaking, and service for focused and sustained attention to spiritual growth.
Growing Together
*This year chapel has looked a little different due to COVID. Students are participating in chapel virtually this year with small groups rather than gathering in the Fine Arts Center Auditorium as a large group as we normally would. The small group listens to speakers from the school and guest speakers from around the country and then has discussions with with their small group of students and teachers/advisors.  
Lancaster Mennonite faculty and students meet in the Fine Arts Center auditorium four times a week. The purpose is to call the school to commitment, challenge, community, and celebration. This time of worship and cultural events invites students to personal faith, Christ-like love, peacemaking, and service. Chapels give attention to the rhythms of the school year and the cycle of the Christian year. Special series with guest speakers, such as Commitment Week, Missions Inspiration and Education Week, and Career and Faith Week allow for focused and sustained attention to spiritual growth.
Chapels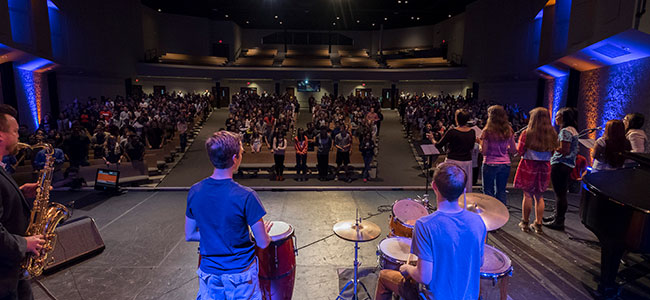 Why do we have chapels?
Offer teaching that is warmly ecumenical from an Anabaptist perspective that speaks to heart and mind.
Provide biblical teaching that integrates faith with current issues relevant to our faith journeys.
Create a climate that disciples Christians as well as invites seekers to faith.
Make time for worship, prayer, and reflection in the school day.
Foster awareness of being God's missional people in the world.
Highlight special callings in the church and the world, as a way to nurture each student's calling.
Develop worship leading, performance, and technical abilities among students, as well as model adult leadership.
Build community by gathering together the whole student body and faculty.
What's in chapel?
Balance worship and faith-focused chapels with occasional assemblies that, while not worship, build and celebrate community.
Attend to school life, while at the same time developing awareness of the wider world and the global church.
Who speaks in chapel?
Faculty and students.
Local pastors and representatives of Anabaptist-related institutions, from the U.S. and around the world.
Guest speakers who know and respect the mission of the school.
What music do we sing and hear?
In addition to the hymnal (Hymnal: A Worship Book), from which we take our core music, we welcome and celebrate with a balanced selection of Christian music of other styles.
Music groups from within the school regularly lead worship and perform.
Choirs, particularly from Mennonite colleges, often travel to perform at our chapel services.