Love Beyond Distances Day
Christ shall be known by our acts and words of love!

With the safety of LM's community and yours at the forefront of our minds, we have decided in place of our in-person annual benefit Golf Tournament and LMMS Service for Learning events for 2020, we will be hosting a new virtual event, Love Beyond Distances Day, of service and giving on May 13, 2020.
As part of LM's #LoveBeyondDistances Day LM students, families, faculty, and staff will be sharing a Christ-like act and creative message of hope, love, and peace within their community incorporating LM's hashtag, #LoveBeyondDistances on their social media posts.
Ideas to serve and share a Christ-like act of love, hope and peace may include*:
Public art display or hang a large positive message on your house/garage/barn/yard

Create a video of a collaborative prayer, read a favorite kids book, or your version of "Some Good News"

Play and record music (instrumental or singing)

Design a t-shirt/clothing with hope-filled message 

Make homemade protective face masks

Leave a gift for delivery people outside of your front door, with a note (i.e. package of toilet paper)

Make a homemade treat like cookies to distribute to neighbors (using the doorbell and social distancing to drop off the gift)

Sidewalk chalk messages of encouragement

Write letters or cards to brighten someone's day; or write an encouraging note to send to a healthcare worker

Send/deliver flowers
Buy/send/deliver a food gift card or meal to someone you know needs it
Invest in LM! (see more below)
*A friendly reminder to only do COVID-19 social distancing safe activities for this day in accordance to your state and local guidelines. For example, assisted living community persons, hospital patients and on duty healthcare staff cannot accept any homemade meals, cookies or treats delivered personally or through the mail until health restrictions have been lifted.
Here is a sign you can use to join in with us for your own #LoveBeyondDistances Day actions and social media posts on May 13. Click the button below to print in-house or share this graphic yourself.
Show Your Love Beyond Distances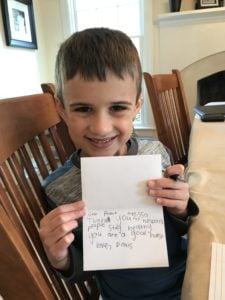 We are extending the invitation to alumni and supporters as well to join us on May 13 by doing and sharing an act of Christ-like service or love incorporating LM's hashtag, #LoveBeyondDistances on your social media posts. In addition, it's an invitation to give financially to LM, if supporters are able to on this day of service and support.
Funds raised by #LoveBeyondDistances Day benefit LM's annual fund, which supports our teachers and student aid. And we could not be prouder of our teachers and students during this time!
Resilience & Delivering Education Virtually
As a result of the COVID-19 pandemic, Lancaster Mennonite's buildings are closed, but school is still in session. Our teachers and families shifted to remote learning from home without disruption. An example of resilience in a time of change. That love shines through LM students and their parents as they find creative ways to learn together at home and send beautiful messages of hope out to the community.
We are grateful for teachers who are going the extra mile to creatively provide faith formation and love beyond distances for students during these unprecedented times, like Locust Grove's first grade Spanish Immersion class having prayer and sharing time virtually, New Danville's remote chapels with singing and stories, and LMH's Spiritual Formation class meeting in small groups online to share together.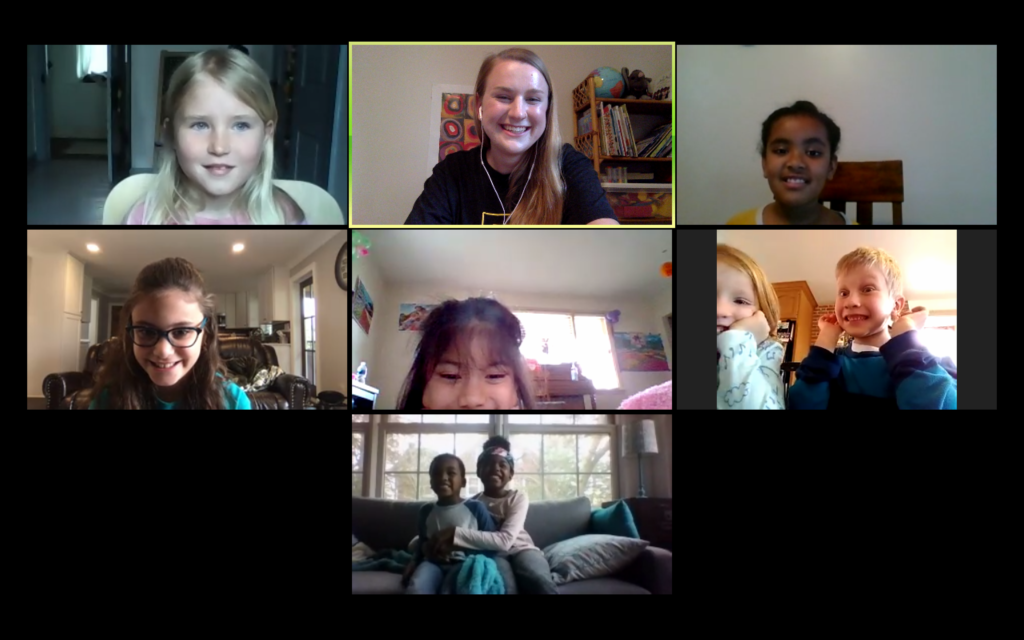 What's Next?
We are living out our vision and mission by providing families with connections, routines, curriculum and faith formation during this time.
There is much uncertainty for the future, but we do expect that as we come out of the pandemic and enter recovery we will have greater numbers of students in financial need. We want to help existing families to keep their children at Lancaster Mennonite, especially those who have experienced job loss or a serious financial set back as a result of COVID-19.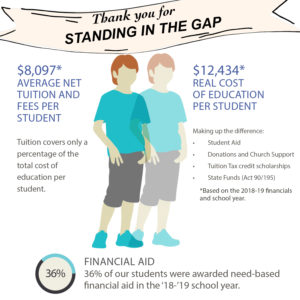 LM still needs $245,000 to fill the gap. Invest $69 to support for one day of school for a student! Now more than ever we need your support. If you love LM and believe in diverse, compassionate, creative, peacebuilding education, please stand in the gap with us today!  Your gift provides high quality, Christ-centered education that equips students for a rapidly changing world.
We know many families and businesses face uncertainty and your ability to support LM may look different this year; we understand and ask you to keep us in prayer. However, if you are able, we welcome your generous support by giving in one of these ways:
CARES Act giving opportunities
Annual Operating Fund
Love beyond distances comes in many forms. God is generous in caring for us, and we are grateful for your support of Lancaster Mennonite World Changers!
We believe in every single one of our current, past and future students – but it's only TOGETHER that we can do this. THANK YOU FOR LOVING LM BEYOND THE DISTANCE!
Thank You to our Event Sponsors!
John & Lisa Sands Family