PreK & Kindergarten Experience Day!

Join us for story time and fun activities on April 8, 9:30-11am!
Our teachers will host students and families considering LM with a tour, classroom & story time, a special activity, opportunities to talk with administrators, and a gift for prospective students!
Interested parents and guardians of incoming PreKindergarten and Kindergarten age students are welcome to join us for an in-person PreK & Kindergarten Experience Day on April 8 from 9:30-11am, where you can see first-hand our PreKindergarten and Kindergarten classrooms and meet teachers.
Schedule for the morning, April 8th – 9:30-11am:
9:30-10 am: Experience a current PreKindergarten and/or Kindergarten Classroom in action (English or Spanish Immersion classroom) + story time at our Locust Grove Campus –

2257 Old Philadelphia Pike,

Lancaster, PA 17602

10:15-11 am: Visit our new classrooms + do an activity at our Lancaster Campus –

2176 Lincoln Hwy E,

Lancaster, PA 17602

Feel free to join us for one or both sessions as your schedule allows, but we'd love to have you at both if you are able to!
We will be unifying next fall grades PreK-12th at the Lancaster Campus (Lincoln Hwy E). For the rest of this school year PreK and Kindergarten classes are at our Locust Grove and New Danville campuses. For the Experience Day we invite you to explore the Locust Grove campus (only 1 mile away from the Lancaster campus) to see the classes in action, and then come to the Lancaster campus to view the future spaces. You can come to one or both location.
Our PreK-12 students are World Changers TOGETHER.
We hope you will join us at our PreK & Kindergarten Experience Day to see first-hand the caring, diverse community and unique programs that represent the LM difference! Exciting things include Spanish Immersion, Makerspaces, art, music, emphasis on peace building and community, outdoor play space, full day preK and K options, and much more!
We have the option for an English or Spanish Immersion track for your student. Our Kindergarten Spanish Immersion class for next year is filling up fast – we currently only have one spot left! Excited to share with you more about our amazing academics, curriculum and program when you join us on April 8!
At Lancaster Mennonite, we believe in creating an inspiring, faith-based atmosphere, where students are provided the opportunity to reach their full potential and be equipped to flourish in the real world.
Register Now!
Register by clicking the button below. Attendees will receive a special book!
You can contact: admissions@lancastermennonite.org with any questions.
Pre-register for the PreK & Kindergarten Experience Day!

Our Programs
Academics
At LM, academics are more than earning a grade, it's about challenging the mind to think, encouraging students to learn, and perform exceptionally. Dedicated teachers equip students with these tools to, not only grow in their education, but to also make a positive impact on the global community.
Athletics
LM Blazers are a resilient group of individuals who work together to represent their teammates, coaches, parents, school, and community with athletic and academic excellence. They are a group of individuals who show teamwork, sportsmanship, and character on, and off, the field.
Fine Arts
LM is committed to providing students with opportunities to embrace their gifts and talents. Through an education integrated with the arts, students develop an understanding and appreciation for various forms of art, faith, and the world.
Our Campuses
Lancaster Campus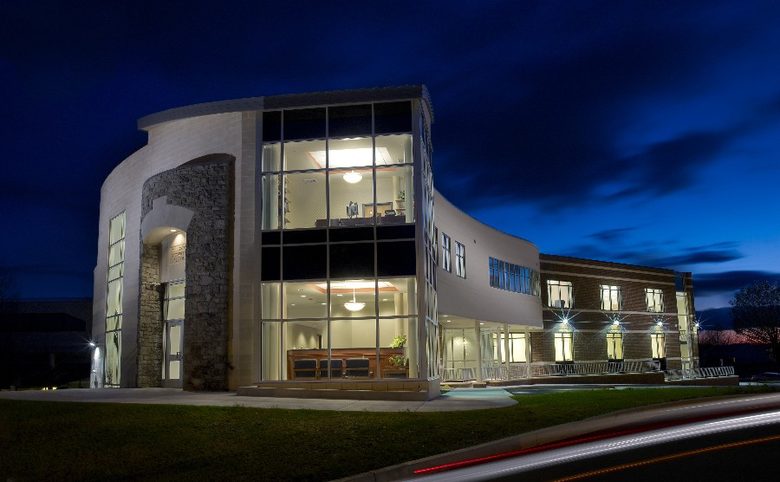 Next school year in the fall of 2022 all grades PreK-12 will be uniting at the Lancaster Campus. It is a beautiful 95-acre campus with wooded trails, open green space, a stream flowing through campus, and state-of-the-art faciltiies, like a fine arts center, 2 gyms, cafeteria, auditorium, and much more! PreK-4th grade classrooms will be housed together in the Rutt Academic Building (photo above).
Locust Grove

The Locust Grove Campus provides PreK through grade 8. Locust Grove is one of the few schools in Lancaster County that offers the option of Spanish Immersion from kindergarten through sixth grade in addition to traditional classes. Learn More >
New Danville

A PreK-Grade 5 campus, New Danville features a strong early childhood program that prepares students for the next levels of learning. Within a very diverse student body, nurturing teachers create a fun, safe environment for learning. Learn More >
Unable to make it to one of our Experience Days or open houses?
We are able to now provide families Private In-Person Tours and further conversation with an Admissions Counselor. You can see our campus, chat with administrators and observe class in action.
Please contact us at (717) 509-4459 or admissions@lancastermennonite.org to set-up a personal tour or visit.