1964 Classroom
JOIN US TO GROW MORE WORLD CHANGERS!
1964 Classroom Wing Renovation Project & More...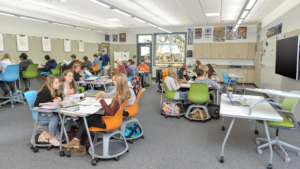 Lancaster Mennonite's original classroom building, opened in 1964, houses several of our core subject areas; English, Bible, and Social Studies, and needs updating. The original portion of the building most often referred to as the '64 Wing, still has the original finishes and colors, and lacks air conditioning. While no air conditioning has been a character building opportunity for 55 years, it's time to upgrade and improve the learning environment.
At LM, building on the rock established in 1942, is now embarking on a complete renovation of the 1964 classroom wing to provide a healthy, positive, and innovative learning environment for its high school students.
The renovations will include:
Adding air conditioning and updating the old, inadequate heating system
Restroom upgrades
Lighting upgrades in the classrooms and hallways
Window treatment updates and fresh paint
Several new gates and exterior fences to ensure a safe learning environment
The red lines indicate where new gates will be located throughout the Lancaster campus.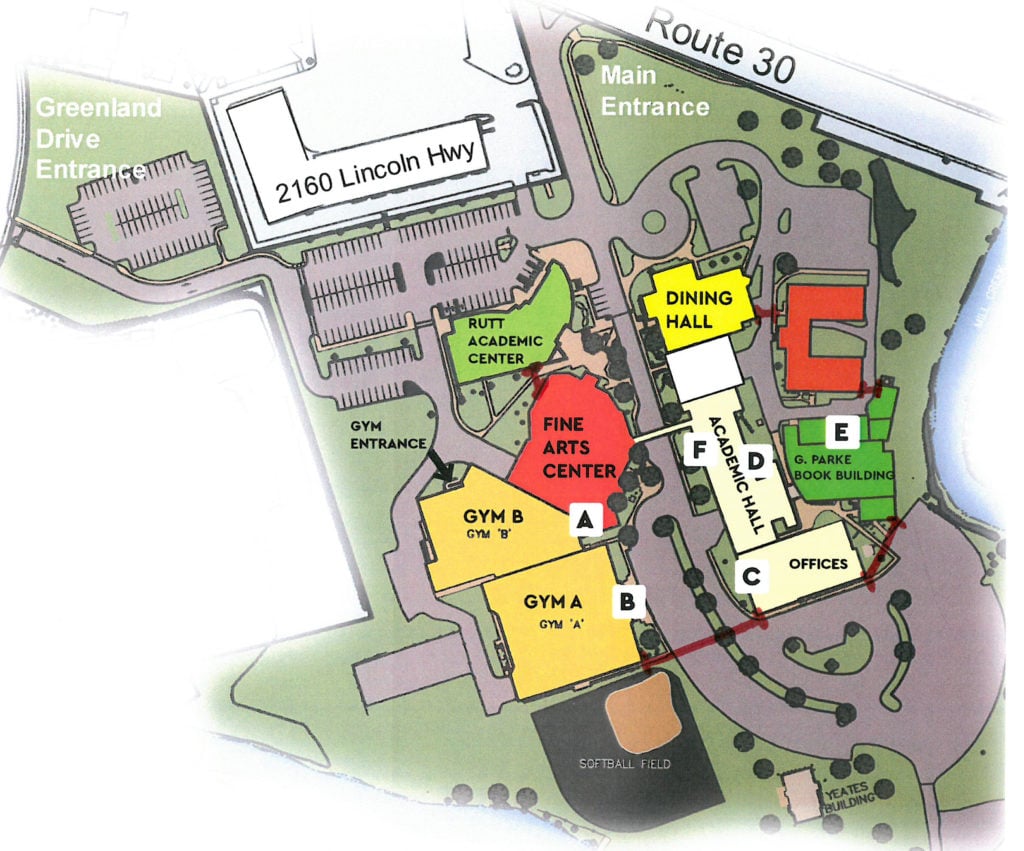 Progress Update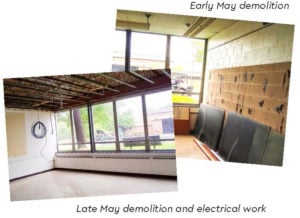 Demolition for construction started in May! We were grateful to be able to start construction early. Since school buildings have been closed since March 13 it allowed us to start construction earlier than expected.
We are so thankful for the generous support we've received so far for this project! Look at what has been accomplished already!
LM is demonstrating good stewardship of the gifts we've received by keeping our costs down and leveraging our talented staff in the project:
Our System Plant Manager, Troy Hurst, is serving as the General Contractor on the overall project and managing subcontractors.
Our Maintenance and Facilities Staff participated in the initial demolition, and this helped us keep them employed full-time during COVID-19 closures.
We welcome your prayer and financial support of this project.
How to Contribute
GOAL: $6 MILLION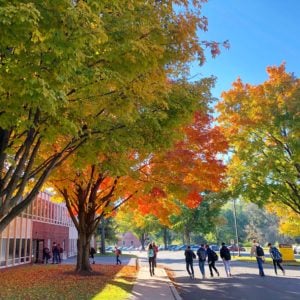 Lancaster Mennonite has already received matching gifts totaling $1,375,000 towards these planned renovations, but that amounts to only a fraction of the projected cost. In order to fund the project, LM is launching its Bridges To The Future capital campaign. In addition to supporting the 1964 classroom renovations, funds from this drive will be used to pay down the school's debt load and sponsor scholarships for students in need. Join us in our goal of raising 6 million dollars.
If 2,500 individuals of our LM community gave a $300 cash donation (capitalizing on the CARES Act 2020 tax deduction) to this project we would reach our goal to complete phase 2 of the renovation project next summer.
$2M – '64 Wing Classroom Renovations
We want to create a safe and healthy learning environment in the 1964 classrooms with new heating and air conditioning installation, secure entry to student areas, and refurbishment of classrooms. This includes ceilings, flooring, lights, electrical, data lines, bathrooms, and window treatments.
$2M – Pay Down Debt Load
Over the past decades LM has accumulated $8 million in debt. Some of this is due to unpaid commitment, and some due to unfunded projects. Join us in removing this expense from LM operations, and make tuition more affordable.
$2M – Student Scholarships
Join us in supporting students who want a Christ-centered education but do not have the resources to afford full tuition. Give to the student aid fund, start a named endowment scholarship and/or participate in the Pennsylvania scholarship tax credit.
JOIN US TO GROW MORE WORLD CHANGERS!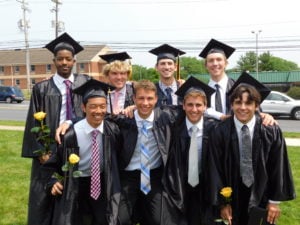 Your support will help us create a safe, creative learning experience that challenges students to look beyond themselves and grow their faith.
LM received matching gifts of over a million dollars that will help us reach our goal for renovating the 1964 Wing, but we still need your help.
Join us in supporting LM students by pledging your commitment today!
1964 Classroom Building Naming Opportunities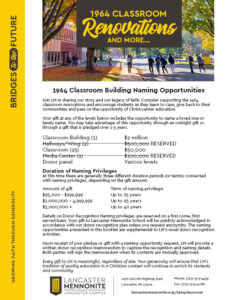 Join LM in sharing our story and our legacy of faith. Consider supporting the 1964 classroom renovations and encourage students as they learn to care, give back to their communities and pass on the opportunity of Christ-center education.
Your gift at any of the levels below includes the opportunity to name a loved one or family name. You may take advantage of this opportunity through an outright gift or through a gift that is pledged over 1-3 years.
See the enclosed information to see the Naming Opportunities available and the forms to complete.
If you are interested in learning more or have questions, please contact Jon Heinly, Director of Advancement via email: heinlyjd@lancastermennonite.org or (717) 740-2425.