Posted
Alumni of the Year 2009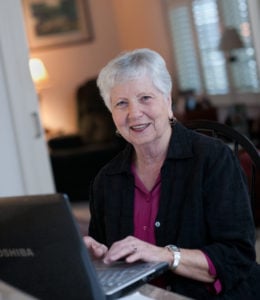 Lancaster Mennonite School has named 1955 graduate Connie Heisey Stauffer as its 2009 Alumna of the Year. During the school's annual dinner theatre on May 2, Gerald Horst, vice-president of the LMS Board of Trustees, recognized Stauffer for her strong support of Mennonite education. Stauffer served on the LMS board for 23 years—11 as board chair—and afterward was an early childhood education consultant for the school.
Stauffer taught 30 years at Pequea Valley School District as a fourth grade teacher, reading specialist and Instructional Support Team teacher and leader. She also taught two years at Eastern Mennonite University's Lancaster campus as an adjunct professor of the Practicum for Reading Specialty and Foundations of Literacy for students in the masters program.
Today she works at Mennonite Education Agency (MEA) as interim director for relationships with Mennonite Schools Council. She has served on the MEA board since its inception in 2002.
Stauffer also serves on numerous committees and boards, including the Landis Homes Retirement Community Board and the Pathways Institute for Lifelong Learning Advisory Board at Landis Homes. Earlier volunteer work with husband and LMS classmate Harold Stauffer includes a two-year voluntary service assignment in Potter County/New York City, and a four-year assignment in Somalia under Eastern Mennonite Missions. Harold died in February of 2008.
Beginning in the 1970s, Stauffer has been a strong advocate for women in church leadership within Lancaster Mennonite Conference. She recently advocated for the ordination of women in the conference.
Stauffer attended the Kraybill Campus of Lancaster Mennonite for grades 8-10 and Lancaster Mennonite High School for grades 11 and 12. She attends East Chestnut Street Mennonite Church.