Posted
Christy Horst has been promoted to Director of Admissions at Lancaster Mennonite School.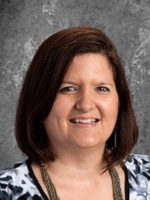 For the past eight years, Horst worked with admissions in the middle and high school office on the Lancaster Campus. A graduate of Messiah College with a BA in history and social studies education, she previously taught at Ephrata Mennonite School and served as a residence hall advisor at LMS. Horst's experience as a teacher and with admissions at the Lancaster Campus gives her a great foundation for directing admissions.
Horst will focus on middle and high school admissions, and MJ Smith, who serves as a part-time assistant principal at the Kraybill Campus and Locust Grove campuses, will focus on elementary-student recruitment. Corinne Han will continue in her role in recruiting international students and working to ensure they have an outstanding experience at LMS.
Horst has two children enrolled in LMS, and her family attends James Street Mennonite Church.
"I am excited about this new role, working to bring more families into our community at Lancaster Mennonite School," Horst said. "As a parent, I have been extremely satisfied with my children's experience at LMS, and I and am eager to share with others the opportunities at all four of our campuses."
Her work in recruitment/admissions will enable LMS to be a leader in educational experiences of excellence and character where students are enriched by being part of a diverse student body of local and global students.