Posted
LL League Light Up the Night Event & Honoring Senior Spring Athletes
Lancaster Mennonite celebrates our senior athletes who missed their last season of High School spring sports due to the COVID-19 shut-down. Learn about all the senior spring athletes in Tennis, Volleyball, Baseball, Softball, and Track below!
LM will also be joining the broader LL League Light Up the Night Event by turning on our stadium lights Wednesday, May 20th for 20 minutes at 8:30 pm to honor our 2020 senior spring sports athletes. Scoreboards will have 20 20 as the score and 20 minutes will be placed on the clock. Starting at 8:30, we will count the time down for 20 minutes. This is a symbolic event, so we ask that students and families not come on campus for this event, in accordance with COVID-19 safety guidelines, and instead join us in celebrating these Spring student-athletes virtually.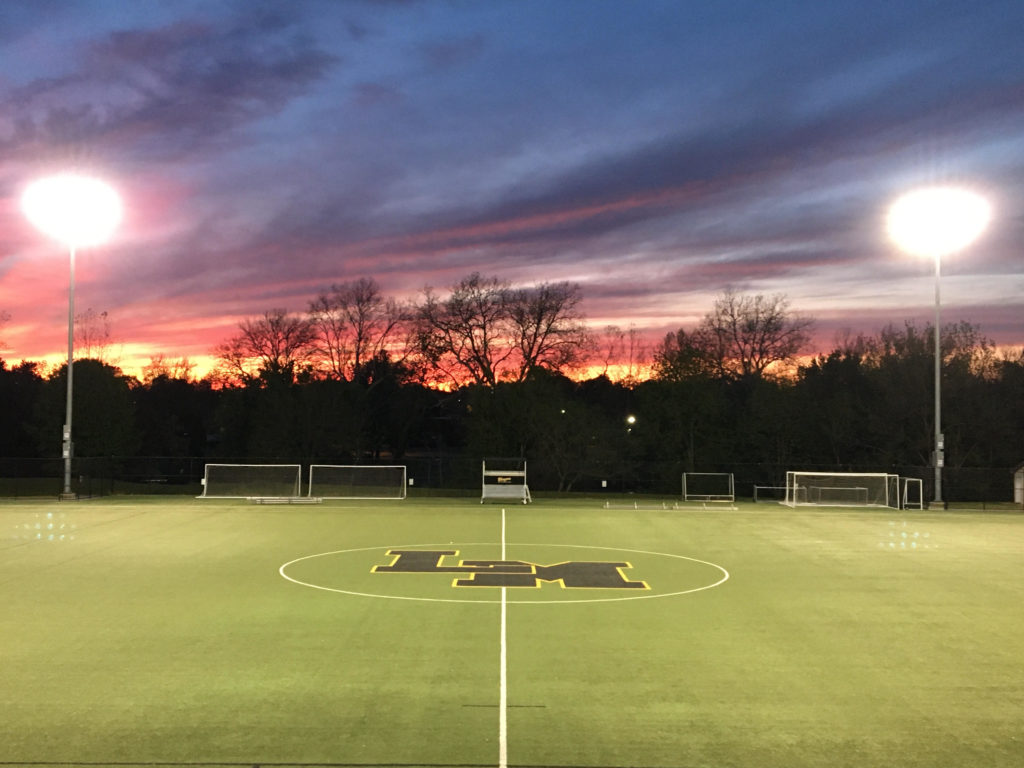 Message from Marvin Sanders II, LM Director of Athletics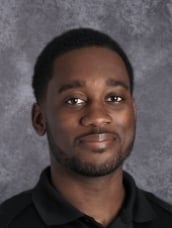 The closing of schools and the canceling of spring activities is a disappointing end to all high school student-athletes and for this year's senior class. However, there is still reason for optimism. With our faith in God, we anticipate that senior athletes in the class of 2020 will move on to the highest of leadership roles in their chosen professions in the years to come.
Understanding their disappointment of not getting to compete for this spring, the LM community including administrators and parents are showing their support for our high school students. It is for this reason that we will be lighting up our stadium to honor our seniors who are missing their final season of high school sports or performing arts tonight at 8:30 pm.
As a note to all of our student-athletes: Even though we have missed out on our spring season, this time that we are away should be dedicated to strengthening your mind, body, and spirit so that when you are back in school, your performance in the classroom and in your sport will supersede your expectations. God is with you all so let's continue to stay safe so that we can come back Blazer Strong for the new school year!
Meet our Spring Senior Athletes
BASEBALL: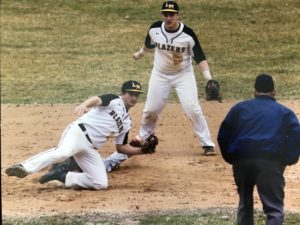 Dylan Gibble
Future Plans: Attend Liberty University in the fall to study Project Management. "I will also hopefully be rooming with one of my best friends and teammate Zach Hurrelbrinck."
Message to Teammates: "For all of the underclassmen and soon to be seniors for next year, I encourage you guys to make the most of the time that you have together. It goes by really fast, and some of my best memories from high school are from the baseball team. Even if you guys don't do the best, work as hard as you can, and have as much fun as possible."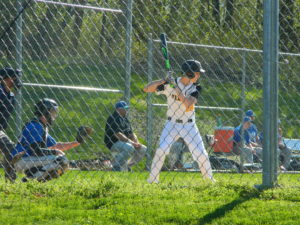 Joe Mattes
Future Plans: Attend Muhlenberg College to continue academic and athletic careers. He will be
studying Finance and working for a starting pitching spot in the fall.
Message to Teammates: "Some things that I have learned from playing baseball here at LMH is that it is up to you to succeed. People may encourage you and push you, but at the end of the day it is up to you to be the best player you can. My favorite memory of my baseball career was in my Junior year playing against Lancaster Catholic under the lights if you were there you probably remember the shenanigans that happened throughout the game. Some advice I have for the future teams is to push each other because it takes a team to win games, not just one or two players."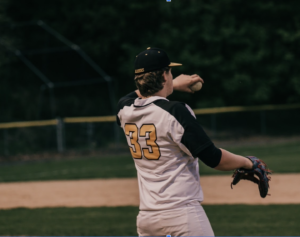 Zach Hurrelbrinck
Future Plans: Attend Liberty University to study Computer Science and Cyber-Security. "I am hoping to share a room with one of my closest friends and teammates, Dylan Gibble."
Message to Teammates: "I would like to thank my teammates for truly making each baseball season the most fun time of the year. Thanks to all of you guys, I have made countless memories. I was blessed with great teammates, many of which turned into even better friendships.
I will never forget hanging out with the guys before games and practices. That time spent together, where we laughed and talked about everything, allowed us to become more than teammates. Those moments are actually more memorable than the games we played together. We all worked hard and pushed each other to be better on and off the field. Without my baseball teammates, my high school experience would have been very different.
I am sad to see our time together end like this, but I am grateful for last year's season. Our 2019 season gave us great coaches and great memories together. I can say with confidence, that last season was the most fun I've ever had. By unexpectedly ending our high school experience in 2020, I can look back and say that there would be no other way that I would want to end my baseball career…. with the best friends and best coaches ever."
SOFTBALL: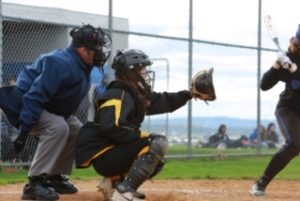 Lauren Rossi
Future Plans: Attend Eastern University in the Fall. She was accepted to play both soccer and softball at Eastern. She will be majoring in Criminal Justice.
Message to Teammates: I have enjoyed playing varsity softball at Lancaster Mennonite and I am looking forward to playing at Eastern. I have many good memories and thanks to my coaches for all of their dedication to teaching me through the years.
TENNIS: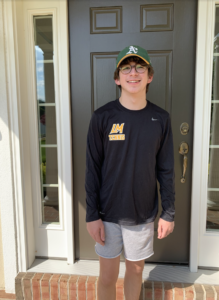 Isaac Harnish
Future Plans: Plan to find full-time employment and possibly attend college.
Message for teammates: "I enjoyed getting to know the international students on the team and had fun including everyone. My favorite memories were the bus rides and the team meals and playing King of the Court doubles."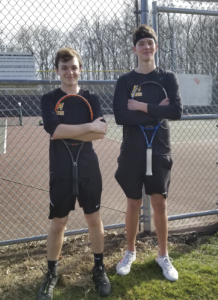 Jeff Lile
Future Plans: Attend Messiah College for Business Administration this coming fall.
Message to the team: "I want to just thank Coach Dennis, and say that we all appreciate all that you have done for our team. Thank you for putting a lot of time and effort into our practices and matches. Also, we all appreciate the activities that you hosted outside of the regular season. The end of the season tournament and picnic at your house was something that we looked forward to every year. I also would like to thank all my teammates that have made these past years of tennis enjoyable with all the fun memories we created. I hope that all of the returning players next year, and the coming years, are able to have fun and work hard."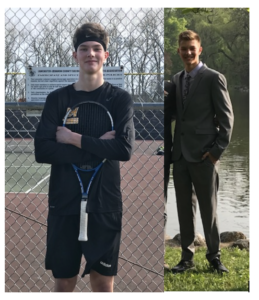 Landon Rychener
Future Plans: Attend the University of Richmond this fall, to major in Business Administration with a concentration in Finance.
Message to the team: "I want to thank my coach, Dennis Maust, for all the time and effort he put into the team and me for the last 4 years. Thank you for making every day a good time.
To all the underclassmen, and to junior Tate Frailey, stick together and work hard on the offseason, but also have fun and enjoy your time both on the team and in high school. You never know how much time you will get to spend together. Make sure you bond at Five Guys a couple of times each season because that's important. Will, Reece, and Tate, you need to keep Tennis alive for the next couple of years.
Good luck boys."
TRACK: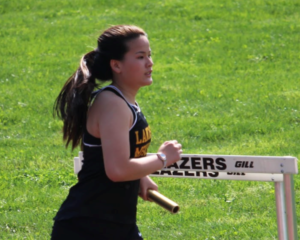 Mia Deibert
Future Plans: Attend Lebanon Valley College in the fall to pursue a master's degree in Speech-Language Pathology.
About Mia: Mia has been a two-sport athlete for all four years at Lancaster Mennonite School. In the fall, she played volleyball – earning varsity letters in her junior and senior years. As a junior, she was named to the Lancaster-Lebanon League Section 3 second-team all-stars, and a District 3 second-team all-star. In her senior year, Mia was honored as a Lancaster-Lebanon League Section 3 first-team all-star.
Mia ran on the track and field team in the spring, running a variety of events including the 800 meters, 1600 meters, and 4 X 800-meter relay. She earned a varsity letter in all four years of track.
Being a two-sport athlete and maintaining high academic achievements, Mia has been nominated as the Lancaster Mennonite female student-athlete for the Lancaster-Lebanon League A. Landis Brackbill Scholar-Athlete Award and the PIAA District 3 E. Jerry Brooks Award for Academic Excellence.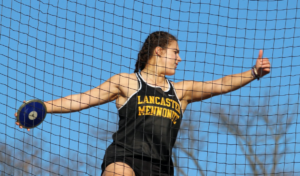 Eden Ali
Future Plans: Attend Savannah College of Art and Design to study Fashion Photography
About Eden: Eden Ali is a fourth-year track & field participant. She was a captain of the throwing events for three of those years. She made it to leagues & districts the past two seasons & was hoping to medal this year & break the school record for shot put.
Message to Team: "Make the most of their season because you never know when it will be your last."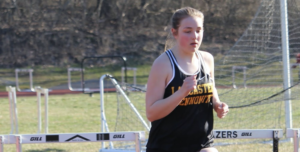 Mikaela Zimmerman
Future Plans: Attend Millersville University this fall to study Special education teaching.
About Mikaela: She has run track since 8th grade.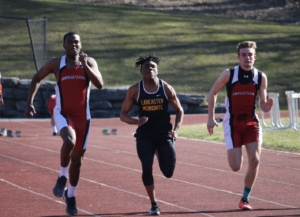 Myles C. Jones
Future Plans: Attend DeSales University majoring in Business/Finance.
About Myles: Entering the 6th grade, Myles began his education at Lancaster Mennonite at the beginning of the 2013-2014 academic school year after transferring from the School District of Lancaster.
While gaining a valuable education at LM, in a Christian academic environment, Myles excelled in many of his classes, especially in Chinese. Myles quickly learned to both speak and write in Chinese and he made the honor roll multiple quarters during his senior year.
For his extra-curricular activities, Myles participated in basketball, track & field, and clubs/organizations. He was a member of the boys basketball team from 7th through 11th grade, track & field 11th and 12th grade, and he enjoyed being a member of the Diversity Club as well as Fellowship Christian Athletes.
Myles was accepted at DeSales University and will begin his college career at DeSales this upcoming Fall. In addition to furthering his academic education, Myles will continue following his passion for sports by being a member of the DeSales track team.
We, Myles's family, are extremely happy and proud of Myles's academic and personal growth & development. He has matured into an intelligent/innovative, curious, charismatic, bold, strong, thoughtful, opinionated, self-confident, and so much more… young man. The opportunity and exposure afforded to him will forever be priceless. We look forward to being by his side as he continues to explore/experience the world and achieve his dreams & aspirations.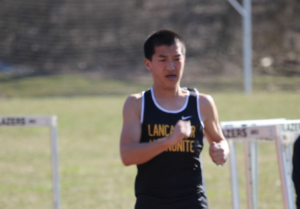 Timothy Adams
Future Plans: Attend Liberty University with a major in Business Administration
About Timothy: Tim had an extraordinary senior track season with no recorded losses!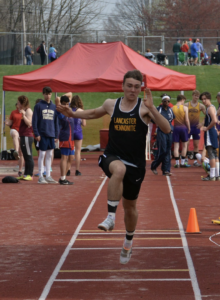 Tyler Mongiovi
Future plans: Aviation Maintenance program in the School of Aeronautics at Liberty University
About Tyler: He has been on the Lancaster Mennonite track team since his freshman year, starting several years earlier at Conestoga Valley. His events include the 100- and 200-meter runs, triple jump, and long jump. He was also a member of the LM soccer team for three years. Tyler attends Calvary Church and works at Fairmount Homes Retirement Community in groundskeeping and maintenance.
VOLLEYBALL: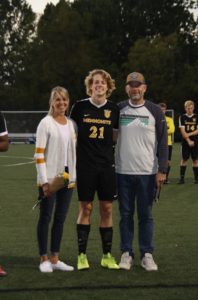 Hunter Brubaker
Future Plans: Work for his dad on the family farm.
Message to the team: "I was so looking forward to playing with you guys this year. So sad we didn't have the opportunity to. I hope you keep pursuing volleyball because it really is the most fun sport you could ever play."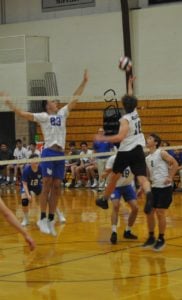 Graham Brubaker
Future Plans: To work on his family farm and also pursue his interest in cars by working at an automotive detailing shop.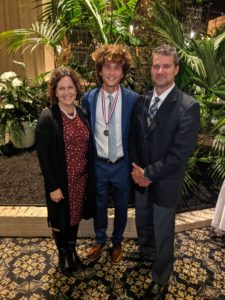 Noah Swartzentruber
Future Plans: Attend Eastern Mennonite University to study Computer Science and play soccer there.
Message to the team: "I am disappointed that we did not get to play this year. I was looking forward to playing a more prominent role in helping some new players to learn about the game as I had been guided for the past 2 years. Fortunately, I do not see this senior year of volleyball missed as an abrupt closing to my volleyball experience, but the disappointment I feel has made me realize that I should find ways to play in the years to come. I wish everyone luck with your season next year and hope that I will be able to make it to a few of the matches."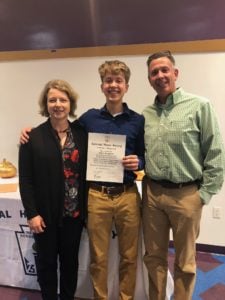 Aidan Sommers
Future Plans: Discipleship Training School with Youth With a Mission in Hawaii.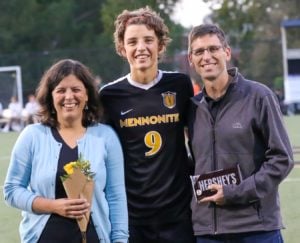 Nathan Longenecker
Future Plans: Study math and computer science at EMU.
Message to the team: "I had a lot of fun this season and even though it was cut short it was a great experience. Thanks for welcoming me in as a new senior."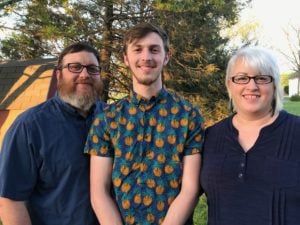 Justin Hoover
Future Plans: Taking a gap year with Youth With a Mission.
Message for the team: "Since we couldn't have any season this year, it's up to all of you to have an amazing season next year."