Posted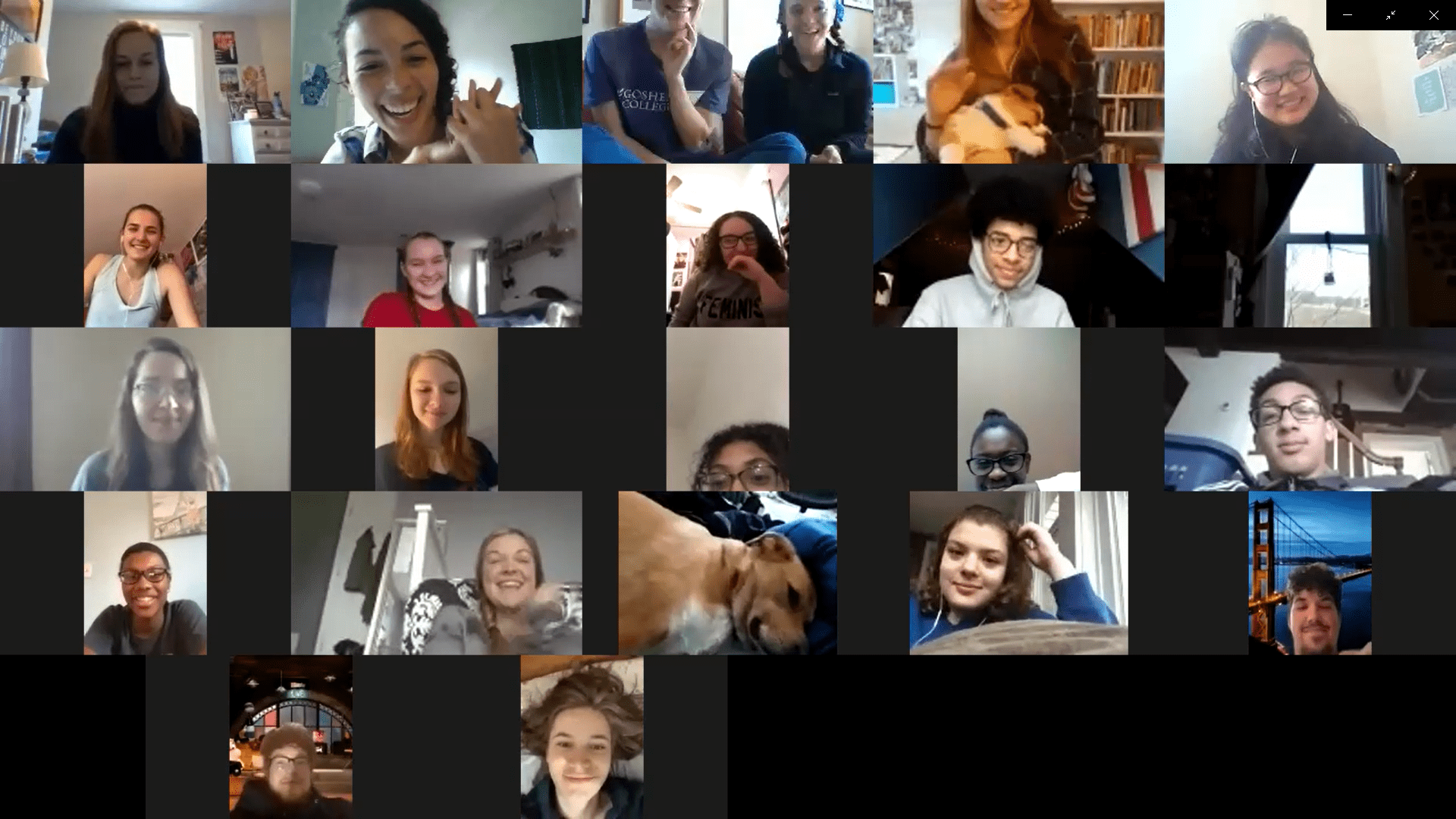 Photo:  Smiles from LM Campus Chorale
For many students and families, the transition out of the school classroom and into the home – all day, every day – has not been effortless. But Lancaster Mennonite School students, faculty, and family say they felt atypically prepared to continue education remotely.
That's because LM adopted a "work-from-home" Flexible Instruction Days (FID) educational framework last year, designed specifically for situations where students could not be in the classroom: inclement weather, for example. Weeks in advance of the coronavirus-related school closures, LM administration asked teachers to start planning for 10 days of remote instruction if needed, and most teachers already had lesson plans ready to go or had sent packets home with students.
While not originally intended for long-term use, these Flexible Instruction Days (FID) and foresight from LM employees have made the transition from the classroom to the living room easier on parents and students alike.
Parents finding relief
"The teachers are going way above and beyond – class and individual video chats to check on the students, often video recording lessons to replicate the classroom environment, and absolutely always being available to contact for any questions and giving help," wrote LM parent Megan Eshleman in a recent Facebook post. "They are still working full-time – it definitely shows the teachers are here because they love their job and their students."
Parents and students have appreciated being able to maintain one-on-one and conference interactions with their teachers through online video platforms like Zoom, Google Meet, and Skype. And LM teachers are learning new best practices from each other; whether it's a new online tool they can use or an idea for delivering content they hadn't thought of before.
Everything from backyard science, DIY Makerspace creations, international cooking assignments, Physical Education challenges, photography projects, virtual group presentations to continued AP classwork, virtual chapel, and kindness challenges (like writing cards to local medical heroes, retirement communities and more).
Continuously Adapting and Growing
LM Assistant Superintendent Michael Charles said, "We're grateful that we had a framework in place for remote, flexible instruction. While this transition isn't ideal, there is a certain energy in rethinking instruction. With inclement weather days, teachers typically posted an independent assignment, completed asynchronously. Now that we're in a longer-term situation, teachers have blended in synchronous, or real-time, class sessions delivered through video conferencing, for example. It's been a steep learning curve for everyone, but teachers and students have risen to the occasion in remarkable fashion."
LM will continue to adapt, working closely as a team and with parents to keep learning from home to provide a creative, sustainable and highly academic experience.
More Resources
Families are trying to balance working from home or keeping kids engaged in learning and busy during this long break from school during closures and social isolation due to COVID-19.
Lancaster Mennonite School has continued to operate remotely for all of our students in grades PreK-12. Our creative, passionate teachers have continued to develop innovative, quality educational experiences for our students to do online or remotely from home. We wanted to share some resources from our pro teachers that you can do with your kids at home to continue to inspire learning and fun! Visit this website page "Learning At Home Resources" that has a repository of activities and lessons for learning at home for kids of all ages: http://www.lancastermennonite.org/learning-at-home-resources/.
PHOTOS AND CAPTIONS:
New Danville 4th grader Davion Baylis lighting a candle for Morning Prayer routine from Ms. Dietzel's class. The class had done this every morning together while in school (with an electric candle).
Davis Leaman (Spanish Immersion First Grade at Locust Grove). Students were encouraged to write a letter of thanks (we are working on being grateful) to a healthcare provider for all their work. Davis wrote to his aunt, a nurse.
Emmary Landis (Spanish Immersion Kindergarten at Locust Grove) – In Math kids can create patterns with food or familiar objects and predict how the pattern will continue or grow.
Highschooler, Enjoli Mead's ramen creation from International Cuisine. One of the assignments for Foods II was to select a recipe from the NYTimes self-quarantine recipe selection
PreK student Lila Morant working from home on school.
PreK teacher Heather Miller leads a digital storytime
LM sectional rehearsal for HS choir sopranos led by Music Director Emily Grimes
New Danville campus siblings Micah (Kindergarten) and Claire (2nd grade) Pellman explore some backyard science and nature studies.
Photography teacher Paul Brubaker connects for class with his students over Zoom
New Danville Kindergarten student Simon Herring and his nature journal project "What birds visit my house?"
LM Makerspace and Art Teacher Jenna Longenecker shares at home Makerspace projects via digital lessons