Posted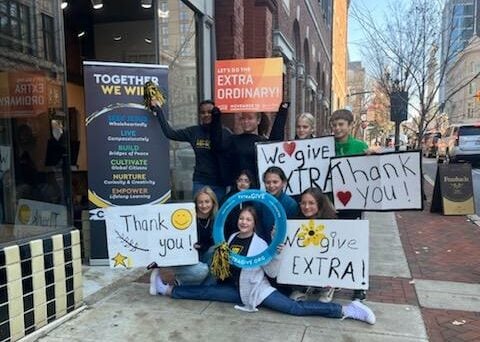 Thank YOU for your generous support of Lancaster Mennonite during the ExtraGive – in visiting us at Gallery on Market to celebrate our student artists and musicians, by volunteering in the snow, and through your prayers and financial support! Wow, with your online and offline gifts we EXCEEDED our giving goal to provide Christ-centered, world changing education to more students!
WINNERS: CLASS GIVING CHALLENGES
Our students competed by grade level to get the most donors and/or most dollars to win fabulous pizza and ice cream party prizes. With YOUR support our winners are….
MOST DONORS WINNING CLASS = 4TH GRADE, receives a class pizza party!
MOST DOLLARS WINNING CLASSES = Receives a class ice cream party!!
Elementary – KINDERGARTEN

Middle School – 8TH GRADE

High School – 10TH GRADE
PHOTO GALLERY
We had an amazing day – drive through and playground giving stations on campus, student middle school volunteers and high school musicians downtown, and lots of student and community excitement all day long! Enjoy the photos of our whole wonderful day!
ExtraGive Day Photo Gallery!
Thank YOU!
We feel so blessed by your generosity, and thanks be to God for Your goodness today and everyday!
Thank you for being people we can count on to help make Christ-centered, world changing education at Lancaster Mennonite accessible to more students! You make the difference for our students, thank you SO much!