COVID Information
Information to keep our LM community updated on COVID counts and resources
Safety Precautions for In-Person School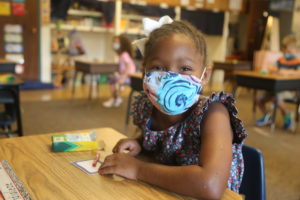 Caring for the physical, mental and spiritual well being of our employees and students is our top priority, now and always. 
Recommendations for schools from LG Health Penn Medicine and information that Lancaster County is in the 'high' level of community transmission of COVID-19 has continued to filter in as the start of school quickly draws near.
Due to these recent and significant changes in our local area, we as a school community are adopting universal masking when indoors for all of our students and employees to start the 2021-22 school year. Students are federally required to wear masks on buses, and need to wear them when with IU13 staff members (counselors, reading specialists, etc). When Lancaster County drops to a safer community transmission level we will announce transition to the opportunity for optional masking.
High Transmission Rate: Universal masking for LM students and employees
Substantial, Moderate and Low Transmission Rate: Masking optional for LM students, required for employees
Currently Lancaster County is at a 'high' level of community transmission by cases at 120/100,000 (1.2 per 1,000 people). Visit the CDC website to see a county level view of these rates for our region – learn more.
We will continue to keep these safety protocols in place this year:
Maintaining hand washing protocols

Reduced sharing of supplies among students

Social distancing of 3ft when possible

Requiring students and staff to stay home when any symptoms are present (self-screening at home)

Continued encouragement for outdoor learning whenever possible

Adherence to Quarantine regulations and requirements for those with symptoms, positive tests, or COVID exposure (see below)
Ongoing Monitoring
LM will continue to monitor guidance from CDC, PaDOH (PA Dept of Health), PDE (PA Dept of Education), LG Health Penn Medicine and local cases and transmissions numbers, and update protocols if changes occur statewide or locally, and all of this is subject to change.
View our full COVID Plan for 2021-22 by clicking the "2021-22 LM COVID-19 Plan" button below (or above).
Procedure when LM has a positive or probable case.
We revised our guidelines for the 2021-22 school year based on guidance from the CDC, PaDOH (PA Dept of Health), and PDE (PA Dept of Education). There are some new exceptions, as well as changes to contact tracing and quarantining for those that show proof of vaccination status.
Quarantine and Isolation Guidelines
Students and employees who have been in close contact with someone who has COVID-19 should receive diagnostic testing and should begin quarantine.
People who are fully vaccinated do NOT need to quarantine after contact with someone who has COVID-19 unless they have symptoms. However fully vaccinated people should get tested 3-5 days after their exposure, even if they don't have symptoms and wear a mask indoors in public settings for 14 days or until they receive a negative test result.
People who have had COVID-19 illness within the previous 3 months and have recovered and remain without COVID-19 symptoms (cough, shortness of breath, fatigue) do NOT need to quarantine after contact with someone who has COVID-19.
Any close contacts who test positive for COVID-19, or who have symptoms, should begin quarantine regardless of vaccination status or prior infection.
Close Contact is defined as someone who was within 6 feet of an infected person for a cumulative total of 15 minutes or more over a 24-hour period (for example, three individual 5-minute exposures for a total of 15 minutes). An infected person can spread COVID-19 starting from 2 days before they have any symptoms
EXCEPTION: In the K-12 indoor classroom setting, the close contact definition excludes students who were within 3 to 6 feet of an infected student (laboratory-confirmed or a clinically compatible illness) where:
Both students were engaged in consistent and correct use of well-fitting face masks; and
Other K-12 school prevention strategies (such as universal and correct mask use, physical distancing, increased ventilation) were in place in the K-12 school setting.
This exception does not apply to teachers, staff or other adults in the indoor classroom setting.
How to Quarantine
Stay home for 14 days after your last contact with a person who has COVID-19.
Watch for fever (100.4°F), cough, shortness of breath or other symptoms of COVID-19.
If possible, stay away from people you live with, especially people who are at higher risk for getting very sick from COVID-19.
You may be able to shorten your quarantine ……
After day 10 without testing and no symptoms are present
After day 7 after receiving a negative test result (test may occur on day 5 or later)
You can be around others after:
10 days since symptoms first appeared AND
24 hours with no fever without the use of fever-reducing medications AND
Other symptoms of COVID-19 are improving (loss of taste and smell may persist for weeks or months after recovery and need not delay the end of quarantine)
Contact Tracing in Combination with Isolation and Quarantine
Contact tracing allows LM to identify which students, teachers and staff with positive COVID-19 test results should isolate, and which close contacts should quarantine.
Fully vaccinated people who have known exposure to someone with suspected or confirmed COVID-19 are recommend to be tested 3-5 days after exposure, regardless of whether they have symptoms. If asymptomatic; fully vaccinated close contacts do not need to quarantine at home following an exposure (they can continue to attend school in-person and participate in other activities.) In addition to correctly wearing a mask in school, they should also wear a mask in other indoor public settings for 14 days or until they receive a negative test result. Fully vaccinated individuals will be required to show proof of vaccination status, after being in close contact with a COVID positive case, in order to be exempt from quarantining.
Close contacts who are not fully vaccinated should be referred for COVID-19 testing. Regardless of test result, they should quarantine at home for 14 days after exposure. Options to shorten quarantine provide acceptable alternatives of a 10-day quarantine or a 7-day quarantine combined with testing and a negative test result.
LM will notify, to the extent allowable by applicable privacy laws, teachers, staff, and families of students who were close contacts as soon as possible (within the same day if possible) after they are notified that someone in the school has tested positive.
Focused on safe, in-person instruction
We believe that attending school in-person is the most beneficial option for student's emotional and social wellbeing, and academic growth, so we are putting as many steps in place to keep that opportunity available this year.
It is our aim to provide an in-person school experience as much as possible this year. For those that are able, we encourage you to get vaccinated. For students and employees that are vaccinated, we encourage you to send us a photo of your vaccination card so we can keep it in your health file. This will be especially helpful as we do contact tracing if there are positive cases this year.
For students needing to quarantine, teachers will connect with you online to provide assignments and classwork while doing school remotely.
How you can help us stay in school:
It's important that you communicate with your campus office. We want to be in school, but staff are often the first to be exposed and we are unable to provide enough substitute teachers, custodial, food service or bus drivers to continue operation and quickly factors into our decisions. 
Please practice safety and good health protocol:
Wash hands

Wear a mask

Practice Distancing

Take your temperature: threshold 100.4

Do you have symptoms? (see doc) If you do, stay home
Resource Links
Student Vaccination Clinics
There are multiple opportunities for persons 12 years old and over to be vaccinated for COVID-19. Learn more by clicking the "Student Vaccination Clinics" button below from Vaccinate Lancaster and the IU13/Walmart.
If your family needs support: