Join LM for our annual World Changers Gala
$50 per ticket  |  Purchase a table for $350 Please RSVP by March 10th
Join us on March 31, 2023 for the Lancaster Mennonite World Changers Gala at our exciting new venue, the Hertzog Homestead located in Ephrata! This event supports Christ-centered education for the next generation of leaders and world changers. The event is ticketed and includes heavy hor d'oeuvres, dessert, an exclusive Live and Silent Auction, Alumni of the Year Presentation, and more.
Doors Open – 6 PM
All are invited to arrive anytime after 6 to enjoy heavy hors d'oeuvres and dessert, spend time connecting with friends and other guests, and explore the Silent Auction.
Program Begins – 7 PM
Alumni of the Year announcement, student testimonials, music performances, and exclusive live auction items
Exciting new Location!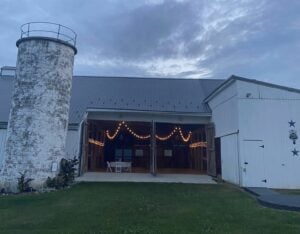 Hertzog Homestead
470 West Metzler Road
Ephrata, PA 17522
This beautiful, unique space was built in the late 1760's. With sweeping views of Amish and Mennonite farmland, and the original limestone backdrop, the location is the perfect setting for our event!
Announcing the 2022 Alumni of the Year!
Alumni of the Year is presented yearly to alumni who recently have made a significant contribution through service in their community, profession, family or church. Recipients are selected from nominations made by LM alumni, Alumni Association, faculty, board of directors and other friends of LM.
Join us in recognizing and celebrating our Alumni of the Year.
DANIEL D MAST '77, DO, FACP

JENNIE WEAVER GROFF '95 & JONATHAN GROFF '93

Featured Auction Items 
Pool Party and Pig Roast
Pool Party and Pig Roast at the home of Chad & Colleen Hurst
Private Concert
A private concert by LM Alumna Mackenzie Paige '17. 
Barnstormers Box
Enjoy a barnstormers Game in a Private Box
Blackworth Dinner
Enjoy a amazing Chef's choice dinner for 6 at the Blackworth Restaurant in Lititz, wood-fired cuisine.
Student Council Work day
Put our students to work for your project!
BAY HOUSE FOR THE WEEK
Enjoy a week at this three bedroom house on the Bohemia River in Hacks Point, MD. The house sleeps up to 10 people.
Matillio Beef
Matillio Beef
Dr. Badriaki Performance
Dr. Badriaki will accompany your Church Worship Team with a djembe performance
Two Season Tickets to LM Sporting Events
Enjoy two tickets to all LM sporting events for the 23-24 school year.
Belvedere & Fulton Show for 2
Includes private dinner for two at the Belvedere Inn.
Dinner for 4 by Jon Heinly '03
Enjoy a dinner for 4 made by Jon Heinly '03
2 Dozen Assorted Desserts
2 dozen assorted desserts

THANK YOU TO OUR AWARDS SPONSORS

THANK YOU TO OUR TABLE SPONSORS