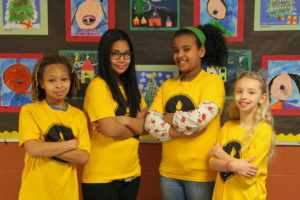 BLAZER BUDDIESTM was developed by principal Eloy Rodriguez to give students the opportunity to develop and use leadership skills in our school. For the New Danville Campus, Rodriguez wanted to encourage Dr. Stephen R. Covey's "seven habits of highly effective people" that were adapted for children. He envisioned that BLAZER BUDDIESTM would be students who could live out these habits visibly for other students to see. Ultimately, BLAZER BUDDIESTM is designed to build student leaders that put the life and teachings of Jesus into practice throughout the school day.
Students in the BLAZER BUDDIESTM program receive training sessions to learn concrete ways of greeting people, showing courtesy and being a leader. This training is reinforced by weekly mentoring meetings with the principal.
Goal
To provide leadership opportunities for fifth-grade students and provide ways for them to play a more active role in modeling school values and showing the love of Jesus to everyone who walks through the school doors.
How It Works
Each quarter, fifth-grade students will have the opportunity to become BLAZER BUDDIESTM. They will fill out an application and interview with the principal and school counselor. Students will be chosen each quarter and will sign a contract after the job has been offered.
Role
BLAZER BUDDIESTMwill be responsible for a variety of tasks throughout the quarter:
• Showing the love of Jesus to everyone who walks through our doors • Complete BLAZER BUDDIESTM leadership training • Meet with Mr. Rodriguez once a week • Greeting students • Monitoring hallways in the morning and afternoon • Helping out in PreK-2 classes • Providing leadership at recess • Greeters at school wide programs • Chapel helpers • Collecting trash and recycling • Greeting visitors • Morning announcements • Fulfilling responsibilities with enthusiasm and a good attitude. • Keep up with school work • Show positive "pillars of character" • Not receive more than one "broken pillar" in a quarter
BLAZER BUDDIESTMAgreement
As a Blazer Buddy, I will be a positive school leader on the bus, in the classroom, in the hallways, at specials, during lunch, and at recess. I will walk in love and show the love of Jesus to everyone who comes in our doors. I will keep up with my schoolwork and make up any work I miss. I will show positive "pillars of character" and fulfill my Blazer Buddy responsibilities with enthusiasm and a positive attitude. I understand that if I receive more than one "broken pillar" in a quarter or am struggling to keep up with or put effort into my schoolwork I will not be able to continue as a Blazer Buddy.