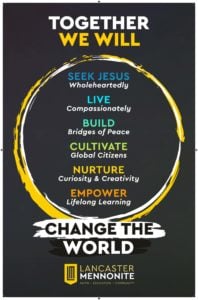 With the help of feedback from internal and external focus groups, LM has re-established and is re-articulating our core values. The results yielded new language but affirmed our core values at Lancaster Mennonite. You will see and experience these values as you enter our buildings and classrooms, as the banners and posters are hung up and core values are more fully integrated into each of our campuses. Pictured here is the new graphic and core values – we are excited for you to see them in person and experience them for yourselves.
We proudly say that as school community, Together we will:
Seek Jesus Wholeheartedly
Live Compassionately
Build Bridges of Peace
Cultivate Global Citizens
Nurture Curiosity and Creativity
Empower Lifelong Learning
Change the world!
What do we value as a school community? Hear from LM students, teachers and staff as they share our core values.