Posted
CLASS OF 1956 ANNIVERSARY TRIP
The class of '56 opted to celebrate their 60th anniversary of graduation with a two day bus trip to Rockingham County, Virginia. Twenty class members with spouses boarded an Executive Coach with classmate, Daniel Wenger as driver. Arriving in Virginia the group drove through Singer's Glen where information was shared about Joseph Funk, musician of the early 1800s and owner of the first Mennonite printing press in America and J.D. Brunk musician of late 1800s and early 1900s. Next we went to a nearby CSA farm, where Don & Doris Sensenig's son, Kent, a part-time prof at EMU, works over the summer. Kent and the owner stepped on board and explained how their Community Supported Agriculture farm works.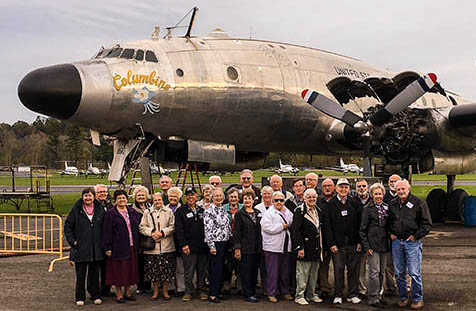 Lunch was served in the EMU cafeteria, where four more classmates with their spouses joined us, along with the spouse of a deceased classmate and her present husband. Alumni Director Jeff Shank met us and ushered us to the cafeteria where he shared some of the University's goals and then we divided up for a brief tour of various parts of the campus according to our interests.
Next was Crossroads Brethren Mennonite Heritage Center which interprets Brethren and Mennonite history in the Shenandoah Valley. Of particular interest was the Brunk Revivals trailer with its displays of photos of various campaigns conducted by George Brunk, II. We then motored on to Dayton, VA. to Burkholder's carriage shop. Mr. Burkholder, an Old Order Mennonite, very interestingly gave us the story of his business and what he does in repairing carriages for many people outside his church group, the main aspect of his business.
The afternoon concluded with a buffet dinner at Pano's restaurant. There we enjoyed a time of sharing memories and a meditation led by A. Richard Weaver. The Village Inn nearby provided our overnight accommodations.
The next day we boarded the bus to head to Bridgewater Air Park where our classmate, Ruth Ann Stoltzfus Glick's brother, Karl, owner of the Air Park gave us a tour of his operation called Dynamic Aviation. Of particular interest was the first official "Air Force One", a Tri-Star Lockheed Constellation in which President Eisenhower (president when we graduated) travelled. We were all amazed at the size and scope of his business.
Our next stop was at the Shenandoah Valley Heritage Market co-owned by classmate Bob Shenk and his wife Miriam. To our surprise, the Shenks gifted us with a jar of homemade jam from the Market for each person. After lunch, we stopped in at a McGaheysville farm where the owner has collected all kinds of horse drawn equipment and also had displays of wood cutting, medical tools, and lighting techniques used over the centuries. This collection may eventually be housed at the Shenandoah Heritage Market.
In all a wonderful trip with memories, tales, singing and laughter. Now we are trying to decide where to go next!
PREVIOUS REUNION IN 2011 (55TH REUNION)
Finger Lakes in Autumn was the name given by Mennonite Your Way to the three-day class trip enjoyed September 27-29, 2011, by 32 1956 class members and 20 spouses. Participants came from Oregon, Vermont, Virginia, Delaware, Maryland and Pennsylvania. Our class celebrated the fact that 69 of 72 graduates are still living.
Our destination was Geneva on Seneca Lake where we spent two nights. Along the way we had wonderful stops at the Taughannock Falls, the longest water falls east of the Mississippi; the Cornell University botanical gardens and arboretum; the Harriet Tubman memorial (her house); and the Glenn Curtiss Aviation Museum.
Other highlights included a ride on the Canandaigua Lady (boat) and a bus tour through the conservative Mennonite community around Penn Yan. Pauline Weaver (and her young daughter) of Weaver-View Farms, showed us the farming country, some local businesses, and a school where her daughter was the teacher.
We enjoyed listening to this very authentic and free-spirited woman spin her short tales which concluded with hilarious one-liners. For example: "My husband keeps buying land; he's what you might call 'addicted to farming.'" She came to the area as a "confirmed 17-year-old 'old-maid' schoolteacher." When asked why she chose to be an 'old maid' schoolteacher, she said, "Well, you see, I was the first of 11 children; ah, you know, forget the diapers!" She married after one term and now has seven children of her own.
We had wonderful opportunity along the way and at the hotel to spin our own tales, some of which were remembered as true. We celebrated the contributions made to God's kingdom by our three deceased members (all died since 2005). And we recognized God's grace and love that informed our individual lives these last 55 years. Our motto in 1956 was, "Our Lives for Service."
Classmate Dan Wenger drove the very comfortable Executive Coach for our three-day excursion.
– Richard Weaver, 1956