Posted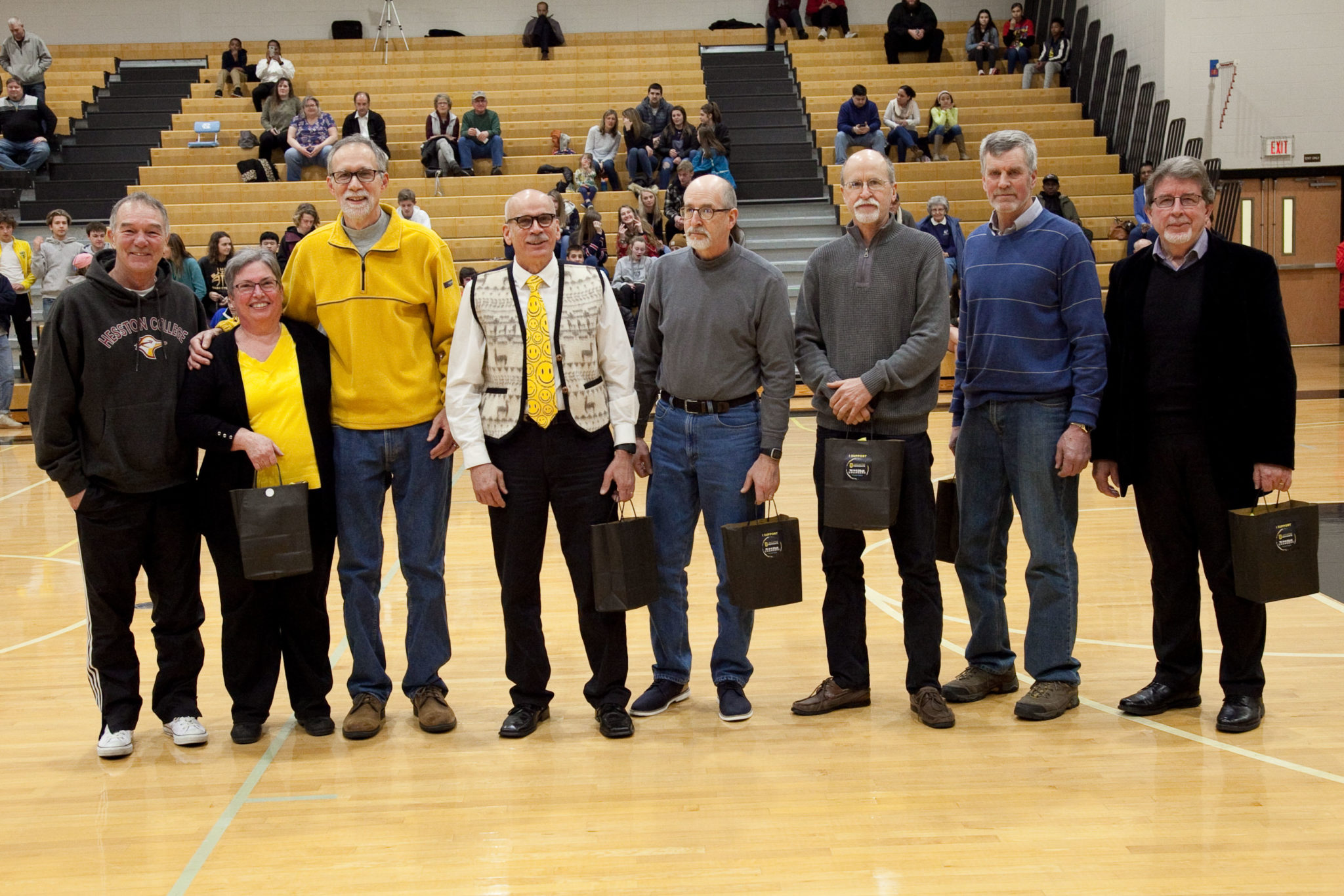 1970's Blazer Basketball Team Still Shining Bright
1970's Blazer Basketball Team Still Shining Bright
On January 17th and January 31st, Lancaster Mennonite honored the original boy's and girl's basketball teams of 1970 as part of the basketball program's 50th anniversary and Blazer Nation alumni celebration. Back in 1970, the first student-led teams held their scrimmages in a gymnasium that resembled an old barn and without any bleachers as well. And the girl's team was then known as the "Blazerettes".
During the alumni celebration among those honored who were in advance were the following:
Men's Basketball Team
Ike Stoltzfus – Ike Stoltzfus was one of the most important members of the founding boy's basketball team, both on and off the court: he helped organize the team's scrimmages with other local schools, arranging transportation and renting practice space from nearby facilities. He also organized a student campaign to raise money for dedicated athletic fields on campus.
After heading off to Hesston College in Kansas, Ike returned home and worked in his family business, Stoltzfus Meats, for 20 years. He had the honor of being appointed by Governor Bob Casey as a Magisterial District Judge, a position which he held for 25 years before retiring. Ike is married to Julie Clark Stoltzfus, and has 3 children, April, Clark and Amy, all of whom graduated from Lancaster Mennonite School. They also have 2 grandchildren here at LM: Mikaelya at the Middle School, and Maxwell at Locust Grove Campus. Ike is thankful for his parents, Amos and Mary Stoltzfus, for sending him to LM, and for his teachers there who helped him channel his exuberant youth towards good.
Dave and Shari Martin Lefever – Dave and Shari first met on LM's basketball court: Dave played that first year, and Sheri worked as the team's manager. Over the course of the season, their relationship developed into something greater, and they have been together ever since. Shari works as a registered nurse, and uses her gifts to serve in a multitude of ways, including with Mercy Ships, a non-profit which provides disadvantaged communities around the world access to advanced medical care. Dave, before his retirement, also worked as an X-ray technician and diagnostic stenographer. Dave and Shari have three married children, Kari, Eric, and Sara, all of whom are also LM alumni. They also have 10 grandchildren, with another on the way.
Brother Frank Albrecht – Frank Albrecht was one of the key players on the first Blazer teams up until his graduation in 1976. After graduating from EMU with a Health and Physical Education major, he gave back to the LM community, kickstarting New Danville's Health and PE program. Since then, he has alternated between administrative and student support roles with the School District of Lancaster and service in Bogota, Colombia through Mennonite Central Committee (MCC). He currently works as the School District of Lancaster's Director of Student Support Services. Frank is married to Elizabeth Soto Albrecht, and they have 2 adult children who will soon enter marriages of their own.
Gerald Baer – Gerald's involvement with the 1970 Blazers was slightly unconventional. Due to some serious injuries sustained before the start of the season, he wasn't able to play in any of the team's games. His coach, Lowell Stoltzfus, noticing his talents off the court, brought him on as the team's statistician and manager. His work compiling shot charts and as a team manager was crucial in helping the team develop and focus their skills.
After LM, he graduated summa cum laude at Elizabethtown College, earned his medical degree at Penn State Hershey, and served in the Norlanco community since 1991. Gerald is married to Rose Landis Baer, and has three children and one grandchild. All three of his children, Mike, Christine, and Anne, are LM alumni; Anne even married Eric Kemp, another alum! Gerald is grateful for the gift of God's grace, for his experiences at Lancaster Mennonite, and for those who supported and encouraged him along the way.
Jim Baer – Gerald's brother Jim also valued his time with the Blazers, especially Coach Del Glick's guidance. His favorite moment was when the team traveled to New York State for 3 days to participate in a tournament with other Christian schools. Jim returned to LM once he graduated, becoming a pillar of the former Kraybill campus. Over his 30 years at the school, he taught almost every subject; out of all of them, he enjoyed directing the choir the most. Now, he runs a custom home renovation business and, in his spare time, performs with the Blossom Hill String Band. Jim is married to Val Miller Baer, a fellow LM alum, and has 5 children and 8 grandchildren. Their youngest son, Gavin, is currently a senior in the LM high school.
Gerald Risser – Gerald Risser is the heir to a large dairy farm operating outside of Elizabethtown, which milks about 850 cows each day. Due to his time helping out with the family business growing up, he didn't have the time to join the basketball team until his senior year – a decision which he does not regret. The defining moment of his athletic career was winning the year-end tournament in Ross Corners, New York. He took over operations on his family's farm after he graduated. He is married to Joyce Risser, and has 4 sons, Jason, Justin, Jordan and Jared, and 8 grandchildren. He enjoys hunting, spending time with his family, and serving as a deacon alongside his wife at Goods Mennonite Church.
Del Glick – Del Glick served as the Blazer's coach from 1974 to 1978. Only 2 weeks before he started as a coach, he married Charlotte Holsopple Glick — who happened to be the Director of Housing at LM. In addition to the members of his team, Del served as a surrogate parent for the 80 kids living in the school's dorms! His most memorable moments were the Ross Corners and Delaware County Christian School tournaments at the end of the season, and the parties they held in the dorms after home games.
Del's life journey took him many places after he left LM. The Glicks moved to Indiana in 1978, where Del finished his Masters of Divinity and began serving as a pastor. Along with his wife, Del has ministered in churches in Indiana, Florida, Pennsylvania, and Washington, DC, and has also served within the administration of MC USA. Their daughter, Renee, works as an architect in New York City.
Sadly, Del's wife Charlotte died from cancer in 2000. Fortunately, he found love again with Twila Frey, whom he married and who also happened to be a LM alum! They currently live in Washington, DC, with Twila serving as a kindergarten teacher and Del as the interim pastor at Bosslers Mennonite Church near Mount Joy.
Women's Basketball Team
Cheryl Weaver Landis – Cheryl was the first girls' basketball team captain and led the 1970 Girls' Basketball Team – then affectionately known as the "Blazerettes." Cheryl loved the team spirit that emerged in this first season, along with her spiritual formation as a Christian and her relationship with Ben Landis, her future husband. Today Cheryl and Ben have 2 children, Brent and Melissa, both of whom are also LM alumni, and 8 grandchildren. Cheryl, after receiving her masters in Nursing from Millersville University, served at the Penn State Medical Center in Hershey and at Lancaster General Hospital. Later in her career, she served as a Nurse Educator at the Pennsylvania School of Medicine and other medical institutions, and still serves as an adjunct at several of them. She also supports her husband's family business, Landis Agriculture Spraying.
Connie Kreider Bender – Connie loved playing basketball at LM, along with the friendships she made through the game. Oddly enough, her husband Roy Bender, played on the boy's basketball team at one of LM's sister schools in Bellville! Connie and Roy have had 2 sons: Darren, who grew up to become a LM alum and now has 3 daughters of his own in Indiana; and Ryan, who, sadly, died at age 6 due to a seizure disorder. As Roy served as a pastor, Connie travelled with him to Kansas, Indiana, and Maryland to minister to other Mennonite communities. Using skills she learned from her associate's degree in Business from Allegheny Community College, she serves as the CEO of Showease Inc., a family farm equipment business based in Ephrata.
Carolyn Showalter – Carolyn came all the way from Maugansville, Maryland to study at LM, living in the Graybill Hall Dormitory while she studied at the school. One of her fondest memories of LM is running up and down the "stairway to heaven:" the lengthy flight of stairs in the dorm, reaching from the basement to the second floor. She loved playing basketball in the old barn gym – although it meant that some of their home games were played in Locust Grove campus' sturdier gym.
After graduating LM in 1972, Carolyn became a Certified Public Accountant, joining the family business of Showalter and Miller CPAs. However, in her free time, she keeps up her athletic streak by running marathons – 26 mile races – and ultramarathons – which are even longer than that! She has been the women's champion in the JFK 50-mile ultramarathon 6 times, each time finishing the race in under 8 hours. This past November, she completed the JFK Ultramarathon for the 32nd time – which is even more impressive at age 65.
Bernice Hoover Jacabella – Bernice cherishes her time at LM, and fondly remembers running on the stairs in the Graybill Hall Dorms where she lived as a student. She also loved the creaky, shaky floor in the old barn gymnasium, along with the clatter of the radiators during practice. After she graduated in 1972, she became a registered nurse, and is now retired. She still volunteers as a camp nurse during the summers. She is married to Gary Jacabella, who currently serves as a pastor in Douglastown, and has two adult children, Olivia and Angel. In her free time, she enjoys outdoor photography.
Edie Augsburger Weaver – Edie loved playing on the basketball team, and the lifelong friendships she formed while doing so. Edie graduated in 1973, working for Martin Limestone for several years before marrying her high school sweetheart (and fellow alum) Lamar. Together they have 4 children and 14 grandchildren. They ran and maintained a dairy and poultry farm in New Holland for 36 years before passing it on to their eldest son. They now drive school buses for the Elanco school district.
Karen Kreider Stoltzfus – Karen's favorite memory of LM basketball is the thrill of playing a competitive sport against other teams, the team camaraderie, and traveling to away games with the boys teams to Bellville Pa, and to Souderton, Pa to play Christopher Dock. Karen is married to Ken Stoltzfus who also attended LM. They have 4 sons who all graduated from LM:  Scott, Doug, Brad and Todd, and they have 12 grandchildren. Karen works in the family market business in Booth's Corner. Karen also serves in the children's ministry and Young Mother's Ministry at Christian Fellowship Church in New Holland.
Sue Rohrer Kershner – Sue's favorite memory of the team was their willingness to run stairs in the girls dorm. Sue graduated from LM in 1965 before there was Basketball.  Sue worked her way through college and graduated from Goshen College in 1971 as an education major. She actually taught Health and Phys ED here at LM before she graduated from Goshen.  In 1974 Sue left LM to become a teacher at Tegucigalpa, Honduras. Sue met her husband Duane Kershner there. They returned to the states and pastored in Kansas before returning to Mexico in 1990 where they started a missions base which over these past 30 years has birthed 70 churches in Mexico, along with a bilingual K-12 school, medical clinic, orphanage and trade school.
Dan Wenger – Girls' Basketball Coach and LM teacher. Dan graduated from LM and then went to college and came back to teach and coach at LM. He also spent many years serving as a missionary in Zambia. Dan was married to Erma Sauder Wenger who died in 2015, and re-married Thelma. Dan and Erma had 4 children, Heidi, Dan, Andrea, and Jojo, all of whom graduated from LM, along with 4 grandchildren.