Posted

At the end of all of these improvements, the '64 Wing will provide a more conducive learning environment. We're excited for it to be transformed into a facility that is healthy and productive for student learning, cost effective, sustainable, multipurpose, and versatile.
Join us in creating this transformative educational environment for our students.
Phase 1 Progress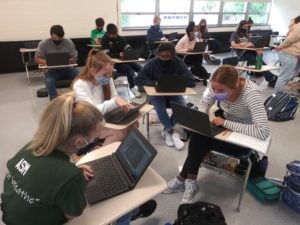 Students are already enjoying an enhanced learning environment after Phase 1 renovations of the '64 Classroom Wing, which included:
HVAC for the 64 building classrooms and media center

New LED lights and exit signs

New data lines

New whiteboards and smart projectors on 2nd floor

New amp and speakers for the new smart projectors and PA system

Installation of 2 new subpanels

See more photos below in the gallery

New Drop ceiling on first and second floor except bathrooms

Additional smoke detectors

Upgraded classroom clocks

Installation of new insulation for energy efficiency and sound

Turned a large study hall and 2 small rooms into 2 large classrooms

New blinds

New paint in upstairs classrooms
Upcoming Phase 2 Renovations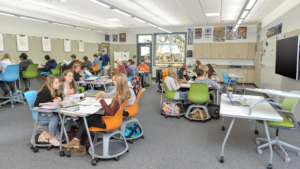 Your generous support will help LM complete Phase 2 renovations, which will include:
New flooring
Renovated bathrooms
New desks and chairs
New classroom doors and locks
Updated water fountains with bottle fillers
Addition of hand washing stations
Support Creating a Transformed Learning Environment
Phase 1 improvements were made possible by many generous donations, including a $950,000 matching gift from a LM alumnus and friend of the school. $420,000 is still needed to complete this match and Phase 2 of the '64 Wing renovations. Your gift today will be stretched by this match.
Give now to complete this transformation and to provide a space that supports students' learning and flourishing. Can we count on you to close the gap?
Phase 1 Image Gallery