Posted
Alumni of the Year 2007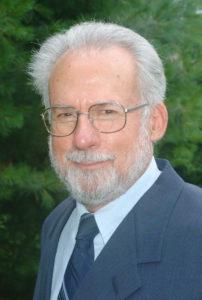 In April, Lancaster Mennonite School honored 1955 graduate David Shenk as its 2007 Alumnus of the Year. Shenk is a global mission consultant with Eastern Mennonite Missions (EMM), Salunga, with a special focus on ministry and witness among Muslims.
The Mountville resident expressed appreciation for the honor and thanked the school for giving him not only "a solid foundation," good friends and valued teachers, but a wife who, he says, has made it possible for him to be so involved in mission and church work.
Calling his life with Grace "a marvelous journey," he described his passion for Muslim relations and worldwide mission work.
"I have a special interest in encouraging faithful Christian peacemaking, presence, and witness among Muslims," he said. Shenk has opened doors for fellowship and ministry within churches and missions in approximately 100 countries.
Shenk was born in Tanzania, East Africa, where he grew up in the home of pioneer Mennonite missionaries, J. Clyde and Alta Barge Shenk.
From 1961-1963 Shenk taught Bible and history at his alma mater. "I loved teaching so much that Friday evenings I wished it was Monday morning!" he said.
In 1963 he and Grace began a ten-year assignment with Eastern Mennonite Missions in Muslim Somalia where he helped to develop the Somalia Mennonite Missions educational program. From 1973-1979 his family served in Kenya where Shenk taught in the religious studies department of the Kenyatta University College of the University of Nairobi. He gave leadership to developing a scriptural course for Muslims, "The People of God," which has been translated into about 45 languages.
From 1979 to 1998 Shenk served at the EMM headquarters, both in home and international administration. Then for four years he and Grace served at Lithuania Christian College, where he was academic dean and professor of theology. In the fall of 2001 he and Grace visited 24 countries in Europe and the former Soviet Union representing Lithuania Christian College as well as the commitment of EMM to ministry within Muslim societies. He also served in pastoral ministries or church planting leadership in East Africa and North America.
Shenk has authored, co-authored, or edited 15 books related to missions and the relationship of the Gospel to other religions, including A Muslim and a Christian in Dialogue; Journeys of the Muslim Nation and the Christian Church, Exploring the Mission of Two Communities; and Anabaptists Meeting Muslims, A Calling for Presence in the Way of Christ, a collection of 70 essays that he edited with two colleagues.
Shenk received a degree in social studies and theology from Eastern Mennonite University. From New York University he received a masters in social studies education and a doctorate in religious studies education and anthropology.
The Shenks attend Mountville Mennonite Church and have four children, three of whom graduated from LMS: Doris Shenk, 1981; Jonathan Shenk, 1984; and Timothy Shenk, 1988. Karen Shenk Zeager, the oldest, graduated from Rift Valley Academy in Kijabe, Kenya. David and Grace have seven grandchildren.
The Alumnus of the Year Award goes to alumni who have made a significant contribution through service in their community, profession, family or church and whose lifestyles reflect the mission of the school—"Offering an excellent, Christ-centered PreK–12 education that transforms students so they can change our world through Christlike love, peacemaking and service."