Posted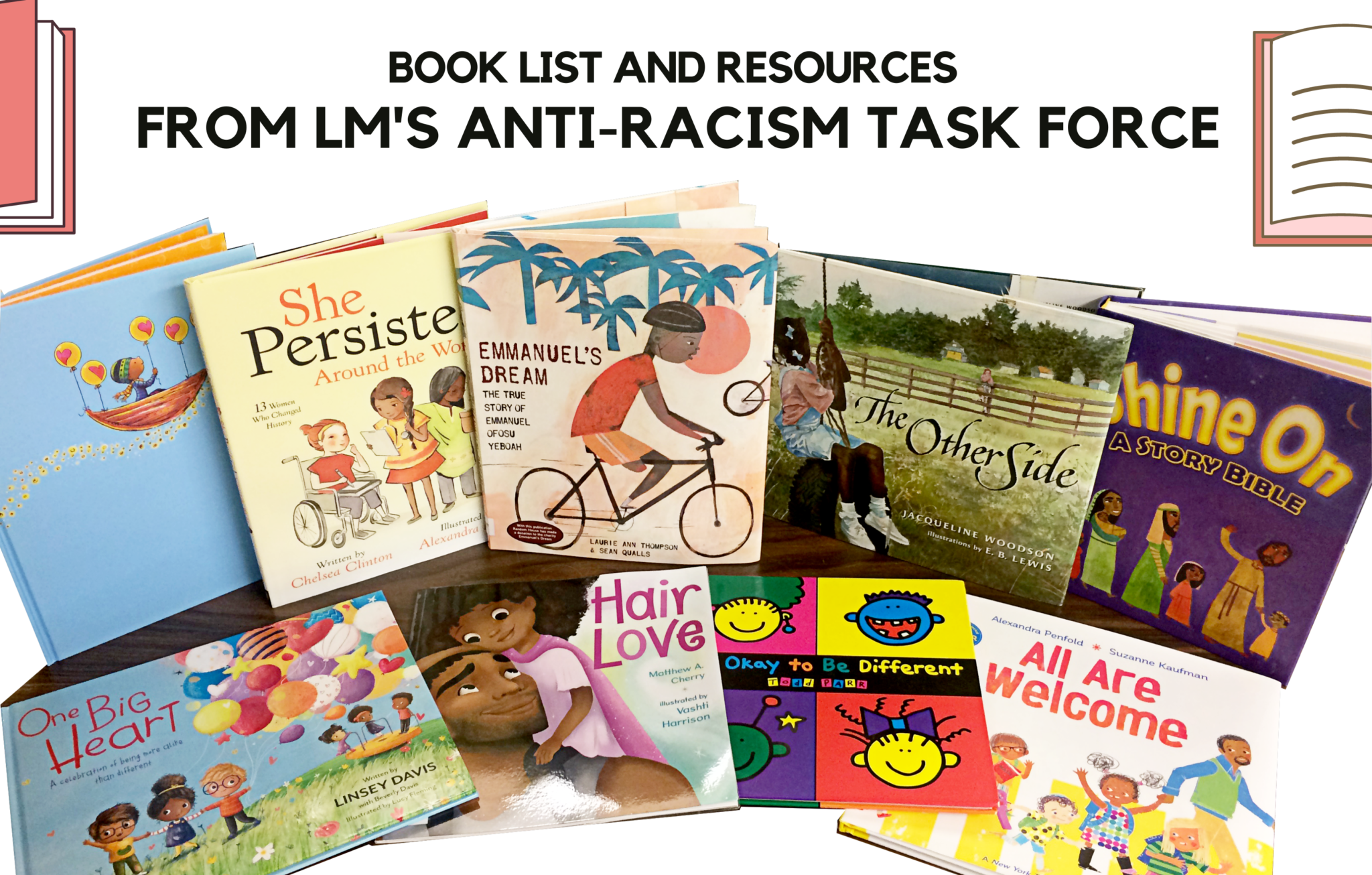 Two members of LM's Anti-Racism Task Force, Lindsay Carson and Sophie Dodge, had been working this past year to share some Anti-Racism resources, including an extensive book list, with our students and families.
Anti-Racism Resources for Kids and Parents:
By Lindsay Carson, New Danville Campus Principal
As followers of Jesus, our school values and is committed to anti-racism. Cultivating anti-racist attitudes and practices starts at home, and we are glad to partner with you in this important work. Here are a few resources you may want to dive into this summer:
Children's Book List from LM's Anti-Racism Task Force:
By Sophie Dodge, Second Grade Teacher at New Danville campus
This is a list of children's books centered around topics of race and antiracist activism or featuring Black and Indigenous People and People of Color (BIPOC). The list was compiled with insight and recommendations from various resources including the platforms of prominent BIPOC scholars and organizations such as Teaching Tolerance, EmbraceRace, and The Conscious Kid. While exposing children to diverse literature is only one step in supporting positive racialized identity development, these books can help to build language, provide visual examples, and spark important discussions about difference and race. It is never too early to begin talking about race with children, and books can be used to both educate children about human diversity as well as build an environment in which children feel safe discussing these topics. We believe that children need to read books that provide an honest reflection of the world they live in, and that representation of diverse characters and stories in literature matters deeply and is beneficial to every child.
Elementary Anti-Racism Book List:
Books specifically about Anti-Racism, Race, and Activism:
Picture Books:
The Little Book of Little Activists, by Penguin Young Readers
One Big Heart: A Celebration of Being More Alike than Different, by Linsey Davis
Something Happened in Our Town: A Child's Story About Racial Injustice, by Cellano, Collins, and Hazzard
Praying with our Feet, by Lisa D. Weaver
A Kids Book about Racism, by Jelani Memory
Sulwe, by Lupita Nyong'o and Vashti Harrison
Separate is Never Equal, by Duncan Tonatiah
The Other Side, by Jaqueline Woodson
Show Way, by Jacqueline Woodson
Skin Like Mine, by LaTashia M. Perry
Let the Children March, by Monica Clark-Robinson
We're Different, We're the Same (Sesame Street), by Bobbi Kates
When We Were Alone, by David A. Robertson
Mixed: A Colorful Story, by Aree Chung
Mississippi Morning, by Ruth Vander Zee
All Because You Matter, by Tami Charles
I am Every Good Thing, by Derrick Barnes
Black, White, Just Right, by Marguerite W. Davol
The Colors of Us, by Karen Katz
Not My Idea: A Book about Whiteness, by Anastasia Higginbotham
Antiracist Baby Board Book, by Ibram X. Kendi
A is for Activist, by Innosanto Navarro
No! My First Book of Protest, by Julie Merberg
Chapter Books:
Stamped: Racism, Antiracism, and You, Ibram X. Kendi and Jason Reynolds
The Watsons go to Birmingham, by Christopher Paul Curtis
 Diverse Fiction Books to build Anti-Racist Attitudes and Intercultural Competency
Hair Love, by Matthew A. Cherry
The Snowy Day, by Ezra Jack Keats
Bigmama's, by Donald Crews
Last Stop on Market Street, by Matt de la Peña
The Name Jar, by Yangsook Choi
Big Red Lollipop, by Rukhsana Khan
Mango, Abuela, and Me, by Meg Medina
Pecan Pie Baby, by Jacqueline Woodson
Carmela Full of Wishes, by Matt de la Peña
Thunder Boy Junior, by Sherman Alexie
Come On, Rain!, by Karen Hesse
Jabari Jumps, by Gaia Cornwall
Ada Twist, Scientist, by Andrea Beaty
I Love my Hair, by Natasha Tarpley
Hairs/Pellitos, by Sandra Cisneros
Grace for President, by Kelly Dipucchio
Those Shoes, by Maribeth Boelts
Friends from the Other Side, by Amigos del otro lado – Gloria Anzaldua
Upside-down Boy, by Juan Felipe Herrera
In My Family/En mi familia, by Carmen Lomas Garza
Grandfather's Journey, by Allen Say
The Little Gardener, by Emily Hughes
Chrysanthemum, by Kevin Henkes (also in Spanish – Crisanthemo)
All Families are Special, by Norma Simon
Everybody Cooks Rice, by Norah Dooley
Welcome, Precious, by Nikki Grimes
Under My Hijab, by Hena Khan
Crown, an Ode the the Fresh Cut, by Derrick Barnes
We Are Grateful: Otsaliheliga, by Traci Sorell
The King of Kindergarten, by Derrick Barnes
Fry Bread: A Native American Family Story, by Kevin Noble Maillard
The Day You Begin, by Jaqueline Woodson
Chapter Books:
My Name is Maria Isabel, by Alma Flor Ada
Donavan's Word Jar, by Monalisa Degross
Clayton Byrd Goes Underground, by Rita Williams-Garcia
Ghost, by Jason Reynolds
The Stars Beneath Our Feet, by David Barclay Moore
The Birchbark House, by Louise Eldrich
The Crossover, by Kwame Alexander
American Born Chinese, by Gene Luen Yang
The Thing About Luck, by Cynthia Kadohata
Brown Girl Dreaming, by Jacqueline Woodson
Diverse Nonfiction Books to build Anti-Racist Attitudes and Intercultural Competency Biographical:
Little Leaders: Bold Women in Black History, by Vashti Harrison
Little Legends: Exceptional Men in Black History, by Vashti Harrison
Be Bold! Be Brave! 11 Latinas who made U.S. History, by Naibe Reynoso
She Persisted: 13 American Women Who Changed the World, by Chelsea Clinton
She Persisted Around the World: 13 Women Who Changed History, by Chelsea Clinton
Freedom Over Me: Eleven Slaves, Their Lives and Dreams, by Ashley Bryan
Let it Shine: Stories of Black Women Freedom Fighters, by Andrea Davis Pinkney
Sit In: How Four Friends Stood Up by Sitting Down, by Andrea Davis Pinkney
The Youngest Marcher, by Cynthia Levinson
The Story of Ruby Bridges, by Robert Coles
Mae Among the Stars, by Roda Ahmed
Hidden Figures: The True Story of Four Black Women and the Space Race, by Margot Lee Shetterly and Winifred Conkling
This is the Rope: A Story from the Great Migration, by Jacqueline Woodson
Wangari's Trees of Peace, by Jeanette Winter
Emmanuel's Dream: The True Story of Emmanuel Ofosu Yeboah, by Laurie Ann Thompson
Drum Dream Girl: How One Girl's Courage Changed Music, by Margarita Engle
One Plastic Bag: Isatou Ceesay and the Recycling Women of the Gambia, by Miranda Paul
Iqbal and His Ingenious Idea: How a Science Project Helps One Family and the Planet, by Liz Suneby
The Boy Who Harnessed the Wind, by Bryan Mealer and William Kamkwamba
The Undefeated, by Kwame Alexander
Martin's Big Words, by Doreen Rappaport
Henry's Freedom Box, by Ellen Levine, Illustrated by Khadir Nelson
Coretta Scott, by Ntozake Shange
Maybe Something Beautiful: How Art Transformed a Neighborhood, by Isabel Campoy and Theresa Howell
Planting Stories: The Life of Librarian and Storyteller Pura Belpré, by Anika A. Denise
Sisters and Champions: The True Story of Venus and Serena Williams, by Howard Bryant Bible, Poetry, and Other:
Shine On: A Story Bible, by MennoMedia
He's Got the Whole World in His Hands, by Kadir Nelson
Hip Hop Speaks to Children, by Nikki Giovanni
Giving Thanks: A Native American Good Morning Message, by Chief Jake Swam
I am Enough, by Grace Byers
It's Okay to be Different, by Todd Parr
Say Something, by Peter H. Reynold
Resources for building an anti-racist library: