Posted
LMH's academic excellence is evidenced by significantly higher Advanced Placement test success of LMH students versus PA and national averages, according to College Board data. The 5-year trend clearly reflects the growing strength of LMH's academic program that drives increasing AP success while PA and national averages remained unchanged over the years.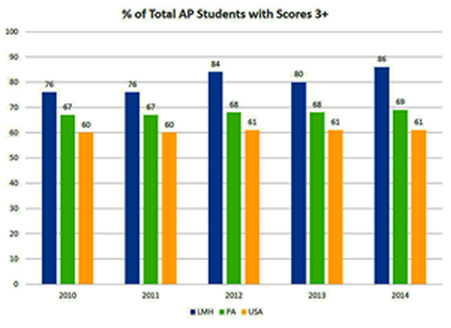 LMH is exceptionally strong in AP Calculus AB for which our students achieved a mean score of 4.57 in 2014 compared to PA and national averages of 3.24 and 2.94, respectively. For other AP subjects such as Biology, Environmental Science, Statistics, US History and World History, LMH students out-performed PA and National averages by significant margins.
College Board defines success on the AP test as a score of 3 or higher. Based on research findings, AP success is a good predictor of college success and college graduation.