Posted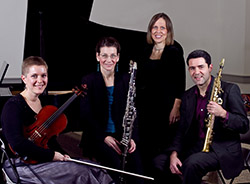 Four Lancaster County professional musicians called Beyond Ourselves are teaming up with the Lancaster Mennonite School (LMS) Campus Chorale to present their eighth benefit concert Sunday, March 22, 3 p.m. at James Street Mennonite Church, Lancaster.
The entire freewill offering will go toward Mennonite Central Committee's Global Family program that helps provide a safe learning environment for children traumatized by the ongoing conflict in Syria. The war there has forced over nine million people to flee their homes, and half of them are children. Unemployment and rising costs put education out of reach for many families. Many children have dropped out of school. Your support provides three levels of kindergarten for 4, 5 and 6-year-old refugees. It also gives staff training in peace education.
The Beyond Ourselves professionals are: saxophonist Ryan Kauffman, violist Christy Kauffman, pianist Rosemary Siegrist Blessing, and clarinetist Doris Hall-Gulati. The LMS Campus Chorale, the high school's select choir, is directed by Marcella Hostetler.
The two music groups will perform separately and then combine for a piece arranged by composer Patrick Ressler, a 2007 graduate of Lancaster Mennonite High School. Ressler holds a degree from Goshen College where he studied music education, composition and theater.
Mennonite Central Committee (mcc.org) is a relief, development and peace organization of the Mennonite and Brethren in Christ churches. In more than 60 countries around the world, MCC meets basic needs for those suffering in times of war and disaster, works with partners to develop solutions for people struggling to provide for their families, and encourages peacemakers who work to bring justice and understanding to conflicts in their communities.
About the Beyond Ourselves ensemble
The March 22 benefit concert is a joint project pairing music and social justice. Each year the four-person Beyond Ourselves chamber ensemble promotes the global work of Mennonite Central Committee through a benefit concert, highlighting a specific region or need each year. All monies raised go to the work of Mennonite Central Committee, and all of the musicians' rehearsals are on a volunteer basis as well.
Rosemary Siegrist Blessing is on the piano faculty at the Lancaster Conservatory of Music and teaches piano through the non-credit lesson program at Franklin and Marshall College. She is artistic director of the Mennonite Children's Choir of Lancaster and serves as minister of music at Landis Valley Christian Fellowship.
Doris Hall-Gulati is principal clarinetist for the Chamber Orchestra of Philadelphia and bass clarinetist of the Opera Company of Philadelphia. She is Artist in Residence at Franklin & Marshall College and a member of Trio Clavino, a Fulbright awarded ensemble.
Christy Kauffman, violist, performs with the Lancaster and Reading symphonies, the Allegro Chamber Orchestra of Lancaster, and the Shenandoah Valley Bach Festival.
Ryan Kauffman, saxophonist and husband of Christy, is an educator and performer throughout the Central Pa. region. He leads his own jazz quartet and sextet projects and is the saxophonist for the NakedEye Ensemble. He also teaches in the Lancaster City schools' Music for Everyone program.
About the Campus Chorale
Campus Chorale consists of 47 juniors and seniors who perform in many local congregations during the school year and also participate in the Mennonite Schools Council Regional High School Choir Festival which this year will be hosted by Bethany Christian School in Goshen, Indiana. In 2013 the choir traveled to South Africa, and plans are underway to visit Brazil in 2016. Director Marcella Hostetler, chair of the high school music department at Lancaster Mennonite, graduated from Goshen College and Westminster Choir College. She holds a masters degree in music education. Her 24 years of teaching experience include Penn View Christian School, York Suburban Middle School, and Hempfield School District.
PHOTO
Beyond Ourselves chamber musicians are, left to right: Christy Kauffman, Doris Hall-Gulati, Rosemary Siegrist Blessing and Ryan Kauffman.