Posted

Bridges – Responders Edition
This issue of Bridges represents a small sampling of our alumni, student and teacher responders. Much has taken place since our last edition of Bridges, and it was a challenge for us to narrow the theme because there was so much we hoped to encompass. The responders theme is where we landed because of how passionate and compassionate the LM community is about responding to our world.
See New Bridges Fall '20 Edition
Stand Up and Dialogue
When my family and I moved to Pennsylvania from Honduras in 1992, I began kindergarten only speaking Spanish. Thankfully, many of the teachers and children in my new community were very kind and accepting of me. Unfortunately, there were also a number of occasions where some of my peers saw me as an easy target and chose to put me down for being different. During these moments, I couldn't understand the words being said, but I could clearly tell that I was being mocked.
Read the Full Article (Page 4 and 5)
Lancaster Mennonite Responds: Anti-Racism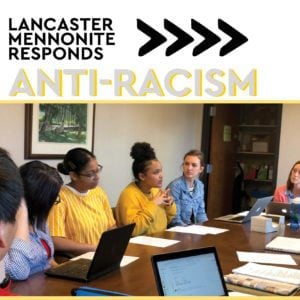 During these recent months of tragedy in Minneapolis, around the country, and in our local communities, Lancaster Mennonite School stands in solidarity with our students, staff, families, and persons of color who feel the pain of these events. LM Superintendent, Dr. Pam Tieszen shares, "Lancaster Mennonite chose years ago to be a diverse community reflecting our local community. This choice is an ongoing commitment to listening, learning, making mistakes and trying again, hiring people of color so our system reflects our student body, and walking the talk. We have made mistakes, but we desire to practice Christ's love in a safe school setting, committed to change where we are planted."
Read the Full Article (Page 16)
Penn Medicine Chaplains and the Importance of Being Present in a Crisis
Many LM alumni have answered God's call to serve as chaplains in hospitals and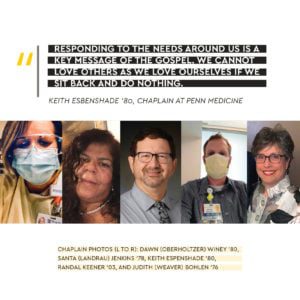 long-term care facilities, including five who currently provide spiritual care to patients, families, and staff throughout Penn Medicine Lancaster General Health: JUDITH (WEAVER) BOHLEN '76, SANTA (LANDRAU) JENKINS '78, DAWN (OBERHOLTZER) WINEY '80, KEITH ESPENSHADE '80 (also Clinical Pastoral Education Supervisor) and RANDAL KEENER '03. Chaplains respond to many short and long-term situations: emergencies and trauma, spiritual and physical crises, receiving diagnoses, end of life decisions, death, loss and grief, and the difficult journey of illness.
Read the Full Article (Page 6)
Thank you for reading the latest edition of Bridges. Please contact me with any questions or suggestions on whom to feature in our next edition focused on social enterprise.
Sincerely,
Dr. Pam Tieszen
Superintendent