Posted
Celebrate LM in Silver and Bronze!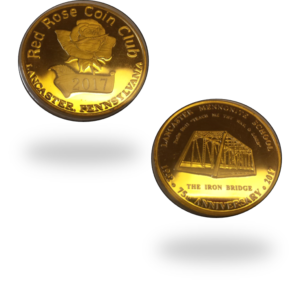 A commemorative medal celebrating Lancaster Mennonite's 75th anniversary is being created in partnership with the Red Rose Coin Club of Lancaster.
One side of the coin depicts the beloved and iconic "Iron Bridge" on the
Lancaster Campus. The other side of the medal features the logo of the Red
Rose Coin Club and the date 2017. The project is sponsored by the Alumni
Association to support the Annual Fund.
Medals will be struck in bronze and 1 oz. of 99.9% pure silver at the
Keystone Mint in a limited supply based on orders received at the school by
June 15, 2017. The medals will be ready for delivery in early August.
The cost of the medal is: bronze $25 / silver $65 / set of one each $75
*The final product will have a mirror like finish.