Posted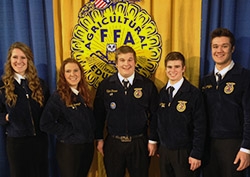 Five of Lancaster Mennonite High School's Hans Herr FFA seniors received Keystone Degrees at the PA Farm Show, which is the highest award at the state level. The members who earned Keystones are Dylan Coleman, Kaleigh Gerringer, Cierra King, Mason Stoltzfus and Tyler Weaver. They had to keep records on a Supervised Agricultural Experience (SAE) project that showed they had worked more than 600 hours and had earned and productively invested $1,000. They also had to be involved with local and state FFA activities, prepare an agricultural speech and participate in 25 hours of community service.
Karly Maurer, Nicole Newswanger, Joel Ranck and Hannah Shuman were recognized and awarded FFA jackets at the Farm Show through the PA FFA Alumni Jacket program. Adopted as official attire for FFA members in 1933, the blue corduroy jacket has become the symbol of the organization's commitment to agriculture and its mission of making a positive difference in the lives of young people. The jackets were awarded based on community service activities, leadership skills and a commitment to FFA. The Chester/Delaware County Farm Bureau generously donated seven FFA jackets to LMH students who live in Chester County: Chet Hoober, David Lambert, Jennifer McMichael, Melissa Nafziger, Anna Reyburn, Sonya Rohrer and Brock Rohrer.
Earlier, LMH alumni Katie Andrews, Jasmine Graybill and Luke Hershey received American Degrees at the National FFA Convention in October, which is the highest award at the national level. The American FFA Degree is awarded to FFA members who have demonstrated the highest level of commitment to FFA and made significant accomplishments in their Supervised Agricultural Experiences.
Lancaster Mennonite High School's Hans Herr FFA chapter is led by Ryan King and is notable for having its meetings integrated into the school day, having agriculture-related courses as part of the school curriculum and having a campus building devoted to agriculture and technology.