Posted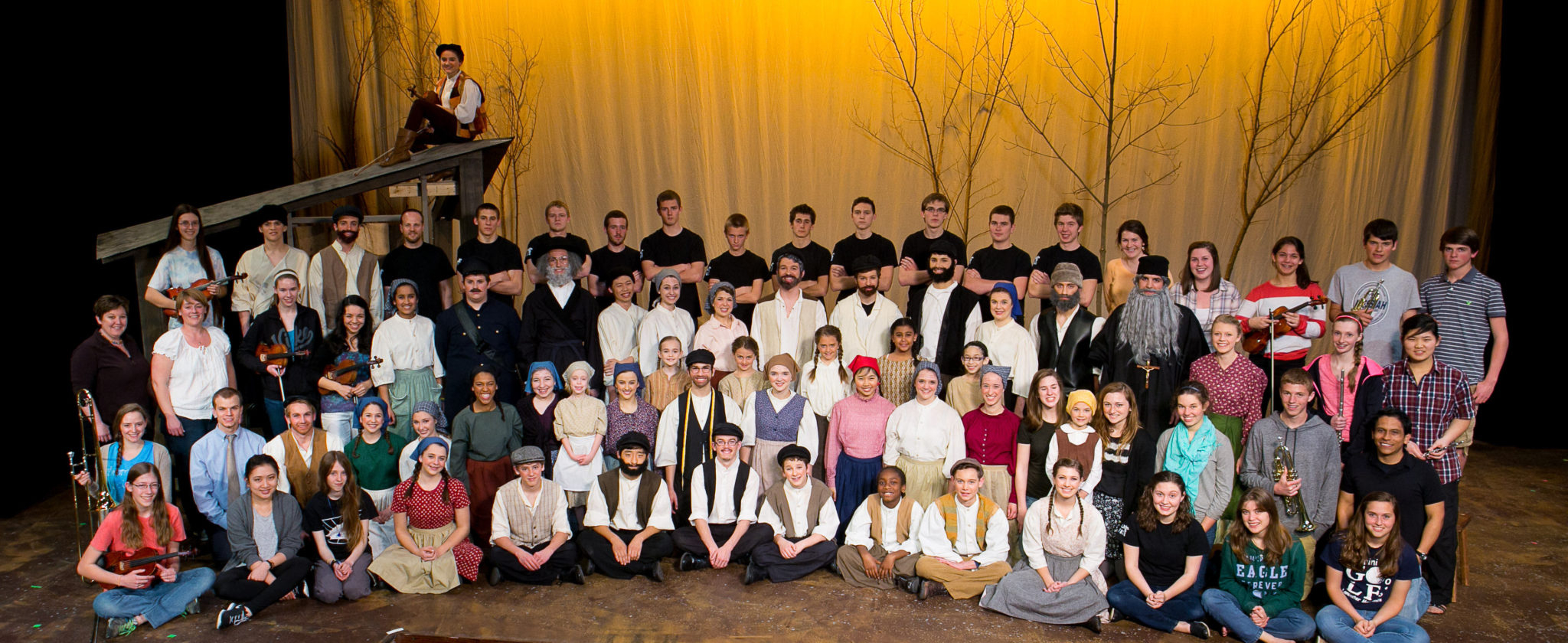 Spring 2014 Production
Audiences loved one of the longest-running shows in Broadway history: Fiddler on the Roof. The ever-popular musical was performed by Lancaster Mennonite High School April 24, 25 and 26 at 7:30 p.m., with a 2 p.m. matinee Saturday, April 26.
Originally produced on Broadway in 1964, Fiddler won nine Tony Awards, including best musical, best score and best book. The musical features memorable songs such as "If I Were a Rich Man," "Miracle of Miracles" and "Sunrise and Sunset."
Tickets were $8 for students, $9 for senior citizens and $10 for adults. Groups of 9 or more could order blocks of tickets for $9 each. Tickets could be reserved by calling the box office at 299-0436, ext. 340.
Photos courtesy of Paul Jacobs Photography.
Synopsis
The play revolves around Tevye, a Jewish milkman, who narrates the customs in the little Russian town of Anatevka in 1905. Village life here is as "precarious as a fiddler on the roof," yet, through their traditions, the villagers carry on.
At home, Tevye's wife Golde and five daughters prepare for Sabbath dinner. Yente, the town's matchmaker, arrives to tell Golde she has a marriage match for Tzeitel, her eldest daughter. The girls speculate about whom they will marry someday, but realize they must take whomever Yente arranges for them, whether they love him or not. In fact, Tzeitel has already secretly pledged her love to Motel Kamzoil, a tailor, who has not yet found the courage to ask for her hand.
Later Teveye meets and takes a liking to Perchik, a student from Kiev, and offers to hire him as a tutor for his two youngest daughters. When Tevye returns home, Golde informs him that he is to meet Lazar Wolf, a wealthy butcher who is Tevye's age, following the Sabbath meal to discuss a proposal. Though Tevye is not fond of Lazar Wolf, he agrees to the marriage, knowing that his daughter will never starve. They celebrate at the local tavern, but on his way home, the Russian constable warns Tevye of an upcoming attack on the Jews.
The following day, Tzeitel and Motel plead with Tevye to rethink her marriage arrangement to Lazar Wolf, and to consider Motel instead. Tevye eventually agrees, but does not know how to break this news to Golde. He tells that her grandmother and Lazar Wolf's late wife, Fruma-Sarah, have appeared to him in a dream, threatening to curse Tzeitel if she marries Lazar Wolf. Golde agrees to the match, and Tzeitel and Motel are married in a traditional Jewish wedding ceremony, which is sadly disrupted by persecution of the Jewish community.
Meanwhile, Tevya's second daughter, Hodel, has fallen in love with Perchik. They break tradition by telling Tevya they are in love and will be married. They ask only for his blessing, not his permission. This causes Tevya and Golde to contemplate their own marriage and love for each other after 25 years as well as the new traditions that their own children are now embracing.
Weeks pass, and Tevya's third daughter, Chava, has fallen in love with a Russian villager named Fyedka, who is a Christian. She pleads with her father to be allowed to marry him; but marrying outside the Jewish faith is unacceptable to him, and he forbids her to see him again. The next day, Chava and Fyedka secretly elope, and Chava is disowned by her family.
The trouble continues as the Russian constable tells all the Jewish villagers they must pack up and leave Anatevka within three days. As everyone prepares to leave, they reminisce about the miserable little town that so many have called home for so long. Chava and Fyedka come to say goodbye and attempt to make peace after the many changes and challenges everyone has faced.