Posted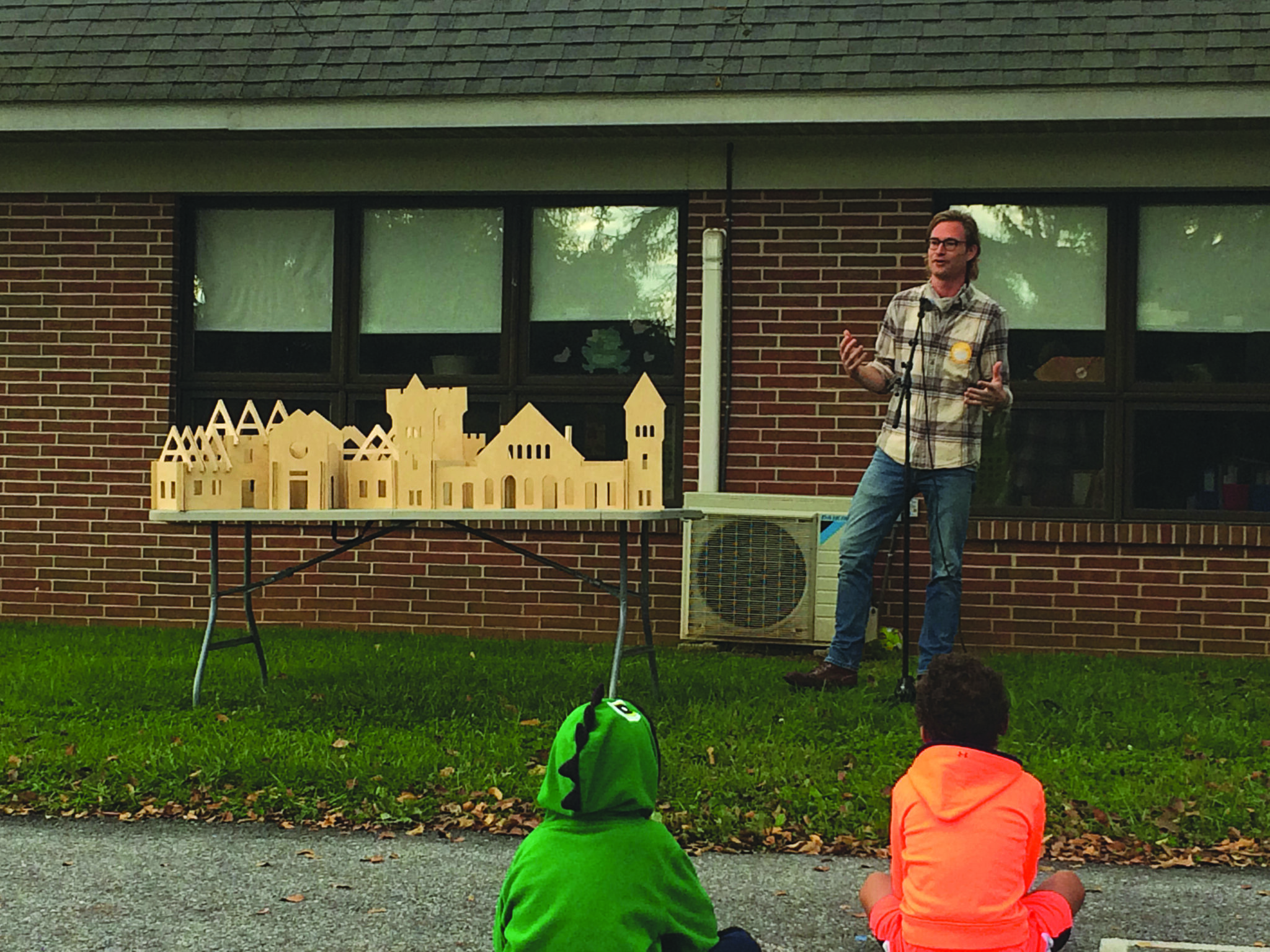 Photo Caption: Jesse Pellman ' 03 of Longview Structures shares in New Danville's chapel with a replication he made of Lancaster Central Market.
Pellman '03 Engaging with Our Elementary Students
Jesse Pellman, alum ('03), New Danville father, and co-founder of Longview Structures, shared with ND students in chapel last fall, kicking off a series exploring Jeremiah 29's instructions for seeking wellbeing. As a carpenter, he shared his passion for "building the kingdom". He creates spaces out of many different parts with the help of many people working together. These become spaces for eating, learning, loving, and living into the Kingdom of God. He left each class with a structure to remind us how we can create new spaces and new relationships that will grow beyond us.
Other chapels in this series:
Planting gardens – Habecker Mennonite Church
Nurturing families – COBYS Family Services
Photo Caption: Mike Stoner '00, co-founder of Longview Structures, working alongside crew member Dan Pyfer.
Thinking Long-term at Longview Structures
By JESSE PELLMAN'S '03 telling, he and Longview Structures co-founder MIKE STONER'S '00 early success was perhaps as much youthful naivety and happenstance as hard work. But  that's a modest explanation considering the builders' reputation for quality and unique, ambitious projects in Lancaster County.
As a construction company, Longview's guiding principle is just that: the "long view" and a focus on efficient, sustainable, and environmentally-friendly design and build elements. "We started out saying 'we'll hold ourselves to a higher level of accountability for sustainability, and then maybe we can get clients to buy in as we normalize it,'" says Pellman of Longview's beginnings. "We'll talk about this way of doing things and hope people care."
That approach caught on quickly. Longview's first full home-build was a passively-heated LEED (Leadership in Energy and Environmental Design) Gold-Certified house shortly after launching the construction business; they became a Certified B Corp in 2017; and their 2021 projects include restoring a home built in 1748 and converting a
dilapidated hogbarn into a full-time residence. Today, they employ 10 craftspeople out of their Prince Street, Lancaster architectural millwork shop.
"Working for the greater good gives purpose to your work and benefits future generations… [that's] important to me as an employer and a parent," says Stoner.
"[The greater good] is deeply important to Longview," adds Pellman. "Working as a crew of carpenters and building space is only one aspect of the job – building relationships with all of our surroundings is equally as important."
Photo Credit: Jenny Foster / Assets