Posted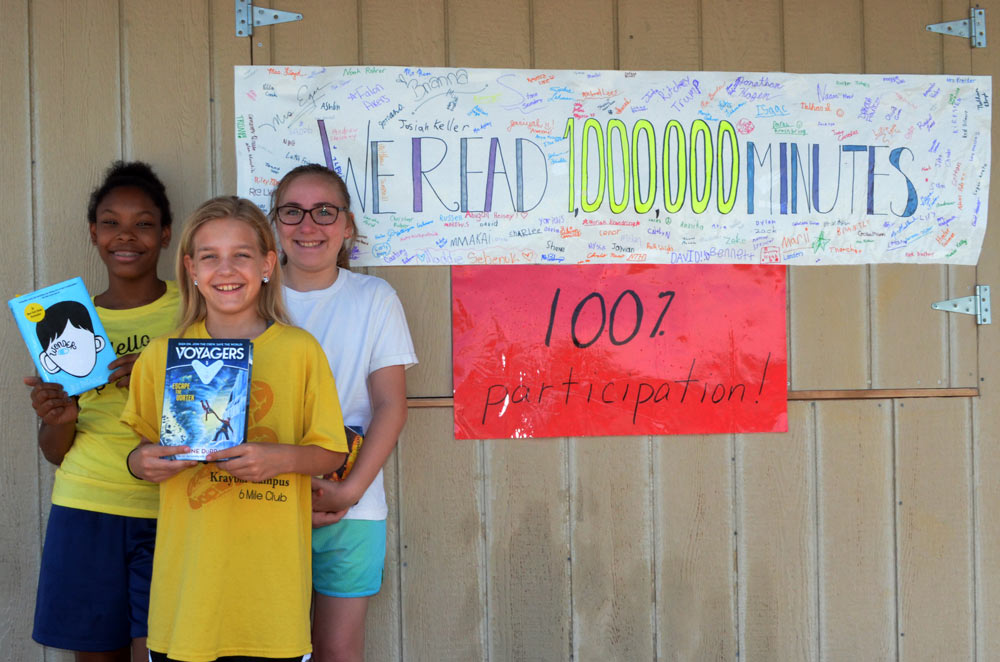 Kraybill Campus Students Read One Million Minutes
Students at the Kraybill Campus of Lancaster Mennonite School, Mount Joy, recently celebrated the achievement of corporately reading for more than one million minutes during the 2016-17 school year. The reading event and celebration was organized by Debra Eger, the campus's reading and math support specialist.
The Million Minute Reading Challenge is a national reading program. Mrs. Eger generated enthusiasm by offering ice cream vouchers to the top readers of the month. She also recognized the top readers of the year and three-quarters into the year. The top three readers overall were Shylah Searfoss, Marie Gehman  and Alina Hofstetter, who received gift certificates. Certificates were also given to the top readers in each grade.
Most of the reading was done at home, with some free-choice reading in school. "Students could read anything of their choosing," Mrs. Eger said.
"Pages did not count," explained Mr. Eger. "It is minutes spent reading." For younger children, time spend being read to by their parents could count.
Younger students had a record sheet that their parents signed to document their progress. Older students noted their minutes in a class notebook each week.
"It has been a very exciting venture, said Mrs. Eger. "In February I sat down with Mrs. Mollenkopf (Kraybill Campus Principal) and looked at where we were. We were not yet at the 750,000 minute mark, so we changed things to get more kids excited so we could meet the challenge.  And we did it!"
The Kraybill Campus celebrated the achievement of a Million Minutes with some special activities during Filed Day on May 18. Students could throw water-soaked sponges at Mrs. Eger and whipped cream pies at some teachers. They also received ice cream from Turkey Hill. To make the day even more special, students were filmed and interviewed by WGAL TV reporter Anne Shannon.
Mrs. Eger stressed that 100% of the student body participated in the Million Minute Reading Challenge. The Kraybill Campus serves 161 students in pre-kindergarten through eighth grade.